A man joins a big corporate em...
A man joins a big corporate empire as a trainee. On his very first day of work, he dials the pantry and shouts into the phone, "Get me a coffee, quickly!"
The voice from the other side responded, "You fool you've dialed the wrong extension! Do you know who you're talking to, dumbo?"
"No," replied the trainee.
"It's the CEO of the company, you fool!"
The trainee shouts back, "And do you know who YOU are talking to, you fool?!"
"No," replied the CEO indignantly.
"Good!" replied the trainee, and puts down the phone.
#joke
Help from Grandma
Having been playing outside with his friends, a small boy came into the house and asked: "Grandma, what is it called when two people sleep in the same room and one is on top of the other?"
His grandma was surprised to hear such a forthright question from a six-year-old but decided to answer as honestly as she could. "Well," she said hesitantly, "it's called sexual intercourse."
"Oh, okay," said the boy and he ran outside to carry on playing with his friends.
A few minutes later, he came back in and said angrily: "Grandma, it isn't called sexual intercourse. It's called bunk beds. And Jimmy's mom would like a word with you!"
#joke
"Training in the morn
"Training in the morning makes you feel better in the long run."
A married fellow gets home ear...
A married fellow gets home early from work and hears strange noisescoming from the bedroom. He rushes upstairs to find his wife naked onthe bed, sweating and panting.
"What's up?" he asks.
"I'm having a heart attack," cries the woman.
He rushes downstairs to grab the phone, butjust as he's dialing, his 4-year-old son comes up and says, "Daddy!Daddy! Uncle Ted's hiding in your closet and he's got no clothes on!"
The guy slams the phone down and storms upstairs into the bedroom, pasthis screaming wife, and rips open the wardrobe door. Sure enough, thereis his brother, totally naked, cowering on the closet floor. "Youbastard!!!" says the husband. "My wife's having a heart attack, and allyou can do is run around the house naked scaring the kids?"
#joke
Steven Wright 09
What's another word for Thesaurus?
Why is the alphabet in that order? Is it because of that song? The guy who wrote that song wrote everything.
My grandfather invented Cliff's Notes. It all started back in 1912... Well, to make a long story short ...
I'm writing a book. I've got the page numbers done, so now I just have to fill in the rest.
I'm writing an unauthorized autobiography.
I owed my friend George $25. For about three weeks I owed it to him. The whole time I had the money on me -- he didn't know it. Walking through New York City, 2:30 in the morning and got held up. He said, "Gimme all your money." I said, "Wait a minute." I said, "George, here's the 25 dollars I owe you." The the thief took a thousand dollars out of his own money and he gave it to George. At gunpoint made me borrow a thousand dollars from George.
I'd like to sing you a song now about my old girlfriend. It's called, "They'll Find Her When the Leaves Blow Away 'Cause I'm Not Raking 'Til Spring."
My girlfriend asked me how long I was going to be gone on this tour. I said, "the whole time."
My girlfriend does her nails with white-out. When she's asleep, I go over there and write misspelled words on them.
#joke
King Solomon's Menagerie
A Sunday school teacher asked little Susie, "Who's your favorite person in the Bible?"Susie said, "King Solomon.""Can you tell us why?""Because he was so nice to ladies and to animals.""What do you mean?""He had six hundred wives and three hundred porcupines."-
Joke shared by Beliefnet member Arkansasannie
#joke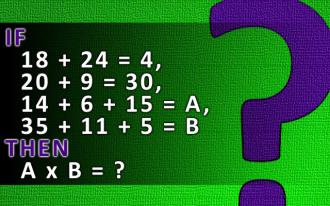 Calculate A*B
Calculate A*B if 18+24=4, 20+9=30, 14+6+15=A and 35+11+5=B
State workers...
A fellow stopped at a rural gas station and, after filling his tank, he paid the bill and bought a soft drink. He stood by his car to drink his cola, and he watched a couple of men working along the roadside.
One man would dig a hole two or three feet deep and then move on. The other man came along behind and filled in the hole. While one was digging a new hole, the other was 25 feet behind filling in the old.
The men worked right past the fellow with the soft drink and went on down the road.
"I can't stand this," said the man, tossing the can into a trash container and headed down the road toward the men.
"Hold it, hold it," he said to the men. "Can you tell me what's going on here with this digging?"
"Well, we work for the government," one of the men said.
"But one of you is digging a hole and the other fills it up. You're not accomplishing anything. Aren't you wasting the taxpayers' money?"
"You don't understand, mister," one of the men said, leaning on his shovel and wiping his brow. "Normally there's three of us: me, Rodney, and Mike. I dig the hole, Rodney sticks in the tree, and Mike here puts the dirt back.
Now just because Rodney's sick, that don't mean that Mike and me can't work."
#joke
All the organs of the body wer...
All the organs of the body were having a meeting, trying to decide who was the one in charge.
"I should be in charge," said the brain, "Because I run all the body's systems, so without me nothing would happen."
"I should be in charge," said the blood, "Because I circulate oxygen all over so without me you'd all waste away."
"I should be in charge," said the stomach," Because I process food and give all of you energy."
"I should be in charge," said the legs, "because I carry the body wherever it needs to go."
"I should be in charge," said the eyes, "Because I allow the body to see where it goes."
"I should be in charge," said the rectum, "Because I'm responsible for waste removal."
All the other body parts laughed at the rectum and insulted him, so in a huff, he shut down tight.
Within a few days, the brain had a terrible headache, the stomach was bloated, the legs got wobbly, the eyes got watery, and the blood was toxic. They all decided that the rectum should be the boss.
The moral of the story? Even though the others do all the work... the @$$hole is usually in charge.
#joke
Question time
Mr. Smythe had been giving his second-grade students a short lesson on science. He had explained about magnets and showed them how they would pick up nails and other bits of iron. And now it was question time....
"Class," he said, "my name begins with the letter 'M,' and I pick up things....What am I?"
A little boy on the front row said, "You're a mother."
#joke
Kathleen Madigan: Smoking in Public
I was out last Sunday -- I didnt see any signs, nobody to ask, so I lit a cigarette. This woman lost all control of her bodily functions. Put it out, please, put it out. I turned around -- she was three pews away!
What Men Call their Women
What's in a name? Apparently, a lot more than you (or I) ever thought there was. Here's what his pet name for you really means…..
Darling — Depends on how he says it. If he stresses the first syllable, then he's probably done something wrong or wants money.
Dear — Probably a leftover from his parents. Expect him to wear woolly cardigans, smoke a pipe and prefer a mug of Ovaltine to lager.
Sweetheart — If it's said patronizingly, it's not so sweet. But when uttered in earnest, it may send your own sweet heart aflutter.
Babe — Not to be confused with the film of the same name. Check for flares or signs that he's a 70s throwback. He's a bit of a medallion man. Chances are he's got his initials on his chunky ring. Leave immediately if he tries to sell you a second-hand car.
Baby doll — This type of man will probably require you to wear transparent frilly nighties even in the dead of winter. He doesn't want you to grow up, and obviously can't deal with real women.
Princess — Never trust a man who calls you princess. You may think you're being treated like royalty, but beware of Prince Charmings – they may be secretly plotting your over- throw.
Sexy — Fine if you're sexy. If you're not, who cares? He probably thinks you are anyway!!
My girlfriend — He's honest, open and probably glad to have you around. The next thing you know he'll be using your name!
The wife — If you're married then he probably thinks he owns you. If you're not, he probably thinks you act like his wife, in which case, he thinks he owns you.
My other half — You complete the set – he's only half a man without you. But it may make you feel as though you are losing your identity somewhere.
The missus — See The Wife.
My partner — He's right on. Probably likes eating tofu and hugging trees.
My significant other — He's even more right on. Probably thinks it's cruel to eat tofu and that trees need their own space.
She who must be obeyed — He thinks you're a nag, but probably doesn't lift a finger around the house.
#joke
The Blind Skydiver
A blind man was describing his favorite sport, parachuting. When asked how this was accomplished, he said that things were all done for him: "I am placed in the door with my seeing eye dog and told when to jump. My hand is placed on my release ring for me and out I go with the dog."
"But how do you know when you are going to land?" he was asked. "I have a very keen sense of smell, and I can smell the trees and grass when I am 300 feet from the ground" he answered.
"But how do you know when to lift your legs for the final arrival on the ground?" he was again asked. He quickly answered: "Oh, the dog's leash goes slack."
#joke