Pete and Gladys were looking a
Pete and Gladys were looking at a new living room suite in the furniture store.
Pete says to the salesman, "We really like it, but I don't think we can afford it."
The salesman says, "You just make a small down payment ... then you don't make another payment for six months."
Gladys wheeled around with her hands on her hips and says, "Who told you about us?"
#joke
"The boardroom vote l
"The boardroom vote looked unanimous at first, but quickly became polarized as I put on my sunglasses."
Knock Knock Collection 155
Knock Knock
Who's there?
Ron!
Ron who?
Ron dinnertime, give me a call!
Knock Knock
Who's there?
Rona!
Rona who?
Rona the mill!
Knock Knock
Who's there?
Rosa!
Rosa who?
Rosa corn grow in a field!
Knock Knock
Who's there?
Rosina!
Rosina who?
Rosina vase!
Knock Knock
Who's there?
Roxanne!
Roxanne who?
Roxanne your head or something!
#joke
A Medical Lecture on Harmful Foods
'The material we put into our stomachs should have killed most of us sitting here, years ago. The following are just a few examples:
Red meat is full of steroids and dye.
Soft drinks corrode your stomach lining.
Chinese food is loaded with MSG.
High trans-fat diets can be disastrous
Germs in our drinking water.
But, there is one thing that is the most dangerous of all and most of us have, or will eat it.
Can anyone here tell me what food it is that causes the most grief and suffering for years after eating it?'
After several seconds of quiet, a 70-year-old man in the front row raised his hand, and softly said, 'Yeah, ........Wedding Cake.'
#joke
I had amnesia once - or twice.
I had amnesia once - or twice.
Protons have mass? I didn't even know they were Catholic.
All I ask is a chance to prove that money can't make me happy.
I'd give my right arm to be ambidextrous.
If the world was a logical place, men would ride horses sidesaddle.
What is a "free" gift? Aren't all gifts free?
They told me I was gullible .. and I believed them.
Teach a child to be polite and courteous in the home and, when hegrows up, he'll never be able to edge his car onto a motorway.
Two can live as cheaply as one, for half as long.
Experience is the thing you have left when everything else is gone.
What if there were no hypothetical questions?
One nice thing about egotists: They don't talk about other people.
When the only tool you own is a hammer, every problem begins to looklike a nail.
A flashlight is a carrying case for dead batteries.
What was the greatest thing before sliced bread?
I used to be indecisive. Now I'm not sure.
The cost of living hasn't affected its popularity.
How can there be self-help "groups"?
Is there another word for synonym?
Where do forest rangers go to "get away from it all"?
Is it possible to be totally partial?
Is Marx's tomb a communist plot?
If swimming is so good for your figure, how do you explain whales?
Show me a man with both feet firmly on the ground, and I'll show you aman who can't get his pants off.
It's not an optical illusion. It just looks like one.
Is it my imagination, or do buffalo wings taste like chicken?
#joke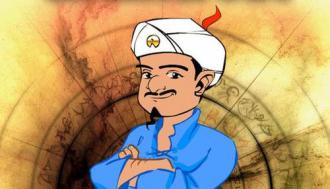 Look carefully the picture a...
Look carefully the picture and guess the game name.
Golfing with ...
Three gentlemen are golfing one sunny day. They come to a difficult par with a water trap just after the tee. The first golfer proceeds to hit his ball right into the water. To retrieve it, he simply approaches the body of water and extends his golf club. The water parts, he takes his next shot and it lands on the green. The second golfer hits his ball towards the water, but rather than sink, the ball floats on top of the water. The golfer nonchalantly walks across the water and hits the ball onto the green.
The third golfer hits his the ball directly into the water, where it quickly starts to sink. As the ball sinks, a fish grabs the ball in its mouth. At that very moment, a hawk plucks the fish out of the water and begins to carry it aloft. As the bird soars higher, a bolt of lightning startles the bird, which then drops the fish into a nearby tree. When the fish hits a branch of the tree, the ball pops out, rolls down the trunk of the tree, across the green and right into the hole...
Moses turns to Jesus and says "You know, I hate golfing with your Father."
#joke
NASA Mars Mission
NASA was interviewing professionals they were planning on sending to Mars. The touchy part was that only one guy could go and it would be a one way trip, the guy would never return to Earth.
The interviewer asked the first applicant, an engineer, how much he wanted to be paid for going.
"One million dollars," the engineer answered. "And I want to donate it all to my alma mater -- Rice University."
The next applicant was a doctor, and the interviewer asked him the same question.
"Two millions dollars," the doctor said. "I want to give a million to my family and leave the other million for the advancement of medical research."
The last applicant was a lawyer. When asked how much money he wanted, he whispered in the interviewer's ear, "Three million dollars."
"Why so much more than the others?" the interviewer asked.
The lawyer replied, "You give me three million, I'll give you one million, I'll keep a million, and we'll send the engineer."
10 Things You Never Hear in Church
1. Hey! It's my turn to sit in the front pew!
2. I was so enthralled, I never noticed your sermon went 25 minutes over time.
3. Personally I find witnessing much more enjoyable than golf.
4. I've decided to give our church the $500 a month I used to send to TV evangelists.
5. I volunteer to be the permanent teacher for the Junior High Sunday School class.6. Forget the denominational minimum salary. Let's pay our pastor so he can live like we do.
7. I love it when we sing hymns I've never heard before!
8. Since we're all here, let's start the service early.
9. Pastor, we'd like to send you to this Bible seminar in the Bahamas.
10. Nothing inspires me and strengthens my commitment like our annual stewardship campaign!
#joke
Redneck quickies 2
You might be a redneck if...
Your home has more miles on it than your car.
Your Christmas tree is still up in February.
You've ever been arrested for loitering.
You think that potted meat on a saltine is an hors d'ouvre.
There is a stuffed possum anywhere in your house.
You hammer bottle caps into the frame of your front door to make it look nice.
You've ever shot anyone for looking at you.
You own a homemade fur coat.
Your wife can climb a tree faster than your cat.
Your momma has "ammo" on her Christmas list.
Stop Credit Card Fraud
The following is supposedly a true story. To be included, besides being true, the story is most likely strange, weird, surprising, or funny.
Many folks have written with perfectly plausible explanations about why merchants take my phone number on a credit card charge. What these fail to address, however, is that if I'm perpetrating a fraud in the use of this credit card, I'm not about to give out a correct phone number. They make no effort to validate the phone number before I leave, so what they're doing is collecting the phone numbers of a bunch of honest people.
Now then... Why are they collecting the phone numbers of a bunch of honest people?
I once asked why you are asked for your phone number when using your charge cards. The clerk explained that theives have been caught because they stupidly put down THEIR home phone number, not the phone number of the person who "owned" the card.
#joke