Three Eggs and $100
An elderly pastor was searching his closet for his collar before church one Sunday morning. In the back of the closet, he found a small box containing three eggs and 100 $1 bills. He called his wife into the closet to ask her about the box and its contents. Embarrassed, she admitted having hidden the box there for their entire 30 years of marriage. Disappointed and hurt, the pastor asked her, "Why?" The wife replied that she hadn't wanted to hurt his feelings. He asked her how the box could have hurt his feelings. She said that every time during their marriage that he had delivered a poor sermon, she had placed an egg in the box. The pastor felt that three poor sermons in 30 years was certainly nothing to feel bad about, so he asked her what the $100 was for. She replied, "Each time I got a dozen eggs, I sold them to the neighbors for $1."
#joke
I'm not saying let's go kill...
I'm not saying let's go kill all the stupid people. I'm just saying let's remove all the warning labels and let the problem work itself out.
-------------------------------------------------
I changed my car horn to gunshot sounds. People move out of the way much faster now.
-----------------------------------------------------
You can tell a lot about a woman's mood just looking at her hands. If they are holding a gun, she's probably angry.
-----------------------------------------------
Gone are the days when girls used to cook like their mothers. Now they drink like their fathers.
--------------------------------------------------------
You know that tingly little feeling you get when you really like someone? That's common sense leaving your body.
------------------------------------------------------------
I don't like making plans for the day because then the word "premeditated" get's thrown around in the courtroom.
---------------------------------------------------
I didn't make it to the gym today. That makes five years in a row
-------------------------------------------------------
I decided to change calling the bathroom the John and renamed it the Jim.
I feel so much better saying I went to the Jim this morning
-------------------------------------------------------------
Dear paranoid people who check behind shower curtains for murderers; if you find one, what's your plan?
#joke
A very tired husband came home
A very tired husband came home from the office after a long grueling day to find his wife in her sexiest nightgown waiting for him at the door with a couple of glasses of wine in hand.
She took his briefcase from him and led him over to the couch where she proceeded to help make him "more comfortable."
"How should we do it tonight, honey?" she cooed in his ear, "Shall we do 69?"
"I don't think so dear. I'm pretty tired. How about 68?" he said.
"Huh, 68? What's 68?" she asked, a little puzzled.
"You do me, and I'll owe you one."
#joke
Roar
A little boy was in a relative's wedding. As he was coming down the aisle he would take two steps, stop and turn to the crowd (alternating between bride's side and groom's side). While facing the crowd, he would put his hands up like claws and roar. So it went, step, step, "ROAR," step, step, "ROAR," all the way down the aisle. As you can imagine, the crowd was near tears from laughing so hard by the time he reached the pulpit.
The little boy, however, was getting more and more distressed from all the laughing, and was also near tears by the time he reached the pulpit. When asked what he was doing, the child sniffed and said, "I was being the Ring Bear."
#joke
A Nun Arrives At The Local Bar
John was sitting outside his local pub one day, enjoying a quiet pint and generally feeling good about himself, when a nun suddenly appears at his table and starts decrying the evils of drink.
"You should be ashamed of yourself young man! Drinking is a Sin! Alcohol is the blood of the devil!"
Now John gets pretty annoyed about this, and goes on the offensive.
"How do you know this, Sister?"
"My Mother Superior told me so."
"But have you ever had a drink yourself? How can you be sure that what you are saying is right?"
"Don't be ridiculous--of course I have never taken alcohol myself"
"Then let me buy you a drink - if you still believe afterwards that it is evil I will give up drink for life"
"How could I, a Nun, sit outside this public house drinking?!"
"I'll get the barman to put it in a teacup for you, then no one will ever know."
The Nun reluctantly agrees, so John goes inside to the bar.
"Another pint for me, and a triple vodka on the rocks", then he lowers his voice and says to the barman "and could you put the vodka in a teacup?"
"Oh no! It's not that Nun again is it?"
#joke
3 little boys
Three little black boys sitting on a porch. The first
little black boy says, "What would you do with a million
dollars?" The second boy said, "I'd buy that blue Cadillac
over there." The third little boy said, "I'd buy the pink
Cadillac siiting over there." Then the third little boy
asked the first what he'd do with the money. The first boy
replied, "I'd cover myself in hair." The other two asked
"why?" and he said because my sister has a(2" x 2") patch of
hair and she owns both those Cadillacs!
#joke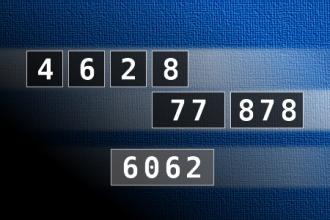 Calculate the number 6062
NUMBERMANIA: Calculate the number 6062 using numbers [4, 6, 2, 8, 77, 878] and basic arithmetic operations (+, -, *, /). Each of the numbers can be used only once.
Mark Gross: Can You Help?
A couple days ago, I was crossing this bridge, and there was this character standing there with a cup in his hand. He goes, Hey, can you help out my wife and family? I said, Sure. And I pushed him off the bridge.
The maids revenge
Just after the maid had been fired. She took five bucks from her purse, she threw it to Fido, the family dog. When asked why by her former employer, she answered, "I never forget a friend. This was for helping me clean the dishes all the time!
The Ring
An older, white haired man walked into a jewelry store one Friday evening with a beautiful young gal at his side.
He told the jeweler he was looking for a special ring for his girlfriend.
The jeweler looked through his stock and brought out a $5,000 ring and showed it to him.
The old man said, "I don't think you understand, I want something very special."
At that Statement, the jeweler went to his special stock and brought another ring over.
"Here's a stunning ring at only $40,000," the jeweler said. The young lady's eyes sparkled and her whole body trembled with excitement.
The old man seeing this said, "We'll take it."
The jeweler asked how payment would be made and the old man stated, by check. "I know you need to make sure my check is good, so I'll write it now and you can call the bank Monday to verify the funds and I'll pick the ring up Monday afternoon," he said.
Monday morning, a very teed-off jeweler phoned the old man. "There's no money in that account."
"I know," said the old man, "but can you imagine the weekend I had?"
Don't mess with Old People.      
You might be a redneck if 28
You might be a redneck if...
Motel 6 turns off the lights when they see you coming.
There are more dishes in your sink than in your cabinets.
You think a turtleneck is a key ingredient in soup.
You've ever stood in line to get your picture taken with a freak of nature.
Your anniversary present was getting the septic tank pumped.
Your local ambulance has a trailer hitch.
You watch cartoons long after your kids get bored.
You think the French Riviera is a foreign car.
You think you are an entrepreneur because of the "Dirt for Sale" sign in the front yard.
You're still scalping tickets after the concert is over.
#joke