A Ventriloquist Apologizes
A young ventriloquist is touring Norway and puts on a show in a small fishing town. With his dummy on his knee, he starts going through his usual dumb blonde jokes.
Suddenly, a blonde woman in the fourth row stands on her chair and starts shouting, 'I've heard enough of your stupid blonde jokes. What makes you think you can stereotype Norwegian blonde women that way? What does the color of a woman's hair have to do with her worth as a human being? It's men like you who keep women like me from being respected at work and in the community, and from reaching our full potential as people. Its people like you that make others think that all blondes are dumb. You and your kind continue to perpetuate discrimination against not only blondes but women in general, pathetically all in the name of humor!'
The embarrassed ventriloquist begins to apologize, and the blonde interrupts yelling, 'You stay out of this..I'm talking to that little shit on your lap.'
A comfortable thief...
"A comfortable thief takes things easy."
A German tourist walks into a...
A German tourist walks into a McDonald's in New York City and orders abeer. (In Germany and many parts of Europe, McDonald's actually does servebeer.) The local guy in the line behind him immediately gives him thejab: "They don't serve BEER here, you MORON!"
The German fellow felt pretty stupid, but suddenly turns to the New Yorker with a surprised look,and begins to chuckle.
"And what's so funny?!?" the New Yorker demands.
"Oh, nothing really, I just realized that you came here for the food."
Answering Machine Message 87
Operatic music like Rossini's "Stabbat Matter": Hi, you've reached Hell. (Screams in the background.) We're busy being cleaned by the light of eternal truth right now, so if you leave your name, number, and a brief message, we'll get back to you at the end of time.
#joke
Good News, Bad News
A minister stood in front of his congregation and announced, "I have good news and bad news. The good news is we have enough money to pay for our new building program. The bad news is that it's still in your pockets."
You just can't win, and he
You just can't win, and here are the reasons why:
If you put a woman on a pedestal and try to protect her from the rat race, you're a male chauvinist. If you stay home and do the housework, you're a pansy.
If you work too hard, there is never any time for her. If you don't work enough, you're a good-for-nothing bum.
If she has a boring repetitive job with low pay, this is exploitation. If you have a boring repetitive job with low pay, you should get off your butt and find something better.
If you get a promotion ahead of her, that is favoritism. If she gets a job ahead of you, it's equal opportunity.
If you mention how nice she looks, it's sexual harassment. If you keep quiet, it's male indifference.
If you cry, you're a wimp. If you don't, you're insensitive.
If you make a decision without consulting her, you're a chauvinist. If she makes a decision without consulting you, she's a liberated woman.
If you ask her to do something she doesn't enjoy, that's domination. If she asks you, it's a favor.
If you like a woman to shave her legs and keep in shape, you're a sexist. If you don't, you're unromantic.
If you try to keep yourself in shape, you're vain. If you don't, you're a slob.
If you buy her flowers, you're after something. If you don't, you're not thoughtful.
If you're proud of your achievements, you're up on yourself. If you don't, you're not ambitious.
#joke
FLEX WORDLE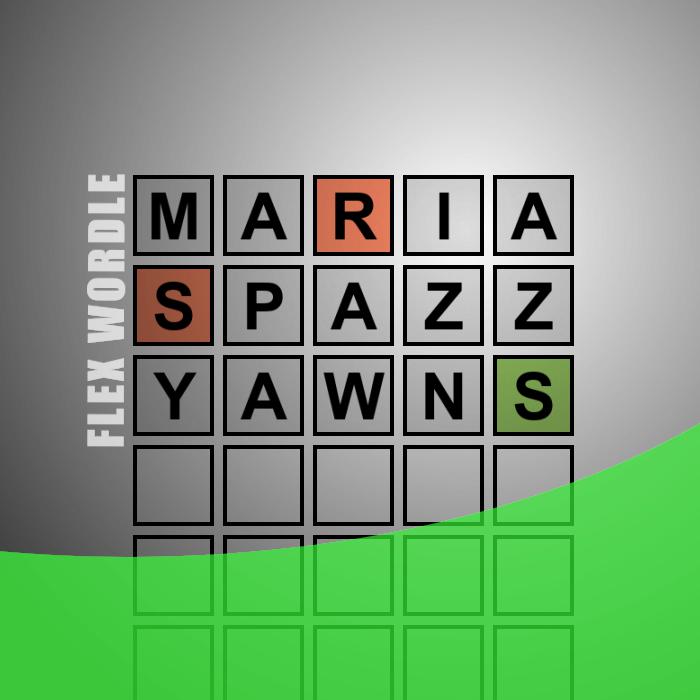 Guess the
WORDLE
in 3 tries. After each guess, the color of the tiles will change to show how close your guess was to the solution.
This little piggy...
When my wife quit work to take care of our new baby daughter, countless hours of peek-a-boo and other games slowly took their toll.
One evening my wife smacked her bare toes on the corner of a dresser and, grabbing her foot, sank to the floor.
I rushed to her side and asked what she hurt.
She looked at me through tear-filled eyes and managed to moan, "It's the piggy that ate roast beef."
#joke
A Chuck Norris edition of Clue...
A Chuck Norris edition of Clue was to be released, but the answer was always: "Chuck Norris. In The Library. With a Roundhouse Kick."
Chuck Norris kicked Neo out of...
Chuck Norris kicked Neo out of Zion , now Neo is "The Two."
Pete Lee: Making Love in a Car Wash
I was reading this article the other day, and it said, The perfect way to spice up your love life is to make love in a car wash. Let me tell you guys from experience -- no, it is not. Its also the perfect way to ruin a church fundraiser.
Outdoorsy Man
During his physical, the doctor asked the patient about his daily activity level
He described a typical day this way: 'Well, yesterday afternoon, I waded along the edge of a lake, drank eight beers, escaped from wild dogs in the heavy brush, jumped away from an aggressive rattlesnake, marched up and down several rocky hills, stood in a patch of poison ivy, crawled out of quicksand and took four leaks behind big trees.' Inspired by the story, the doctor said, 'You must be one hell of an outdoors man!' 'NAH,' he replied, 'I'm just a shitty golfer.'
Cowboy without a horse
A cowboy rode into town and stopped at a saloon for a drink. Unfortunately, the locals always had a habit of picking on strangers, which he was. When he finished his drink, he found his horse had been stolen.
He goes back into the bar, handily flips his gun into the air, catches it above his head without even looking and fires a shot into the ceiling.
"WHICH ONE OF YOU SIDEWINDERS STOLE MY HORSE?" he yelled with surprising forcefulness. No one answered.
"ALL RIGHT, I'M GONNA HAVE ANOTHER BEER, AND IF MY HOSS AIN'T BACK OUTSIDE BY THE TIME I FINNISH, I'M GONNA DO WHAT I DUN IN TEXAS! AND I DON'T LIKE TO HAVE TO DO WHAT I DUN IN TEXAS!"
Some of the locals shifted restlessly. He had another beer, walked outside, and his horse is back! He saddles-up and starts to ride out of town. The bartender wanders out of the bar and asks, "Say partner, before you go...what happened in Texas?"
The cowboy turned back and said, "I had to walk home."
Join us on WhatsApp