The European Union commissione....
The European Union commissioners have announced that an agreement has been reached to adopt English as the preferred language for European communications, rather than German, which was the other possibility. As part of the negotiations, the British government conceded that English spelling had some room for improvement and has accepted a five year phased plan for what will be known as EuroEnglish (Euro for short).
In the first year, "s" will be used instead of the soft "c". Sertainly, sivil servants will reseive this news with joy.
Also, the hard "c" will be replaced with "k". Not only will this klear up konfusion, but typewriters kan have one less letter.
There will be growing public enthusiasm in the sekond year, when the troublesome "ph" will be replased by "f". This will make words like "fotograf" 20 persent shorter.
In the third year, publik akseptanse of the new spelling kan be expekted to reach the stage where more komplikated changes are possible. Governments will enkorage the removal of double letters, which have always ben a deterent to akurate speling. Also, al wil agre that the horible mes of silent "e"s in the language is disgrasful, and they would go.
By the fourth year, peopl wil be reseptiv to steps such as replasing "th" by "z" and "w" by "v".
During ze fifz year, ze unesesary "o" kan be dropd from vords kontaining "ou", and similar changes vud, of kors, be aplid to ozer kombinations of leters.
Und efter ze fifz yer, ve vil al be speking German lik zey vunted in ze forst plas.
#joke
Why are brain surgeo...
"Why are brain surgeons ambitious? They want to get a head."
Two 90-year-old women, Rose an...
Two 90-year-old women, Rose and Barb, had been friends all of their lives. When it was clear that Rose was dying, Barb visited her every day. One day Barb said, "Rose, we both loved playing women's softball all our lives, and we played all through High School. Please do me one favor: when you get to Heaven, somehow you must let me know if there's women's soft-ball there."
Rose looked up at Barb from her deathbed and said, "Barb, you've been my best friend for many years. If it's at all possible, I'll do this favor for you." Shortly after that, Rose passed on.
At midnight a few nights later, Barb was awakened from a sound sleep by a blinding flash of white light and a voice calling out to her, "Barb, Barb."
"Who is it?" asked Barb, sitting up suddenly. "Who is it?"
"Barb, it's me, Rose."
"You're not Rose. Rose just died."
"I'm telling you, it's me, Rose," insisted the voice.
"Rose! Where are you?"
"In Heaven," replied Rose. "I have some really good news and a little bad news."
"Tell me the good news first," said Barb.
"The good news," Rose said, "is that there's Softball in Heaven. Better yet all of our old buddies who died before us are here, too. Better than that, we're all young again. Better still, it's always springtime, and it never rains or snows. And best of all, we can play softball all we want, and we never get tired."
"That's fantastic," said Barb. "It's beyond my wildest dreams! So what'sthe bad news?"
"You're pitching Tuesday."
#joke
Caffeine Addict Quiz
Caffeine Addict's Quiz:
Do you want to know if you suffer from "Alertness Deficit Disorder" (ADD)? Then just take this simple quiz. These questions will help us to determine whether or not you suffer from this terrible affliction; the only known cure for which is caffeine. ADD takes the lives of millions of Americans, hundreds of Canadians, and a handful of Ugandans every year. If that doesn't scare you, let's just say that you are more susceptible than anyone else. YES, YOU! If you suffer from this disease, missing just one trip to Starbucks could be FATAL. The following series of Yes/No questions will allow us to determine your Addiction Factor(TM). Keep track of the number of Yes and No answers you get and chart yourself at the end. Remember: Prevention is the best medicine. Or was it laughter? Either way, read on.
1. Do you use coffee to escape from your problems?
2. Do you eat spoonfuls of instant coffee because it's easier?
3. Have you ever woken up in a puddle of your own coffee?
4. Do you find that it's easier to drink more coffee than go to sleep?
5.
a) Have you ever drunk cold coffee?
b) Right out of the pot?
6. Do you spend more than 20% of your income on coffee and/or coffee related products?
7. Does your coffee cup resemble a beer stein?
8. Has anyone ever told you that you "have a problem"?
9. Do you need coffee:
a) ...to get up in the morning?
b) ...to get out of bed?
c) ...to be injected intravenously to stimulate blood-flow?
10. Do you own a "Coffee Helmet"? (For the culturally ignorant, a coffee- helmet is a hat with coffee-cups attached to it and a straw coming out of each cup leading to the mouth, used for hands-free drinking.)
11. Do Native North American Aboriginal Indian Peoples call you "Ona mac towanda" (Smells-like- coffee)?
12. Does your doctor measure your heartbeat on the Richter scale as well as by its frequency?
13. Have you ever sold personal or other people's possessions just to get your fix for the day?
14. Does the phrase "swiss water decaffienated" strike terror into your heart?
15.
a) Do you have a coffee maker in more than one room of your house?
b) ...in more than five?
c) ...in your bathroom?
16.
a) Do the people at Second Cup refuse do give you free coffee cards anymore?
b) ...because you're wearing out their hole-punch?
c) ...and it's bad for the environment?
17. Do you grind your own coffee?
18. Do you grow your own coffee?
19. Have you ever been fired from a job because you're "drinking their profits"?
20.
a) Do you know Juan Valdez?
b) ...and his donkey?
c) ...intimately?
21. Do you salivate uncontrollably whenever you hear dripping water?
22.
a) Is sleep a hobby of yours?
b) ...that you don't like?
c) ...because it's too frustrating?

A Ventriloquist Apologizes
A young ventriloquist is touring Norway and puts on a show in a small fishing town. With his dummy on his knee, he starts going through his usual dumb blonde jokes.
Suddenly, a blonde woman in the fourth row stands on her chair and starts shouting, 'I've heard enough of your stupid blonde jokes. What makes you think you can stereotype Norwegian blonde women that way? What does the color of a woman's hair have to do with her worth as a human being? It's men like you who keep women like me from being respected at work and in the community, and from reaching our full potential as people. Its people like you that make others think that all blondes are dumb. You and your kind continue to perpetuate discrimination against not only blondes but women in general, pathetically all in the name of humor!'
The embarrassed ventriloquist begins to apologize, and the blonde interrupts yelling, 'You stay out of this..I'm talking to that little shit on your lap.'
Jesus Is Watching You!
There was a burglar who broke into a home and started to gather the items he wanted to take. All of a sudden he heard, "Jesus is watching you!" He didn't see anything in the dark house, so he went on with what he was doing. He heard, "Jesus is watching you!" again and then he really wondered who wassaying that. He turned on the flashlight, scanned the room, and finally saw a parrot. "Did you say that?" asked the burgler. "Yes," replied the parrot. "By the way, what's your name?" the burgler inquired."Moses," answered the parrot. "That's a strange name for a parrot. Who named you that?""The same people who named their rotweiller Jesus!"
#joke
FLEX WORDLE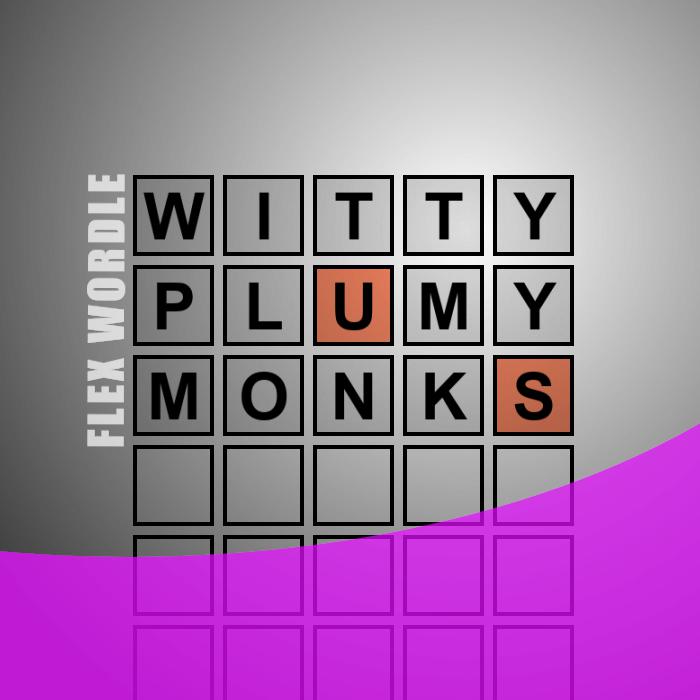 Guess the
WORDLE
in 3 tries. After each guess, the color of the tiles will change to show how close your guess was to the solution.
Beans
One of the matrons of the church was cooking a pot of her famous beans for the church potluck, and her son, Little Johnny, came running through the house, BB gun in one hand, and a handful of BBs in the other. He tripped and the BBs, naturally, went right into the pot of beans. Thinking it over, Little Johnny could think of no reason why he should risk punishment, so he said nothing.
The dinner went well, and, as usual, the beans were one of the favorite dishes. The next day, the church secretary, Mary, called Little Johnny's mother and said, "Jane, your beans were delicious as usual, but what did you put in them this time?"
Jane replied, "Nothing new, why do you ask?" "Well," said Mary, "this morning I bent over to feed the cat , and shot the canary."
#joke
Chuck Norris once ordered a st...
Chuck Norris once ordered a steak in a restaurant. The steak did what it was told.
Faster than a speeding bullet....
Faster than a speeding bullet...more powerful than a locomotive...able to leap tall buildings in a single bound...yes, these are some of Chuck Norris' warm-up exercises.
Kumail Nanjiani: Hogwarts Curriculum
Heres my only thing with Harry Potter... They go to this school, and they take classes like Defense Against the Dark Arts and Potions and Divination, but they should be taking math also, right? Why are there no math teachers at Hogwarts? Or history, or geography? Theyre getting tested on Care of Magical Creatures -- never heard of the Holocaust.
#joke
A guy was driving when a polic...
A guy was driving when a policeman pulled him over. He rolled down his window and said to the officer, "Is there a problem, Officer?" 
"No problem at all. I just observed your safe driving and am pleased to award you a $5,000 Safe Driver Award. Congratulations. What do you think you're going to do with the money?" 
The driver thought for a minute and said, "Well, I guess I'll go get that drivers' license." The lady sitting in the passenger seat said to the policeman, "Oh, don't pay attention to him - he's a smart butt when he's drunk and stoned." The guy from the back seat said, "I TOLD you guys we wouldn't get far in a stolen car!" 
At that moment, there was a knock from the trunk and a muffled voice said, "Are we over the border yet?"
Good doggie
One fall day Bill was out raking leaves when he noticed a hearse slowly drive by. Following the first hearse was a second hearse, which was followed by a man walking solemnly along, followed by a dog, and then about 200 men walking in single file.
Intrigued, Bill went up to the man following the second hearse and asked him who was in the first hearse.
"My wife," the man replied.
"I'm sorry," said Bill. "What happened to her?"
"My dog bit her and she died."
Bill then asked the man who was in the second hearse. The man replied, "My mother-in-law. My dog bit her and she died as well."
Bill thought about this for a while. He finally asked the man, "Can I borrow your dog?"
To which the man replied, "Get in line."
#joke
Join us on WhatsApp