Jokes of the day for Thursday, 23 August 2018
Funny jokes, funny photo and funny video collected from the internet on Thursday, 23 August 2018
The teacher of the earth scien...
The teacher of the earth science class was lecturing on map reading. After explaining about latitude, longitude, degrees and minutes the teacher asked, "Suppose I asked you to meet me for lunch at 23 degrees, 4 minutes north latitude and 45 degrees, 15 minutes east longitude...?"
After a confused silence, a voice volunteered, "I guess you'd be eating alone."
#joke
Typical Human Resources (HR) Response
'I proposed to my girlfriend last night, who just got promoted to an HR position earlier in the day.'
'That is cool! What did she say?'
She said, 'We will get back to you soon.'
After cosmetic surge...
"After cosmetic surgery the pelican faced a huge bill."
Angry Witch
Q. What do you call an angry Witch?
A. Ribbit
Brating
frgtrg5trtrefrdfrgtgte
dsyrgfetgewugfdyrgfrue
The trick...
A little boy greeted his grandmother with a hug and said, "I'm so happy to see you, Grandma. Now maybe Daddy will do the trick he has been promising us."
The grandmother was curious. "What trick is that my dear?" she asked.
The little boy replied, "I heard Daddy tell Mommy that he would climb the walls if you came to visit us again."
#joke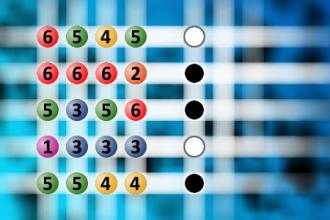 Which is a winning combination of digits?
The computer chose a secret code (sequence of 4 digits from 1 to 6). Your goal is to find that code. Black circles indicate the number of hits on the right spot. White circles indicate the number of hits on the wrong spot.
Blondes kids
A blonde was with her husband shopping and she decided that they would shop in different parts of the mall.
They meet in the middle 2 hours later and she announces, "I just got kids."
The husband stares amazed, looking at the kids he says, "Those are 2 baby goats!"
Submitted by bomberman255
Edited by Calamjo, Curtis and yisman
Sister Mary Ann
Sister Mary Ann, who worked for a home health agency, was making her rounds. She was visiting homebound patients when she ran out of gas.
As luck would have it, a gas station was just a block away. She walked to the station to borrow a gas can and buy some gas. The attendant told her that the only gas can he owned had been loaned out, but she could wait until it was returned
Since Sister Mary Ann was on the way to see a patient, she decided not to wait and walked back to her car. She looked for something in her car that she could fill with gas and spotted the bedpan she was taking to the patient. Always resourceful, Sister Mary Ann carried the bedpan to the station, filled it with gasoline, and carried the full bedpan back to her car.
As she was pouring the gas into her tank, two Baptists watched from across the street. One of them turned to the other and said, "If it starts, I'm becoming Catholic."
#joke
Lavell Crawford: Get to Heaven
If I get to Heaven and God is white, Id be like, I knew it all along. Show me to the hood. But if I get to Heaven and God is black, thats going to piss me off a little bit. Id be like, Aint this a bitch? Youve been black all along? Aint you been seeing what the hells going on down there?
Chuck Norris once sued Burger ...
Chuck Norris once sued Burger King after they refused to put razor wire in his Whopper Jr, insisting that that actually is "his" way.
Auctions and golf...
A wife and husband both talked in their sleep. She loved auctions; his hobby was golf.
The other night, as they slept, the golfer yelled, "Fore!"
His wife yelled back, "Four and a quarter !"