Jokes of the day for Thursday, 13 September 2018
Funny jokes, funny photo and funny video collected from the internet on Thursday, 13 September 2018
A sweet grandmother telephoned...
A sweet grandmother telephoned St. Joseph's Hospital and she timidly asked, "Is it possible to speak to someone who can tell me how a patient is doing?"
The operator responded, "I'll be glad to help, dear. What's the patient's name and room number?"
The grandmother in her weak tremulous voice said, "Norma Findlay, Room 302."
The operator replied, "Let me place you on hold while I check with her nurse."
After a few minutes the operator returned to the phone, "Oh, good news. Her nurse has told me that Norma is doing very well. Her blood pressure is fine; her blood work just came back as normal. And her physician, Dr.Cohen, has scheduled her to be discharged Tuesday."
The grandmother said, "Thank you. That's wonderful. I was so worried! God bless you for the good news."
The operator replied, "You're more than welcome. Is Norma your daughter?"
The grandmother said, "No, I'm Norma Findlay in Room 302. No one tells me anything."
#joke
A head-hunter is a s...
"A head-hunter is a safari leader."
My Super Ex-Wife
My ex-wife and I could not reconcile our marriage because of religious differences.She thought she was God.I disagreed.
A little old lady was running...
A little old lady was running up and down the halls in a nursing home. As she walked, she would flip up the hem of her nightgown and say, "Supersex!" She walked up to an elderly man in a wheelchair. Flipping her gown at him, she said, "Supersex!"
He sat silently for a moment or two and finally answered, "I'll take the soup."
#joke
A Drunk Orders Himself A Beer
A man walks into the front door of a bar. He is obviously drunk. he staggers up to the bar, seats himself on a stool, and with a belch, asks the bartender for a drink.
The bartender politely informs the man that it appears that he has already had plenty to drink--he could not be served additional liquor at this bar but could get a cab called for him.
The drunk is briefly surprised then softly scoffs, grumbles, climbs down off the bar stool, and staggers out the front door.
A few minutes later, the same drunk stumbles in the side door of the bar. He wobbles up to the bar and hollers for a drink. The bartender comes over, and still politely--but more firmly refuses service to the man due to his inebriation. Again, the bartender offers to call a cab for him.
The drunk looks at the bartender for a moment angrily, curses, and shows himself out the side door, all the while grumbling and shaking his head.
A few minutes later, the same drunk bursts in through the back door of the bar. He plops himself up on a bar stool, gathers his wits, and belligerently orders a drink.
The bartender comes over and emphatically reminds the man that he is clearly drunk, will be served no drinks, and either a cab or the police will be called immediately.
The surprised drunk looks at the bartender and in hopeless anguish, cries "Man! How many bars do you work at?"
God, Adam, Eve, a Dog and a Cat
Adam and Eve said, 'Lord when we were in the garden, you walked with us every day. Now we do not see you anymore. We are lonesome here, and it is difficult for us to remember how much you love us.'
And God said, 'I will create a companion for you that will be with you and who will be a reflection of my love for you so that you will love me even when you cannot see me.'
Regardless of how selfish or childish or unlovable, you may be, this new companion will accept you as you are and will love you as I do, in spite of yourselves.
And God created a new animal to be a companion for Adam and Eve. And it was a good animal and God was pleased.
And the new animal was pleased to be with Adam and Eve and he wagged his tail.
And Adam said, 'Lord, I have already named all the animals in the Kingdom and I cannot think of a name for this new animal.'
And God said, 'I have created this new animal to be a reflection of my love for you, his name will be a reflection of my own name, and you will call him DOG.
And Dog lived with Adam and Eve and was a companion to them and loved them.
And they were comforted.
And God was pleased.
And Dog was content and wagged his tail.
After a while, it came to pass that an angel came to the Lord and said, 'Lord, Adam and Eve have become filled with pride. They strut and preen like peacocks and they believe they are worthy of adoration. Dog has indeed taught them that they are loved, but perhaps too well.'
And God said, 'I will create for them a companion who will be with them and who will see them as they are. The companion will remind them of their limitations, so they will know that they are not always worthy of adoration.'
And God created CAT to be a companion to Adam and Eve.
And Cat would not obey them. And when Adam and Eve gazed into Cat's eyes, they were reminded that they were not the Supreme Beings.
And Adam and Eve learned humility. And they were greatly improved.
And God was pleased.
And Dog was happy.
And the Cat didn't give a sh*t one way or the other.......
#joke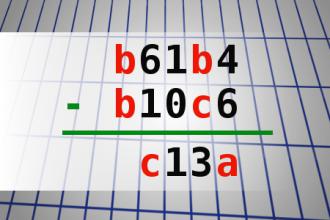 Find number abc
If b61b4 - b10c6 = c13a find number abc. Multiple solutions may exist.
I can not tell a lie...
A married man and his secretary were having a torrid affair. One afternoon they couldn't contain their passion, so they rushed over to her place where they spent the afternoon making passionate love. When they were finished, they fell asleep, not waking until 8 o'clock that night.
They got dressed quickly. Then the man asked his secretary to take his shoes outside and rub them on the lawn. Bewildered, she did as he asked, thinking him pretty weird.
The man finally got home and his wife met him at the door. Upset, she asked where he'd been. The man replied, "I can not tell a lie. My secretary and I are having an affair. Today we left work early, went to her place, spent the afternoon making love, and then fell asleep. That's why I'm late."
The wife looked at him, took notice of his shoes, and yelled, "I can see those are grass stains on your shoes. YOU LIAR! You've been playing golf again, haven't you?"
#joke
Two men were hunting deer when...
Two men were hunting deer when a large bear rears up and begins to charge them.
The one man puts his running shoes on and begins to run with the other man.
The second man asks why he put them on because it wont help him out run the bear.
He said "I don't need to out run the bear I need to out run you."
#joke
An old man who loves to fish...
An old man who loves to fish, was sitting in his boat the other day when he heard a voice say, "Pick me up."
He looked around and couldn't see any one. He thought he was dreaming when he heard the voice say again, "Pick me up."
He looked in the water and there, floating on the top, was a frog.
The man said, "Are you talking to me?"
The frog said, "Yes, I'm talking to you. Pick me up. Then, kiss me and I'll turn into the most beautiful woman you have ever seen. I'll then give you more sexual pleasure that you ever could have dreamed of."
The man looked at the frog for a short time, reached over, picked it up carefully, and placed it in his front breast pocket.
Then the frog said, "What, are you nuts? Didn't you hear what I said? I said kiss me and I will give you sexual pleasures like you have never had."
He opened his pocket, looked at the frog and said, "Nah, at my age I'd rather have a talking frog."
#joke
Serving Two Masters
A Mormon acquaintance once pushed Mark Twain into an argument on the issue of polygamy. After long and tedious expositions justifying the practice, the Mormon demanded that Twain cite any passage of scripture expressly forbidding polygamy.
"Nothing easier," Twain replied. "No man can serve two masters."

#joke
Human cloning is outlawed beca...
Human cloning is outlawed because of Chuck Norris, because then it would be possible for a Chuck Norris roundhouse kick to meet another chuck Norris roundhouse kick. Physicists theorize that this contact would end the universe.
Studying The Twinkies
In an effort to clarify questions about the purported durability and unusual physical characteristics of Twinkies, we subjected the Hostess snack logs to the following experiments:
Exposure
A Twinkie was left on a window ledge for 4 days, during which time an inch and a half of rain fell. Many flies were observed crawling across the Twinkie's surface, but contrary to hypothesis, birds, even pigeons, avoided this potential source of substance. Despite the rain and prolonged exposure to the sun, the Twinkie retained its original color and form. When removed, the Twinkie was found to be substantially dehydrated. Cracked open, it was observed to have taken on the consistency of industrial foam insulation; the filling however, retained its advertised "creaminess"
Radiation
A Twinkie was placed in a conventional microwave oven, which was set for precisely 4 minutes - the approximate cooking time of bacon. After 20 seconds, the oven began to emit the Twinkie's rich, characteristic aroma of artificial butter. After one minute, this aroma began to resemble the acrid smell of burning rubber. The experiment was aborted after 2 minutes 10 seconds when thick, foul smoke began billowing from the top of the oven. A second Twinkie was subjected to the same experiment; this Twinkie leaked molten white filling. When cooled, this now epoxylike filling bonded the Twinkie to its plate, defying gravity: it was removed only upon application of a butter knife.
Extreme Force
A Twinkie was dropped from a ninth-floor window, a fall of approximately 120 feet. It landed right side up, then bounced onto its back. The expected "splatter" effect was not observed. Indeed, the only discernible damage to the Twinkie was a narrow fissure on its underside; otherwise, the Twinkie remained structurally intact.
Extreme Cold
A Twinkie was placed in a conventional freezer for 24 hours. Upon removal, the Twinkie was not found to be frozen solid, but its physical properties had noticeably "slowed". The filling was found to be the approximate consistency of acrylic paint, while exhibiting the mercurylike property of not adhering to practically any surface. It was noticed the Twinkie had generously absorbed the freezer odors.
Extreme Heat
A Twinkie was exposed to a gas flame for 2 minutes. While the Twinkie smoked and blackened and the filling in one of its "cream holes" boiled, the Twinkie did not catch fire. It did, however produce the same "burning rubber" aroma noticed in the irradiation experiment.
Immersion
A Twinkie was dropped into a large bucket filled with water, the Twinkie floated momentarily, then began to list and sink. Viscous yellow tendrils ran off its lower half, possibly consisting of a water-soluble artificial coloring. After 2 hours, the Twinkie bloated substantially. Its coloring was now a very pale tan - in contrast to the yellow, urine-like water that surrounded it. The Twinkie bobbed when touched, and had a gelatinous texture. After 72 hours, the Twinkie had increased roughly 200 percent of its original size. The water had turned opaque, and a small, fan-shaped spray of filling had leaked from one of the "cream holes". Unfortunately, efforts to remove the Twinkie for further analysis were abandoned when, under light pressure the Twinkie disintegrated into an amorphous cloud of debris. A distinctly sour odor was noted.
Summary of Results
The Twinkie's survival of a 120-foot drop, along with some of the unusual phenomena associated with the "creamy filling" and artificial coloring, should give pause to those observers who would unequivocally categorize the Twinkie as "food". Further clinical inquiry is required before any definite conclusions can be drawn.
Reprinted from SPY Magazine, July 1989
#joke