Jokes of the day for Monday, 01 October 2018
Funny jokes, funny photo and funny video collected from the internet on Monday, 01 October 2018
Speeding Ticket
A driver is pulled over by a policeman. The police man approaches the driver's door.
"Is there a problem Officer?"
The policeman says, "Sir, you were speeding. Can I see your license please?"
The driver responds, "I'd give it to you but I don't have one."
"You don't have one?"
The man responds, "I lost it four times for drink driving."
The policeman is shocked. "I see. Can I see your vehicle registration papers please?"
"I'm sorry, I can't do that."
The policeman says, "Why not?"
"I stole this car."
The officer says, "Stole it?"
The man says, "Yes, and I killed the owner."
At this point the officer is getting irate. "You what!?"
"She's in the boot if you want to see."
The Officer looks at the man and slowly backs away to his car and calls for back up. Within minutes, five police cars show up, surrounding the car. A senior officer slowly approaches the car, clasping his half drawn gun.
The senior officer says "Sir, could you step out of your vehicle please!"
The man steps out of his vehicle. "Is there a problem sir?"
"One of my officers told me that you have stolen this car and murdered the owner."
"Murdered the owner?"
The officer responds, "Yes, could you please open the boot of your car please?"
The man opens the boot, revealing nothing but an empty boot.
The officer says, "Is this your car sir?"
The man says "Yes," and hands over the registration papers.
The officer, understandably, is quite stunned. "One of my officers claims that you do not have a driving license."
The man digs in his pocket revealing a wallet and hands it to the officer. The officer opens the wallet and examines the license. He looks quite puzzled. "Thank you sir, one of my officers told me you didn't have a license, stole this car, and murdered the owner."
The man replies, "I bet you the lying bastard told you I was speeding, too!"
"Getting the knights
"Getting the knights ready for battle went down to the squire."
A husband and wife were sittin
A husband and wife were sitting around one day drinking a bottle ofwine. The husband turns to his wife and says, "I bet you can't tell mesomething that will make me both happy and sad at the same time."
After thinking about it a few minutes the wife looks at her husband andsays, "Your pecker is bigger than your brothers!"
#joke
Knock Knock Collection 008
Knock Knock
Who's there?
Alice!
Alice who?
I'm Alice chasing rainbows....!
Knock Knock
Who's there?
Alison!
Alison who?
Alison it's dark outside!
Knock Knock
Who's there?
Allan!
Allan who!
Allan-d of Manhattan!
Knock Knock
Who's there?
Allegra!
Allegra who?
Allegra is broken!
Knock Knock
Who's there?
Alli!
Alli who?
Alligator, that's who!
#joke
Why're You Always Telling Jokes About Jews?
Two men sitting on a train are talking. One guy says, "Did you hear the one about the two Jews who are walking down the street..."The other guy says, "Hold it! Why are you always telling jokes about Jews? I find it offensive. Why must they always be about Jews?""You're right," his friend replies and starts the joke again: "So, these two Chinese guys are walking down the street on the way to their nephew's bar mitzvah..."
#joke
Panic at the hotel
It was three o'clock in the morning, and the receptionist at a posh hotel was just dozing off, when a little old lady came running towards her, screaming. "Please come quickly," she yelled, "I just saw a naked man outside my window!"
The receptionist immediately rushed up to the old lady's room. "Where is he?" asked the receptionist.
"He's over there," replied the little old lady, pointing to an apartment building opposite the hotel. The receptionist looked over and could see a man with no shirt on, moving around his apartment. "It's probably a man who's getting ready to go to bed," she said reassuringly. "And how do you know he's naked, you can only see him from the waist up?"
"The dresser, honey!" screamed the old lady. "Try standing on the dresser!"
#joke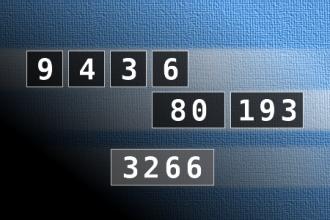 Calculate the number 3266
NUMBERMANIA: Calculate the number 3266 using numbers [9, 4, 3, 6, 80, 193] and basic arithmetic operations (+, -, *, /). Each of the numbers can be used only once.
Once upon a time, a man appear...
Once upon a time, a man appeared in a village and announced to the villagers that he would buy monkeys for $10 each.
The villagers, knowing there were many monkeys, went to the forest and started catching them. The man bought thousands at $10 each and, as supply started to diminish, the villagers stopped their effort.
He then announced that he would buy monkeys at $20 each. This renewed the villagers efforts and they started catching monkeys again.
Soon, the supply diminished and people started going back to their farms. The offer increased to $25 each and the supply of monkeys became so scarce it was an effort to even find a monkey, let alone catch it!
The man now announced that he would buy monkeys at $50 each! However, since he had to go to the big city on some business, his assistant would buy on his behalf.
The assistant told the villagers, "Look at all these monkeys in the big cage that my boss has already collected. I will sell them to you at $35 and when my boss returns, you can sell them to him for $50."
The villagers rounded up all their savings and bought all the monkeys for 700 billion dollars.
They never saw the man or his assistant again, only lots and lots of monkeys!
Now you have a better understanding of how the
WALL STREET BAILOUT PLAN WORKS!!!
It doesn't get much clearer than this........
#joke
Chuck Norris uses 8'x10' sheet...
Chuck Norris uses 8'x10' sheets of plywood as toilet paper.
Climb The Pole
A group of guys were chatting with a good-looking blonde and, somewhat improbably, asked her to climb this pole that was conveniently nearby.
For whatever reason, she decided to do it.
When she told her mother what happened, her mother scolded her:
"Don't you understand that they only wanted to see your underwear?"
The girl was understandably upset at being very stupid and naive, and decided to show those boys a thing or two.
The next day, they repeated their request, and when she came home she was beaming.
"What are you so happy about?" asked her mother.
"I totally showed them. Today I didn't even WEAR underwear!"
Texas
At the urging of his doctor, Bill moved to Texas.
After settling in, he met a neighbor who was also an older man.
"Say, is this really a healthy place?"
"It sure is," the man replied.
"When I first arrived here I couldn't say one word. I had hardly any hair on my head. I didn't have the strength to walk across a room and I had to be lifted out of bed."
"That's wonderful!" said Bill. "How long have you been here?"
"I was born here."
You might be a redneck if 22
You might be a redneck if...
Exxon and Conoco have offered you royalties for your hair.
Your dad is also your favorite uncle.
Your classes at school were cancelled because the path to the restroom was flooded.
During your senior year you and your mother had homeroom together.
You're a lite beer drinker, because you start drinking when it gets light.
On your first date you had to ask your Dad to borrow the keys to the tractor.
Your parakeet knows the phrase "Open up, Police!"
You saved lots of money on your honeymoon by going deer hunting.
In tough situations you ask yourself, "What would Curly do?"
Taking your wife on a cruise means circling the Dairy Queen.