Jokes of the day for Saturday, 13 October 2018
Funny jokes, funny photo and funny video collected from the internet on Saturday, 13 October 2018
Oxymorons
1.
Oxymorons
1. Act naturally
2. Found missing
3. Resident alien
4. Advanced BASIC
5. Genuine imitation
6. Airline Food
7. Good grief
8. Same difference
9. Almost exactly
10. Terribly pleased
11. Sanitary landfill
12. Alone together
13. Legally drunk
14. Silent scream
15. Living dead
16. Government organization
#joke
No-Excuse Sunday
* Cots will be placed in the foyer for those who say, "Sunday is my only day to sleep in." * There will be a section with lounge chairs for those who feel our pews are too hard.* We will have steel helmets for those who say, "The roof will cave in if I ever came to church."* Blankets will be provided for those who think, "The church is too hot."* Fans will be provided for those who think, "The church is too cold."* Scorecards will be available for those who wish to list the hypocrites present.* One section will have trees and grass for those who like to seek God in nature.* The sanctuary will be decorated with both poinsettias and Easter lilies for those who have never seen the church without them.-
Joke shared on Beliefnet's Religious Humor page.
#joke
"At the annual Anglo-
"At the annual Anglo-Saxon Fair, I did not drink any wassail. I did not feel any mead for it."
Man vs Woman _ Part 2
Why do women live a better, longer & more peaceful Life, compared to men?
A very INTELLIGENT student replied: 'Because women don't have a wife!'
COOL MESSAGE BY A WIFE: Dear Mother-in-law, Don't teach me how to handle my children. I am living with one of yours and he needs a lot of improvement!?
When a married man says, I WILL THINK ABOUT IT - what he really means is that he doesn't know his wife's opinion yet.
#joke
Doctors Meeting
A group of psychiatrists were attending a convention. Four of them decided to leave, and walked out together. One said to the other three, "People are always coming to us with their guilt and fears, but we have no one that we can go to when we have problems." The others agreed.
Then one said, "Since we are all professionals, why don't we take some time right now to hear each other out?"
The other three agreed.
The first then confessed, "I have an uncontrollable desire to kill my patients."
The second psychiatrist said, "I love expensive things and so I find ways to cheat my patients out of their money whenever I can so I can buy the things I want."
The third followed with, "I'm involved with selling drugs and often get my patients to sell them for me."
The fourth psychiatrist then confessed, "I know I'm not supposed to, but no matter how hard I try, I can't keep a secret..."
If Women ruled the world...
- Men would sit around and wonder what WE are thinking.
- Singles bars would have metal detectors to weed out men hiding wedding rings in their pockets.
- A man would no longer be considered a 'good catch' simply because he is breathing.
- Fewer women would be dieting because their ideal weight standard would increase by 40 pounds.
- Shopping would be considered an aerobic activity.
- 'Ms.' Magazine would have an annual swimsuit issue featuring scantily clad male models.
- Men would not be allowed to eat gas-producing foods within two hours of bedtime.
- Men would be secretaries for female bosses, working twice as hard for none of the credit.
- Little girls would read 'Snow White and the Seven Hunks.'
- Men would bring drinks, chips and dip to women watching soap operas.
- Men would HAVE to get Playboy for the articles, because there would be no pictures.
- Men would learn phrases like:'I'm sorry,' 'I love you,' 'You're beautiful,' 'Of course you don't look fat in that outfit.'
- Men would be judged entirely by their looks, women by their accomplishments.
- Men would pay as much attention to their woman as to their car.
- All toilet seats would be nailed down.
- Men would work on relationships as much as they work on their careers.
- TV news segments on sports would never run longer than 1 minute.
- All men would be forced to spend one month in a PMS simulator.
- During mid-life crisis, men would get hot-flashes and women would date 19-year-olds.
- Overweight men would have their weight brought to their attention constantly.
- After a baby is born, men would take a six-week paternity leave to wait on their wives hand and foot.
- For basic training, soldiers would have to take care of a two-year old for six weeks.
#joke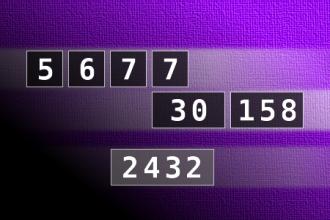 Calculate the number 2432
NUMBERMANIA: Calculate the number 2432 using numbers [5, 6, 7, 7, 30, 158] and basic arithmetic operations (+, -, *, /). Each of the numbers can be used only once.
An artist asked the gallery ow
An artist asked the gallery owner if there had been any interest in herpaintings that were on display.
"Well, I have good news and bad news," the owner responded. "The good newsis that a gentleman noticed your work and wondered if it would appreciatein value after your death. I told him it would and he bought all 10 ofyour paintings."
"That's wonderful," the artist exclaimed. "What's the bad news?"
"The gentleman was your doctor."
A blonde, a brunette, and a re...
A blonde, a brunette, and a redhead all work at the same office for a female boss who always goes home early. "Hey girls," says the brunette, "Let's go home early tomorrow. She'll never know." The next day, they all leave right after the boss does. The brunette gets some extra gardening done, the redhead goes to a bar, and the blonde goes home to find her husband having sex with the female boss! She quietly sneaks out of the house and returns at her normal time. "That was fun," says the brunette. "We should do it again sometime." "No way," says the blonde. "I almost got caught!"
Pukeing drunk
Two notorious drunks are sitting at the bar. One is crying. The other asks what's wrong.
"I've puked all over myself again and my wife is gonna kill me."
The other drunk says "do what I do pal. Explain to your wife that some other drunk puked on you. Put a ten spot in your shirt pocket and tell her that the drunk was sorry and gave you ten dollars to have your clothes cleaned."
"Sounds like a great idea" says drunk number 1.
When he gets home, sure enough his wife is fuming and begins yelling at him about his clothes and how disgusting he is. The drunk starts spinning the lie and says " look for yourself, there's ten bucks in my shirt pocket."
His wife looks in the pocket and finds twenty dollars.
"Wait a minute, I thought you said the guy gave you ten for puking on you," says the wife.
"He did," says the drunk.
"But he shit in my pants too."
#joke
The chief export of Chuck Norr...
The chief export of Chuck Norris is pain.
A psychiatrist was conducting ...
A psychiatrist was conducting a group therapy session with four young mothers and their small children.
"You all have obsessions," he observed.
To the first mother, he said, "You are obsessed with eating. You've even named your daughter Candy."
He turned to the second Mom. "Your obsession is with money. Again, it manifests itself in your child's name, Penny."
He turns to the third Mom. "Your obsession is alcohol. This too manifests itself in your child's name, Brandy."
At this point, the fourth mother gets up, takes her little boy by the hand and whispers, "Come on, Dick, we're leaving."
#joke