Jokes of the day for Thursday, 25 October 2018
Funny jokes, funny photo and funny video collected from the internet on Thursday, 25 October 2018
"My pursuit of perfec
"My pursuit of perfect speech has become a diction."
Letter Home
A college student wrote a letter home:Dear folks, I feel miserable cause I have to keep writing for money. I feel ashamed and unhappy. I have to ask for another hundred, but every cell in my body rebels. I beg on bended knee that you forgive me. Your son, MarvinP.S. I felt so terrible I ran after the mailman who picked this up at the box at the corner. I wanted to take this letter and burn it. I prayed to God that I could get it back, but I was too late.A few days later, he received a letter from his father:Dear Son, Good news! Your prayers were answered. Your letter never came!
#joke
While sports fishing off the F
While sports fishing off the Florida coast, a tourist capsized his boat. He could swim, but his fear of alligators kept him clinging to the overturned craft. Spotting and old beachcomber standing on the shore, the tourist shouted, "Are there any gators around here?!"
"Naw," the man hollered back, "they ain't been around for years!"
"Feeling safe, the tourist started swimming leisurely toward the shore.
About halfway there he asked the guy, "How'd you get rid of the gators?"
"We didn't do nothin'," the beachcomber said.
"The sharks got 'em."
#joke
You Might Be A Redneck If ...
Your biggest ambition in live is to "git that big ole coon.
The one what hangs 'round over yonder, back'ah Bubba's barn..."
Three quarters of the clothes you own have logos on them.
Your grandfather completely executes the "pull my finger" trick at the family reunion.
When you leave your house, you are followed by federal agents of the Bureau of Alcohol Tobacco and Firearms, and the only thing you worry about is if you can lose them or not.
You have a house that's mobile and five cars that aren't.
You gene pool doesn't have a "deep end."
Your `huntin dawg' cost more than the truck you drive him around in.
You have a Hefty bag for a convertible top.
Your belt buckle weighs more than three pounds.
#joke
It's In The Bible
There was this Christian lady that had to do a lot of traveling for her business so she did a lot of flying. But flying made her nervous so she always took her Bible along with her to read and it helped relax her. One time she was sitting next to a man. When he saw her pull out her Bible he gave a little chuckle and went back to what he was doing.
After awhile he turned to her and asked "You don't really believe all that stuff in there do you?"
The lady replied "Of course I do. It is the Bible."
He said "Well what about that guy that was swallowed by that whale?
She replied "Oh, Jonah. Yes I believe that, it is in the Bible.
He asked "Well, how do you suppose he survived all that time inside the whale?"
The lady said "Well I don't really know. I guess when I get to heaven I will ask him."
"What if he isn't in heaven?" the man asked sarcastically.
"Then you can ask him." replied the lady
#joke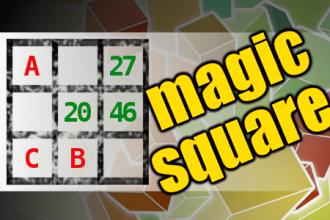 MAGIC SQUARE: Calculate A+B*C
The aim is to place the some numbers from the list (17, 18, 20, 21, 27, 28, 38, 46, 49, 56, 83) into the empty squares and squares marked with A, B an C. Sum of each row and column should be equal. All the numbers of the magic square must be different. Find values for A, B, and C. Solution is A+B*C.
A young woman said to her d...
A young woman said to her doctor, 'You have to help me, I hurt all over.' 'What do you mean?' said the doctor. The woman touched her right knee with her index finger and yelled,'Ow, that hurts.' Then she touched her left cheek and again yelled, 'Ouch! That hurts, too.' Then she touched her right earlobe. 'Ow, even THAT hurts.' The doctor asked the woman, 'Are you a natural blonde?' 'Why yes,' she said. 'I thought so,' said the doctor. 'You have a sprained finger.'
Everyday, Chuck Norris goes fo...
Everyday, Chuck Norris goes for a short walk, just to keep the planet spinning.
Arj Barker: No Razors in Halloween Candy
Theres no razor in candy. If for no other reason, it doesnt make financial sense. Its not fiscally prudent. How much does a piece of candy cost -- like, a penny and a half? An apples like 15 cents? Anybody here bought a Mach 3 replacement cartridge recently? Theyre so expensive, they dont even keep them on the shelf. You know, you have to ask the people behind the counter. I feel like Im trying to buy enriched plutonium or something.
Gilbert Gottfried: Spoke to the Animals
A traveling salesman goes to a farm house. The farmer goes, I could put you up for one night, but youll have to stay in the barn. So he spends the night there and the next morning the farmer comes in, he goes, Were you comfortable? He goes, I had a great time; I talked to all the animals. He goes, You talked to the animals? He goes, Yeah I spoke to the chickens, they say you collect the eggs every morning exactly at five minutes after six. He goes, Thats exactly right. He says, The horse tells me his name is Otis, youve owned him for 10 years. He goes, Thats incredible. And he goes, I spoke to the cow, the cow says that her name is Elsie and you milk her every morning at exactly 8:30. And then I spoke to the sheep. And the farmer goes, Those sheep are lying.
#joke
Pickle Slicer
Bill worked in a pickle factory. He had been employed there for a number of years when he came home one day to confess to his wife that he had a terrible compulsion. He had an urge to stick his penis into the pickle slicer. His wife suggested that he should see a sex therapist to talk about it, but Bill indicated that he'd be too embarrassed. He vowed to overcome the compulsion on his own.
One day a few weeks later, Bill came home absolutely ashen. His wife could see at once that something was seriously wrong.
"What's wrong, Bill?" she asked.
"Do you remember that I told you how I had this tremendous urge to put my penis into the pickle slicer?" he asked.
"Oh, Bill, you didn't," she said.
"Yes, I did," he told her.
"My God, Bill, what happened?"
"I got fired."
"No, Bill. I mean, what happened with the pickle slicer?" she asked.
"Oh... she got fired too."
#joke