Jokes of the day for Friday, 26 October 2018
Funny jokes, funny photo and funny video collected from the internet on Friday, 26 October 2018
It was the first day of school
It was the first day of school and the teacher was asking the little boy about his family.
"And what does your Daddy do?"
"He's a magician."
"That must be exciting, what tricks can he do?"
"He can saw people in half."
"That is clever, and tell me do you have any brothers or sisters?"
"Yes, one half brother, and two half sisters."
#joke
Silence is Golden
Silence is golden...
Unless you have children...
If that is the case, silence is suspicious.
Two Women at the Pearly Gates
Two women are new arrivals at the pearly gates and are comparing stories on how they died.Woman #1: I froze to death.Woman #2: How horrible!Woman #1: It wasn't so bad. After I quit shaking from the cold, I began to get warm and sleepy, and finally died a peaceful death. What about you?Woman #2: I died of a massive heart attack. I suspected that my husband was cheating, so I came home early to catch him in the act. But instead, I found him all by himself in the den watching TV. Woman #1: So what happened?Woman #2: I was so sure there was another woman there somewhere that I started running all over the house looking. I ran up into the attic and searched, and down into the basement. Then I went through every closet and checked under all the beds. I kept this up until I had looked everywhere, and finally I became so exhausted that I just keeled over with a heart attack and died!Woman #1: Too bad you didn't look in the freezer. We'd both still be alive.
#joke
You Might Be A Redneck If ...
Your biggest ambition in live is to "git that big ole coon.
The one what hangs 'round over yonder, back'ah Bubba's barn..."
Three quarters of the clothes you own have logos on them.
Your grandfather completely executes the "pull my finger" trick at the family reunion.
When you leave your house, you are followed by federal agents of the Bureau of Alcohol Tobacco and Firearms, and the only thing you worry about is if you can lose them or not.
You have a house that's mobile and five cars that aren't.
You gene pool doesn't have a "deep end."
Your `huntin dawg' cost more than the truck you drive him around in.
You have a Hefty bag for a convertible top.
Your belt buckle weighs more than three pounds.
#joke
Wake up!
Linda was with her mother while her older sister was being examined by a dentist. Linda kept herself busy playing with toys in the waiting room until she noticed that her mom was resting, her eyes closed.
With about six other patients waiting, Linda marched up to her mother, looked her straight in the face and shook her shoulder.
"Mommy," she yelled, "wake up! This is not church!"
#joke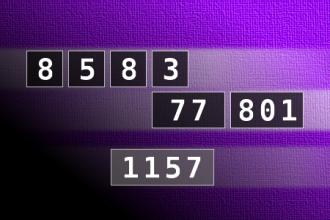 Calculate the number 1157
NUMBERMANIA: Calculate the number 1157 using numbers [8, 5, 8, 3, 77, 801] and basic arithmetic operations (+, -, *, /). Each of the numbers can be used only once.
Husband and his wife were cele
Husband and his wife were celebrating 50 years together. Their three kids,all very successful, all agreed to a Sunday dinner in their honor.
"Happy Anniversary Mom & Dad" gushed son number one, a surgeon, "Sorry I'm running late. I had an emergency at the hospital with a patient, you know how it is, and didn't have time to get you a gift."
"Not to worry" said the father, the important thing is that we're all together today."
Son number two, a lawyer, arrived and announced "You and Mom look great Dad". I just flew in from Los Angeles between depositions and didn't have time to shop for you".
"It's nothing," said the father. "We're glad you were able to come."
Just then the daughter,a marketing executive, arrived. "Hello and Happy Anniversary! I'm sorry but my boss is sending me out of town and I was really busy packing, so I didn't have time to get you anything."
After they finished dessert, the father said, "There's something your mother and I have wanted to tell you for a long time.You see, we were very poor. Despite this, we were able to send each of you to college. Throughout the years your mother and I knew we loved each other very much, but we just never found the time to get married."
The three children gasped and all said, "You mean we're bastards?"
"Yep," said the father, "and cheap ones too!"
Once upon a time there was a n...
Once upon a time there was a non-conforming sparrow who decided not to fly south for the winter. However, soon the weather turned so cold that he reluctantly decided to fly south. In a short time ice began to form on his wings and he fell to Earth in a barnyard, nearly frozen solid. A cow passed by where he had fallen, and crapped on the little sparrow.The sparrow thought it was the end, but the manure warmed him and defrosted his wings!
Warm and happy, able to breath, he started to sing.
Just then a large cat came by, and hearing the chirping he investigated the sounds. The cat cleared away the manure, found the chirping bird, and promptly ate him.
The Moral of the Story:
Everyone who craps on you is not necessarily your enemy
Everyone who gets you out of crap is not necessarily your friend.
And if you're warm and happy in a pile of crap, you might just want to keep your mouth shut.
#joke
Chuck Norris does the Sunday N...
Chuck Norris does the Sunday New York Times Crossword Puzzle in ink.
Forgive Me Father
About a month ago, a man in Amsterdam felt that he needed to confess, so he went to his priest, "Forgive me Father, for I have sinned. During WWII I hid a refugee in my attic."
"Well," answered the priest, "that's not a sin."'
"But I made him agree to pay me 200 Euros for every week he stayed."
"I admit that wasn't good, but you did it for a good cause."
"Oh, thank you, Father; that eases my mind." He paused for a moment and then said, "I have one more question..."
"What is that, my son?"
"Do I have to tell him the war is over?"
#joke
Benefits of the Revival
After the revival had concluded, the three pastors were discussing the results with one another.
The Methodist minister said, "The revival worked out great for us! We gained 4 new families."
The Baptist preacher said, "We did better than that! We gained 6 new families."
The Presbyterian pastor said, "Well, we did even better than that! We got rid of our 10 biggest trouble makers!"
#joke
Jobs at the food company...
One day, three unemployed factory workers heard that a large food company was enlarging and needed more staff. So they went downtown to see if they could get themselves a job.
After filing out their applications, each one was interviewed and each one managed to get hired. As they were waiting to be assigned their new duties, a foreman came by and spoke to the hiring boss.
The foreman told the boss that he didn't think it was such a good idea as one of the workers had snapped for no apparent reason at his last job.
Also a second was said to have had cracked up after severe mental stress.
The third, he believed was their father who he felt was a bit odd but he couldn't put his finger on it.
The hiring boss reassured the foreman and said that they would start on something easy and after a week, the company would re-assess them to see if they would be kept on.
The foreman reluctantly agreed and asked the boss where he thought they should start.
The boss replied, "Why not take them and put them in our Cereal Division...Snap, Crackle and Pop should work out fine down there."
#joke