Several days before Halloween,
Several days before Halloween, Tom, Dick and Harry were sitting in a bar enjoying a few quiet drinks, when they decided to get in on the Christmas raffle.
Since the raffle was for charity, they bought five tickets each. When the raffle was drawn a few days later, they each won a prize.
Tom won the first prize - a year's supply of gourmet spaghetti sauce.
Dick was the winner of the second prize - a six month supply of extra-long gourmet spaghetti.
And Harry won the sixth prize - a toilet brush.
The next time they met at the bar, Harry asked the others how they were enjoying their prizes. "Great," said Tom. "I love spaghetti."
"Me too," replied Dick.
"And how's the toilet brush, Harry?"
"Not so good," Harry groaned, "I reckon I'll go back to toilet paper."
Halloween 2018 short jokes
What did the skeleton say to the vampire?
You suck.
What do ghosts use to wash their hair?
Sham-boo!
What kind of instrument do you play on Halloween?
A Spook-ulele.
What kind of key does a ghost use to unlock his room?
A Spoo-key
Why do skeletons have low self-esteem?
They have no body to love.
How do vampires get around on Halloween?
In blood vessels
What did the teenage witch ask her mother on Halloween?
Can i have the keys to the broom tonight.
Freudian Slip
A woman walks into her psychiatrist's office and says, 'Hey doc, you know how we have been talking about saying things that don't come out the way we meant them to?'
The psychiatrist replies, 'You mean Freudian slips?'
'Exactly, those. Well, I had the most amazing one last night. I was eating dinner with my husband, and I meant to say, 'Honey, could you please pass the salt,' but instead I said, 'You damn fool, you ruined my life.''
#joke
"What exercises does
"What exercises does a Zombie do? Deadlifts."
A man went to a psychiatrist f
A man went to a psychiatrist for his phobia.
"Doc," he said, "I've got trouble. Every time I get into bed, I think there's somebody under it. I get under the bed, I think there's somebody on top of it. Top, under, top, under. You gotta help me, I'm going crazy!"
"Just put yourself in my hands for two years," said the shrink, "Come to me three times a week, and I'll cure your fears."
"How much do you charge?"
"A hundred dollars per visit."
"I'll sleep on it," said the man.
Six months later the doctor met the man on the street.
"Why didn't you ever come to see me again?" asked the psychiatrist.
"For a hundred buck's a visit? A bartender cured me for ten dollars."
"Is that so! How?"
"He told me to cut the legs off the bed!"
Call Us For Assistance
The following is supposedly a true story. To be included, besides being true, the story is most likely strange, weird, surprising, or funny.
Shortly after the 911 emergency number became available, an elderly and quite ill lady appeared in a Rochester hospital emergency room, having driven herself to the hospital and barely managing to stagger in from the parking lot. The horrified nurse said, 'Why didn't you call the 911 number and get an ambulance?'
The lady said, 'My phone doesn't have an eleven.'
#joke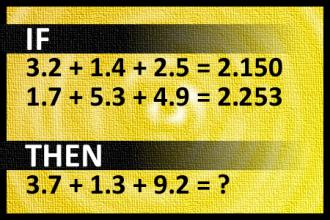 Calculate 3.7 + 1.3 + 9.2
FUNNY MATH: Calculate 3.7 + 1.3 + 9.2 :)
Old friends...
Mary and Jane are old friends. They have both been married to their husbands for a long time; Mary is upset because she thinks her husband doesn't find her attractive anymore.
"As I get older he doesn't bother to look at me!" Mary cries.
"I'm so sorry for you, as I get older my husband says I get more beautiful every day." replies Jane.
"Yes, but your husband's an antique dealer!"
#joke
Q. Why is it so hard for women...
Q. Why is it so hard for women to find men that are sensitive, caring, and good-looking?
A. Because those men already have boyfriends.
Playing Golf with God
Three men were playing golf. The course was a wicked dogleg with a large water hazard.
The first man stepped up to the tee and hit a sharp slice into the water hazard. He walked up to the water; it parted and he lofted his ball within one foot of the hole.
The next man steped up and hit the ball. Sure enough, he sliced it so that it landed on top of the water. He walked across the surface of the water and and hit the ball within six inches of the hole.The third man stepped up, hit the ball, and sliced it. The ball was just about to land in the water when a trout jumped out of the water and grabbed it in his mouth. An eagle swooped down, scooped up the fish, and flew off. As the eagle banked over the green, lightning struck it, it dropped the fish, the fish dropped the ball, and it landed in the hole for a hole in one.
Moses turned to Jesus and said, "I really hate playing golf with your Dad."
#joke
A Rabbi, a Minister and a Wiccan Priestess...
A rabbi, a Unitarian Universalist minister, and a Wiccan priestess decided to go on a fishing trip together. They went down to their local lake, rented a boat, and went out on to the lake for a day of fishing.
As the afternoon approached, the trio got hungry—and realized that they left their lunches on the shore of the lake.
The minister got out of the boat, walked across the lake, got his lunch, walked back, and sat down to eat his lunch.
"You should have gotten all of our lunches!" scolded the priestess. She then got up, walked across the lake, picked up her lunch as well as the rabbi's, walked back across the lake, and sat down, handing the rabbi his afternoon meal.
The rabbi at this point is almost out of his mind, his eyes wide with shock. He manages to sputter, "Wha... what... how did you...?"
The minister grins at the priestess, nudges her, and asks "Do you think we should tell him about the rocks?"
The priestess looks at the minister, raises an eyebrow, and replies "What rocks?"
#joke
Bigfoot takes pictures of Chuc...
Bigfoot takes pictures of Chuck Norris.
Lewis Black: All the Candy Corn Ever Made
The worst thing about Halloween is, of course, candy corn. Candy corn is the only candy in the history of America thats never been advertised. And theres a reason -- all of the candy corn that was ever made was made in 1911.