Happy New Year 2021!!
More Halloween 2018 jokes
What plants like Halloween the most?
Bam-BOO!
What do birds say on Halloween?
Twick or tweet
What do you get when you cross a werewolf and a vampire?
A fur coat that fangs around your neck.
What would you find on a haunted beach?
A sand-witch!
Why didn't the skeleton like the Halloween candy?
He didn't have the stomach for it!
What's worse than being a five-ton witch on Halloween?
Being her broom!
Why do ghosts like to ride in elevators?
It raises their spirits.
What do you get when you divide the circumference of a jack-o-lantern by its diameter?
Pumpkin Pi.
What would you get if you crossed a vampire and a teacher?
Lots of blood tests!
Why are vampires so easy to fool?
Because they're suckers.
What did the ghost say when the skeleton lied to him?
I can see right through you.
Today's Halloween Specials:
Today's Halloween Specials:
Ghoulash, scream beans, scalped potatoes, and Mummy's tomb-make booberry pie with I scream.
Guess Who's On t he Radio? From the Blonde Files
Because our new refrigerator was taller than our old one, I told my Blonde wife I'd have to cut away part of an overhanging cabinet to make it fit.
Not wanting to mess it up, I called a local radio home-fix-it program for advice.
I was in the middle of getting the instructions when my wife burst into the room.
'You won't believe this,' she said, 'but there's a guy on the radio with the same problem!'
"I listen to the radi
"I listen to the radio with such frequency that my ear Hertz."
Quotes From Stupid 01
These are supposedly actual quotes taken from around the world.
"The effects are fleeting and lingering..." - Overheard in a hallway
"In Managua, people are cheering in the streets, which are deserted." - CBS reporter during the solar eclipse
"A trucker called to thank all of the courteous Seattle drivers he had run across." - Announcer on KZOK radio
"He threw 110 pitches in six innings, and that's a mouthful!" - CBS baseball announcer
"An agreement is not an agreement until the parties to the agreement have reached an agreement." - Irish Politician on RTE radio
"This is the biggest pawn that Israel holds in the whole hostage equation." - BBC world service.
"We have two incredibly credible witnesses here." - Sen. Biden at Thomas hearings from Bob Ericson (Marlboro, MA, USA)
"He's going to step down 'til he's back on his feet." - Vermont Public Radio commentator on Jimmy Swaggart's latest sex scandal
#joke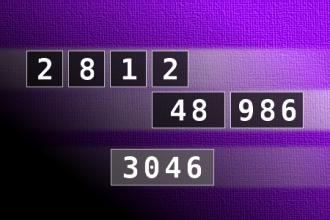 Calculate the number 3046
NUMBERMANIA: Calculate the number 3046 using numbers [2, 8, 1, 2, 48, 986] and basic arithmetic operations (+, -, *, /). Each of the numbers can be used only once.
Will you marry me...
There were these two elderly people living in a Florida mobile home park. He was a widower and she a widow. They had known one another for a number of years. Now, one evening there was a community supper in the big activity center. These two were at the same table, across from one another. As the meal went on, he made a few admiring glances at her and finally gathered up his courage to ask her, "Will you marry me?"
After a dramatic pause and precisely six seconds of 'careful consideration,' she answered. "Yes. Yes, I will."
The meal ended and with a few more pleasant exchanges and they went to their respective places.
Next morning, he was troubled. "Did she say 'yes' or did she say 'no'?"
He couldn't remember. Try as he would, he just could not recall. Not even a faint memory. With trepidation, he went to the telephone and called her.
First, he explained to her that he didn't remember as well as he used to. Then he reviewed the lovely evening past. As he gained a little more courage, he then inquired of her, "When I asked if you would marry me, did you say 'Yes' or did you say 'No'?"
He was delighted to hear her say, "Why, I said, 'Yes, yes I will' and I meant it with all my heart."
Then she continued, "And I am so glad that you called, because I couldn't remember who had asked me."
#joke
A funeral service is being hel...
A funeral service is being held for a woman who has just passed away. At the end of the service the pall bearers are carrying the casket out when they accidentally bump into a wall, jarring the casket. They hear a faint moan.
They open the casket to find that the woman is actually alive. She lives for ten more years and then dies. A ceremony is again held at the same church and at the end of the ceremony the pall bearers are again carrying out the casket. As they are walking the husband cries out,
"WATCH OUT FOR THE WALL"
#joke
Why You So Fat?
A family is at the dinner table. The father looks at his oldest son.
"Tony! Why are you so fat?"
"Pop, it's Mama's casseroles!" Tony says.
"I can't stop eating them, it's so good."
"Tony, you should take a smaller bites."
Pop says.
Then Pop looks at his middle son.
"Fred! Why are you so fat?"
"Pop, it's a Mama's roast beef," Vinny says.
"I can't stop eating it, it's so good."
"Fred, you should take a smaller bites."
Then Pop looks at his youngest son, "John! How you stay so slim and trim?"
"It's easy, Pop," John says.
"I eat a lots and lots of pussy."
"Pussy? Pussy?"
Pop says.
"That tastes like shit!"
"Pop, you should a take smaller bites."
#joke
Chuck Norris has a pet kitten ...
Chuck Norris has a pet kitten - every night for a snack.
Where Is My Goat?
There were these two guys out hiking when they came upon an old, abandoned mine shaft. Curious about its depth they threw in a pebble and waited for the sound of it striking the bottom, but they heard nothing. They went and got a bigger rock, threw it in and waited. Still nothing. They searched the area for something larger and came upon a railroad tie. With great difficulty, the two men carried it to the opening and threw it in. While waiting for it to hit bottom, a goat suddenly darted between them and leapt into the hole!
The guys were still standing there with astonished looks upon their faces from the actions of the goat when a man walked up to them. He asked them if they had seen a goat anywhere in the area and they said that one had just jumped into the mine shaft in front of them! The man replied, "Oh no. That couldn't be my goat, mine was tied to a railroad tie."
#joke
He who laughs last thinks slow...
He who laughs last thinks slowest.
Depression is merely anger without enthusiasm.
The early bird may get the worm, but the second mouse gets the cheese.
I drive way too fast to worry about cholesterol.
Support bacteria. They're the only culture some people have.
Monday is an awful way to spend 1/7 of your week.
A clear conscience is usually the sign of a bad memory.
Change is inevitable, except from vending machines.
Get a new car for your spouse. It'll be a great trade!
Plan to be spontaneous tomorrow.
Always try to be modest, and be proud of it!