Jokes of the day for Wednesday, 07 November 2018
Funny jokes, funny photo and funny video collected from the internet on Wednesday, 07 November 2018
"Exterminators never
"Exterminators never die - they are just gnat seen anymore."
Mr. See and Mr. Soar<
Mr. See and Mr. Soar
Mr. See and Mr. Soar were old friends. See owned a saw and Soar owned a seesaw. Now See's saw sawed Soar's seesaw before Soar saw See, which made Soar sore. Had Soar seen See's saw before See saw Soar's seesaw, then See's saw would not have sawed Soar's seesaw. But See saw Soar and Soar's seesaw before Soar saw See's saw, so See's saw sawed Soar's seesaw.
It was a shame to let See see Soar so sore just because See's saw sawed Soar's seesaw.
#joke
Mommy Mommy 12
Mommy, Mommy! Why do other kids tell me I have a big head?
Don't worry. Take your cap and go get me 40 lbs of potatoes at the store.
---
Mommy, Mommy! Why do other kids tell me I have a long nose?
You don't, but lift your head up or you'll scrape the floor.
---
Mommy, Mommy! Are you sure this is how to learn to swim?
Shut up and get back in the sack!
---
Mommy, Mommy! How come sister gets to watch TV and I can't?
Shut up or I'll cut your ears off, too!
---
Mommy, Mommy! Don't push me towards the elevator shAAAAAFFFFFFFFFFFFFFFFFFFFT!
#joke
Shhhh!
A Sunday school teacher asked the children just before she dismissed them to go to church, "And why is it necessary to be quiet in church?" Annie replied, "Because people are sleeping."
On his way out of church after
On his way out of church after mass, Frank stopped at the door to speakto the minister. "Would it be right," he asked, "for a person to profitfrom the mistakes of another?"
"Absolutely not!" replied the pastor, disappointed that Frank wouldeven ask such a question.
"In that case," said the young man, "I wonder if you'd considerreturning the hundred dollars I paid you to marry my wife and me lastJuly."
#joke
Where Is God?
In a certain suburban neighborhood, there were two brothers, 8 and 10 years old, who were exceedingly mischievous. Whatever went wrong in the neighborhood, it nearly always turned out they had had a hand in it. Their parents were at their wits' end trying to control them and after hearing about a priest nearby who worked withdelinquent boys, the mother suggested to the father that they ask the priest to talk to them.
The mother went to the priest and made her request. He agreed, but said he wanted to see the younger boy first and alone. So the mother sent him to the priest.
The priest sat the boy down across from the huge, impressive desk he sat behind. For about five minutes they just sat and stared at each other. Finally, the priest pointed his forefinger at the boy and asked, "Where is God?"
The boy looked under the desk, in the corners of the room, all around, but said nothing.
Again, louder, the priest pointed at the boy and asked, "Where is God?"
Again the boy looked all around but said nothing. A third time, in a louder, firmer voice, the priest leaned far across the desk and put his forefinger almost to the boy's nose, and asked, "Where is God?"
The boy panicked and ran all the way home. Finding his older brother, he dragged him upstairs to their room and into the closet, where they usually plotted their mischief and quickly said, "We are in big trouble!"
The older boy asked, "What do you mean, big trouble?"
His brother replied, "God is missing and they think we did it!"
#joke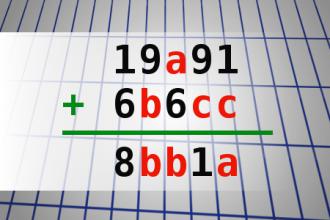 Find number abc
If 19a91 + 6b6cc = 8bb1a find number abc. Multiple solutions may exist.
A young boy had just gotten hi...
A young boy had just gotten his driving permit. He asked his father, who was a minister, if they could discuss the use of the car. His father took him to his study & said to him, "I'll make a deal with you. You bring your grades up, study your bible a little & get your hair cut, & we'll talk about it."
After about a month, the boy came back & again asked his father if they could discuss use of the car. They again went to the father's study where his father said, "Son, I've been real proud of you. You have brought your grades up, you've studied your bible diligently, but you didn't get your hair cut!" The young man waited a moment & replied, "You know Dad, I've been thinking about that. You know, Samson had long hair, Moses had long hair, Noah had long hair, & even Jesus had long hair ..." To which his father replied, "Yes, & they WALKED every where they went too!"
#joke
A little girl asked her father...
A little girl asked her father, "Daddy? Do all Fairy Tales begin with Once Upon A Time?"
He replied, "No, there is a whole series of Fairy Tales that begin with 'If Elected I promise...'"
Tom Shillue: Pose for a Painting
When I meet a girl, I ask her to pose nude for a painting Im doing because thats a very good way to get her to sleep with me.
Ed Helms: Watching the New York City Marathon
I went and watched the New York City Marathon. It goes right by my apartment in Brooklyn, and I went with a group of friends. And all my friends are cheering for the runners; theyre like, Whoo! Good job! Way to go! Keep it up, youre lookin good! Great job! I was like, You dont have to do that! Thats unnecessary! You know what? Ive got a bike, you can take it. Better yet, come inside -- Ive got air conditioning; my roommate made some guacamole, its awesome; we rented Meatballs.
#joke
I Am Going To Shop
"Cash, check or charge?" I asked after folding items the woman wished to purchase. As she fumbled for her wallet I notice a remote control for a television set in her purse.
"Do you always carry your TV remote?" I asked.
"No," she replied. "But my husband refused to come shopping with me, so I figured this was the most evil thing I could do to him."
#joke