"An angry skunk will
"An angry skunk will reek its vengeance."
Church Bulletin Bloopers: Prayers and Illnesses
Due to the rector's illness, Wednesday's healing services will be discontinued until further notice.Mrs. Johnson will be entering the hospital this week for testes. On a church bulletin during the minister's illness: God Is Good--Dr. Hargreaves is better. This Sunday morning following services we will have our monthly feelowship. Said during a congregational prayer when leading prayer for unsaved loved ones: "Father, we just want to pray for our unloved saved ones."Lift up our Messianic brothers and sisters in Israel who are suffering during our prayer time. "I am the resurrection and the life. Whoever believes in me, even though he diets, yet shall be live." On a church postcard: "I have received Jesus Christ as my Lord and Savior. I would like a personal call."Church sign: "Jesus Saves!" Safeway sign across the street: "Safeway saves you more!" -
Joke shared on Beliefnet's Religious Humor page
#joke
The pilot was sitting in his s
The pilot was sitting in his seat and pulled out a .38 revolver. He placed it on top of the instrument panel, and then asked the navigator, "Do you know what I use this for?"
The navigator replied timidly, "No, what's it for?"
The pilot responded, "I use this on navigators who get me lost!"
The navigator proceeded to pull out a .45 and place it on his chart table.
The pilot asked, "What's that for?"
"To be honest sir," the navigator replied, "I'll know we're lost before you will."
#joke
Ponderings Collection 26
I couldn't repair my brakes, so I made the horn louder.
Why do psychics have to ask you for your name?
How do you tell when you run out of invisible ink?
What happens if you get scared half-to-death twice?
If I worked as much as others, I would do as little as they.
When I'm not in my right mind, my left mind gets pretty crowded.
I intend to live forever -- so far, so good!
Dancing is a perpendicular expression of a horizontal desire.
Ambition is a poor excuse for not having enough sense to be lazy.
Eagles may soar, but weasels don't get sucked into jet engines.
#joke
A newly ordained priest, nervo...
A newly ordained priest, nervous about hearing confessions, finally asks an older priest to observe how he does and give some tips. After listening in on the second confession, the older priest suggested that the younger man fold his arms, maybe rub his chin with one hand while saying phrases like "I see" or "I understand" or "Yes, my child. Go on".
The young priest puts the suggestions into practice and later tells the older priest how much it has helped getting more information from his flock.
"You've done well," said the older man. "Isn't that much better than slapping your knee and yelling 'No way! What happened next?'"
#joke
Do you know who I am....
President George W. Bush decides it is time to do some public relations at a local Washington DC nursing home. The President begins his "tour" down the main hallway and passes by a little old man who doesn't seem to notice him.
Sensing this, President Bush backtracks to the resident and asks, "Do you know who I am?"
The little old man looks up from his walker and says, "No, but if you go to the front desk, they will tell you your name."
#joke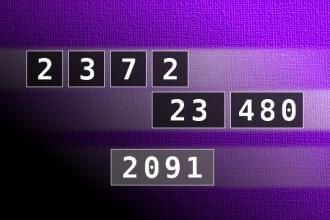 Calculate the number 2091
NUMBERMANIA: Calculate the number 2091 using numbers [2, 3, 7, 2, 23, 480] and basic arithmetic operations (+, -, *, /). Each of the numbers can be used only once.
What does the starship enterpr...
What does the starship enterprise and tiolet paper have in common?
They both circle around uranus and wipe out klingons.
Hari Kondabolu: Where Are You From?
Hes like, Hey, man, where are you from? So I told him, Im from Queens, New York. And then hes like, No, I mean where are you really from? Which, for those of you who dont know, thats code for, No, I mean, why arent you white?
A man realized he needed to pu...
A man realized he needed to purchase a hearing aid, but didn't want to spend a lot of money. "How much do they cost?" he asked the salesman.
"Anything from $2 to $2,000."
"Can I see the $2 model?" said the customer.
The salesman put the device around the man's neck, and said: "You just stick this button in your ear and run this little string down into your pocket."
"How does it work?" asked the customer.
"For $2, it doesn't work," said the salesman. "But when people see it on you, they'll talk louder."
#joke
The original title for Star Wa...
The original title for Star Wars was "Skywalker: Texas Ranger". Starring Chuck Norris.