A group of expectant fathers s
A group of expectant fathers sat nervously in the hall. A nurse beckoned to one of them and said, "Congratulations, you have a son!"
Another man dropped his magazine, jumped up and said, "Hey, what's the idea? I got here two hours before he did!"

"My sister fell in lo
"My sister fell in love with a circus trapeze artist. At first, we all thought she was attracted to his net worth, but she said it was his gravity-defying leaps of thought. They are both flying high now."
Answering Machine Message 19

(MacIntosh Plus with MacIntalk program:) Hello, it's obvious you have bad timing, because nobody is home. Please leave your name, telephone number, and a brief message in a voice similar to mine, and your call will be returned as soon as humanly possible.


Bee Inconspicuous
Two bees ran into each other. The first bee asked the other how things were going. "Really bad," said the second bee. "The weather has been really wet and damp and there aren't any flowers or pollen, so I can't make any honey." "No problem," said the first bee. "Just fly down five blocks and turn left. Keep going until you see all the cars. There's a Bar Mitzvah going on and there are all kinds of fresh flowers and fruit." "Thanks for the tip," said the second bee, and he flew away. A few hours later, the two bees ran into each other again. The first bee asked, "How'd it go?""Great!" said the second bee. "It was everything you said it would be." "Uh, what's that thing on your head?" asked the first bee. "That's my yarmulke," said the second bee. "I didn't want them to think I was a wasp."
#joke
An act of kindness....
A travel agent looked up from his desk to see an older lady and an older gentleman peering in the shop window at the posters showing the glamorous destinations around the world. The agent had had a good week and the dejected couple looking in the window gave him a rare feeling of generosity.
He called them into his shop and said, "I know that on your pension you could never hope to have a holiday, so I am sending you off to a fabulous resort at my expense, and I won't take no for an answer."
He took them inside and asked his secretary to write two flight tickets and book a room in a five star hotel. They, as can be expected, gladly accepted, and were on their way.
About a month later the little lady came in to his shop.
"And how did you like your holiday?" he asked eagerly.
"The flight was exciting and the room was lovely," she said. "I've come to thank you. But, one thing puzzled me. Who was that old guy I had to share the room with?"
#joke
Rome did not create a great em
Rome did not create a great empire by having meetings, they did it bykilling all those who opposed them.
If you can stay calm, while all around you is chaos ... then you probablyhaven't completely understood the seriousness of the situation.
Artificial Intelligence is no match for Natural Stupidity
Plagiarism saves time.
If at first you don't succeed, try management.
Never put off until tomorrow what you can avoid altogether.
TEAMWORK ... means never having to take all the blame yourself.
Never underestimate the power of very stupid people in large groups.
We waste time, so you don't have to.
Hang in there, retirement is only thirty years away!
Go the extra mile. It makes your boss look like an incompetent slacker.
A snooze button is a poor substitute for no alarm clock at all.
When the going gets tough, the tough take a coffee break.
INDECISION is the key to FLEXIBILITY.
Succeed in spite of management.
Aim Low, Reach Your Goals, Avoid Disappointment.
#joke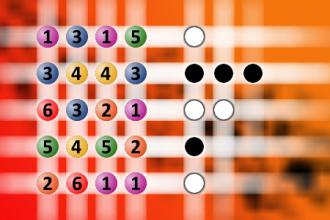 Which is a winning combination of digits?
The computer chose a secret code (sequence of 4 digits from 1 to 6). Your goal is to find that code. Black circles indicate the number of hits on the right spot. White circles indicate the number of hits on the wrong spot.
A big city lawyer went duck hu...
A big city lawyer went duck hunting in rural North Wairarapa. He shot and dropped a bird, but it fell into a farmer's field on the other side of a fence. As the lawyer climbed over the fence, an elderly farmer drove up on his tractor and asked him what he was doing.The litigator responded, "I shot a duck and it fell in this field, and now I'm going to retrieve it."
The old farmer replied, "This is my property, and you are not coming over here."
The indignant lawyer said, "I am one of the best trial attorneys in New Zealand and, if you don't let me get that duck, I'll sue you and take everything you own."
The old farmer smiled and said, "Apparently, you don't know how we settle disputes in North Wairarapa. We settle small disagreements like this with the 'Three Kick Rule.'"
The lawyer asked, "What is the 'Three Kick Rule'?"
The Farmer replied, "Well, because the dispute occurs on my land, I get to go first. I kick you three times and then you kick me three times and so on back and forth until someone gives up." The attorney quickly thought about the proposed contest and decided that he could easily take the old codger. He agreed to abide by the local custom.
The old farmer slowly climbed down from the tractor and walked up to the attorney.
His first kick planted the toe of his heavy steel toed work boot into the lawyer's groin and dropped him to his knees!
His second kick to the midriff sent the lawyer's last meal gushing from his mouth.
The lawyer was on all fours when the farmer's third kick to his rear end, sent him face-first into a fresh cow pie.
The lawyer summoned every bit of his will and remaining strength and very slowly managed to get to his feet. Wiping his face with the arm of his jacket, he said, "Okay, you old fart. Now it's my turn."
The old farmer smiled and said, "Nah, I give up. You can have the duck."
A lady is walking down the str...
A lady is walking down the street to work and see's a parrot in a pet store. She stops to admire the bird. The parrot says to her, "hey lady, you are really ugly."
Well, the lady is furious! She storms past the store to her work.
On the way home she saw the same parrot in the window and the parrot upon seeing her says, "hey lady, you are really ugly."
She was incredibly ticked now. The next day on the way to work she saw the same parrot and once again it said, "hey lady, you are really ugly."
The lady was so furious that she stormed into the store and threatened to sue the store and have the bird killed. The store manager appologized profusely and promised the bird wouldn't say it again.
When the lady walked past the store after work the parrot said to her, "hey lady."
She paused and said," yes?"
The bird said, "you know."
#joke
What are you drawing?
A kindergarten teacher was observing her classroom of children while they drew. She would occasionally walk around to see each child's artwork. As she got to one little girl who was working diligently, she asked what the drawing was.
The girl replied, "I'm drawing God."
The teacher paused and said, "but no one knows what God looks like."
Without missing a beat, or looking up from her drawing the girl replied, "They will in a minute."
#joke
Let him believe
One day in the Garden of Eden, Eve called out to God... "Lord, I have a problem!"
"What's the problem, Eve?"
"Lord, I know you've created me and have provided this beautiful garden and all of these wonderful animals, and that hilarious comedic snake, but I'm just not happy."
"Why is that, Eve?" came the reply from above.
"Lord, I am lonely. And I'm sick to death of apples."
"Well, Eve, in that case, I have a solution. I shall create a man for you."
"What's a 'man,' Lord?"
"This man will be a flawed creature, with aggressive tendencies, an enormous ego and an inability to empathize or listen to you properly. All in all, he'll give you a hard time.
But, he'll be bigger, faster and more muscular than you. He'll also need your advice to think properly. He'll be really good at fighting and kicking a ball about, hunting fleet-footed ruminants, and not altogether bad in the sack."
"Sounds great," says Eve, with an ironically raised eyebrow. "What's the catch, Lord?"
"Yeah, well.... you can have him on one condition."
"What's that, Lord?"
"You'll have to let him believe that I made him first."
Submitted by Calamjo
Edited by Yisman
#joke
Petroleum Jelly
One day while doing door-to-door market research, this guy knocks on a door and is greeted by a beautiful young housewife.
"Hello," he starts, "I'm doing some research for a petroleum jelly manufacturer. Have you ever used the product?"
"Yes. My husband and I use it during sex," she answers.
The researcher is taken aback. "Um, er, I admire you for your honesty," he continues. "Can you tell me exactly how you use it?"
"Sure, we put it on the doorknob so the kids can't get in."
#joke