Happy New Year 2021!!
"When the tree surgeo
"When the tree surgeon and his girlfriend broke up, he pined for her for months. Knock on wood, they will someday get back together."
The Top Twenty Flight Advertising Slogans
1. BadAir: When you just can't wait for the world to come to you.
2. BadAir: We're Amtrak with wings.
3. Join our frequent near-miss program.
4. On flights, every section is a smoking section.
5. Ask about our out-of-court settlements.
6. Our staff has had lots of experience counseling next-of-kin.
7. Are our jet engines too noisy? Don't worry. We'll turn them off.
8. Complimentary champagne during free-fall.
9. Enjoy the in-flight movie in the plane next to you.
10. The kids will love our inflatable slides.
11. If you think it's so easy, get your own plane!
12. Which will fall faster, our stock price or our planes?
13. Our pilots are all terminally ill and have nothing to lose.
14. BadAir: We may be landing on your street.
15. BadAir: Terrorists are afraid to fly with us.
16. Bring a bathing suit.
17. Some airlines are content to fly thousands of feet over landmarks. We try to get as close as possible for the best view.
18. That guy who crashed into the White House was one of our best pilots.
19. Fly BadAir and enjoy a free two-week hospital stay on us.
20. BadAir: A real man lands where he wants to.
#joke
Paging John Edward
Twenty happy years later, the man dies, and the woman, Mary, sticks to her vow and visits a seance four weeks later. It went something like this:Mary: "Is there anybody there? I'm seeking my deceased husband John. Is he there?"Strange, booming voice: "Mary? Is that you, Mary?"Mary: "Yes John, is that you?"John: "Yes, it's me."Mary: "How are things where you are, John? What's it like?"John: "Great, Mary. Everyday after breakfast we make love until lunchtime, which lasts about half-hour, then we make love until dinner. After dinner, we make love until we fall asleep. It's great. I can't wait until you get here."Mary (shocked): "Is that what Heaven's like?"John: "I'm not in Heaven." Mary (fearing the worst): "Then where are you?"John: "I'm a rabbit in Florida!"
#joke
A guy had just returned from t...
A guy had just returned from two weeks of vacation. He asked his boss for two more weeks off to get married.
"What?" shouted the boss, "I can't give you more time now. Why didn't you get married while you were off?"
"Are you nuts?" he replied. "That would have ruined my whole vacation."
#joke
GREAT TRUTHS THAT LITTLE CHILD
GREAT TRUTHS THAT LITTLE CHILDREN HAVE LEARNED:
1) No matter how hard you try, you can't baptize cats.
2) When your Mom is mad at your Dad, don't let her brush your hair.
3) If your sister hits you, don't hit her back. They always catch the second person.
4) Never ask your 3-year old brother to hold a tomato.
5) You can't trust dogs to watch your food.
6) Don't sneeze when someone is cutting your hair.
7) Never hold a Dust-Buster and a cat at the same time.
8) You can't hide a piece of broccoli in a glass of milk.
9) Don't wear polka-dot underwear under white shorts.
10) The best place to be when you're sad is Grandpa's lap.
GREAT TRUTHS THAT ADULTS HAVE LEARNED:
1) Raising teenagers is like nailing Jell-O to a tree.
2) Wrinkles don't hurt.
3) Families are like fudge...mostly sweet, with a few nuts.
4) Today's mighty oak is just yesterday's nut that held its ground.
5) Laughing is good exercise. It's like jogging on the inside.
6) Middle age is when you choose your cereal for the fiber, not the toy.
GREAT TRUTHS ABOUT GROWING OLD
1) Growing up is mandatory; growing old is optional.
2) Forget the health food. I need all the preservatives I can get.
3) When you fall down, you wonder what else you can do while you're down there.
4) You're getting old when you get the same sensation from a rocking chair that you once got from a roller coaster.
5) It's frustrating when you know all the answers but nobody bothers to ask you the questions.
6) Time may be a great healer, but it's a lousy beautician.
7) Wisdom comes with age, but sometimes age comes alone.
#joke
Bagels
Q: How does a bagel protect itself?
A: It puts on locks.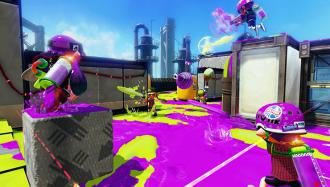 Look carefully the picture a...
Look carefully the picture and guess the game name.
A chicken and an egg are lying...
A chicken and an egg are lying in bed.
The chicken is smoking a cigarette with a satisfied smile on its face.
The egg is frowning and looking a bit pissed off.
The egg mutters, to no one in particular, "Well, I guess we answered THAT question!"
Where is God?
A couple had two little boys who were always getting into trouble. Their parents knew that if any mischief occurred in their village, their sons were probably involved.
The boys' mother heard that an elder in town had been successful in disciplining children, so she asked if he would speak with her sons. The elder agreed, but asked to see them separately.
So, the mother sent her youngest son first, in the morning. The elder, a huge man with a booming voice, sat the boy down and asked him sternly, "Where is God?" The boy's mouth dropped open, but he made no response.So the elder repeated the question in an even sterner tone, "Where is God!!?" Again the wide-eyed boy made no attempt to answer.
The elder raised his voice and bellowed, "WHERE IS GOD!?" The boy screamed and bolted from the room, ran directly home and dove into a closet, slamming the door behind him.
When his older brother found him hiding, he asked, "What happened?"
The younger brother, gasping for breath, replied, "We are in BIG trouble this time. God is missing, and they think WE did it!"
#joke
If you spell Chuck Norris in S...
If you spell Chuck Norris in Scrabble, you win. Forever.
Will you marry me?
There were these two elderly people living in a Florida mobile home park. He was a widower and she a widow. They had known one another for a number of years. Now, one evening there was a community supper in the big activity center. These two were at the same table, across from one another. As the meal went on, he made a few admiring glances at her and finally gathered up his courage to ask her, "Will you marry me?"
After a dramatic pause and precisely six seconds of 'careful consideration,' she answered. "Yes. Yes, I will."
The meal ended and with a few more pleasant exchanges and they went to their respective places.
Next morning, he was troubled. "Did she say 'yes' or did she say 'no'?"
He couldn't remember. Try as he would, he just could not recall. Not even a faint memory. With trepidation, he went to the telephone and called her.
First, he explained to her that he didn't remember as well as he used to. Then he reviewed the lovely evening past. As he gained a little more courage, he then inquired of her, "When I asked if you would marry me, did you say 'Yes' or did you say 'No'?"
He was delighted to hear her say, "Why, I said, 'Yes, yes I will' and I meant it with all my heart."
Then she continued, "And I am so glad that you called, because I couldn't remember who had asked me."
#joke
Whiskey no worms
A man drinks a shot of whiskey every night before bed.
After years of this the wife wants him to quit, so she gets 2 shot glasses, filling 1 with water the other with whiskey.
She gets him to the table with the glasses and has his bait box there too.
She says "I want you to see this." She puts a worm in the water it swims around. She puts a worm in the whiskey and the worm dies.
She says "so what do you have to say about this experiment?"
He says "IF I DRINK WHISKEY I WON'T GET WORMS!"
#joke