"Driving with one hea
"Driving with one headlight isn't very bright."
"Who likes music?" asks a comm
"Who likes music?" asks a commander.
Two soldiers step forward.
"OK you two. I bought a piano. Take it to my apartment on the fourth floor."

Knock Knock Collection 002
Knock Knock
Who's there?
Acid!
Acid who?
Acid down and be quiet!
Knock Knock
Who's there?
Ada!
Ada who?
Ada burger for lunch!
Knock Knock
Who's there?
Adair!
Adair who?
Adair once but I'm bald now!
Knock Knock
Who's there?
Adam!
Adam who?
Adam if I do and adam if I don't!
Knock Knock
Who's there?
Adelia!
Adelia who?
Adelia the cards and we'll play snap!
#joke
Did They All Live Happily Ever After?
Cinderella was now 75 years old. After a fulfilling life with the now passed-away Prince, she happily sat upon her rocking chair, watching the world go by from her front porch, with a cat called Alan for companionship. One sunny afternoon, out of nowhere, appeared the Fairy Godmother. Cinderella said: "Fairy Godmother, what are you doing here after all these years?"
The Fairy Godmother replied: "Well, Cinderella, as you have lived a good, wholesome life since we last met, I have decided to grant you three wishes. Is there anything for which your heart still yearns?"
Cinderella was overjoyed, and after some thoughtful consideration, almost under her breath, she uttered her first wish:
"I wish I was wealthy beyond comprehension."
Instantly, her rocking chair was turned into solid gold. Cinderella was stunned. Alan, her old faithful cat, jumped off her lap and scampered to the edge of the porch, quivering with fear.
Cinderella said: "Oh thank you, Fairy Godmother!"
The Fairy Godmother replied: "It's the least I can do. What does your heart desire for your second wish?"
Cinderella looked down at her frail body and said: "I wish I were young and full of the beauty of youth again."
At once, her wish became reality, and her beautiful youthful visage returned. Cinderella felt stirrings inside her that had been dormant for years. And long forgotten vigor and vitality began to course through her very soul.
Then the Fairy Godmother again spoke: "You have one more wish, what will you have?"
Cinderella looked over to the frightened cat in the corner and said: "I wish you to transform Alan my old cat into a beautiful and handsome young man."
Magically, Alan suddenly underwent a fundamental change in his biological make-up, that, when complete, he stood before her a boy so beautiful – the likes of which neither she nor the world had ever seen – so fair indeed that birds began to fall from the sky at his feet.
The Fairy Godmother again spoke: "Congratulations, Cinderella. Enjoy your new life!" And, with a blazing shock of bright blue electricity, she was gone. For a few eerie moments, Alan and Cinderella looked into each other's eyes. Cinderella sat, breathless, gazing at the most stunningly perfect boy she had ever seen.
Then Alan walked over to Cinderella, who sat transfixed in her rocking chair, and held her close in his strong, youthful arms. He leaned in close to her ear, whispered, blowing her golden hair with his warm breath:
"I bet you regret having me neutered now, don't you?"
#joke
How to Have a Perfect Pastor
A recent survey has compiled all the qualities that people expect from the perfect pastor:Results of a computerized survey indicated that the perfect pastor preaches exactly 12 minutes. He frequently condemns sin but never upsets anyone. He works from 8 a.m. until midnight and is also a janitor. He makes $60 a week, wears good clothes, buys good books, drives a good car, and gives about $80 a week to the poor. He is 28 years of age, but he's been preaching for 30 years.He is wonderfully gentle and handsome. He gives himself completely but never gets too close to anyone to avoid criticism.He speaks boldly on social issues, but must never become politically involved. He has a burning desire to work with teenagers, but he spends all his time with senior citizens. He makes 15 daily calls to parish families, visits shut-ins and the hospitalized, spends all his time evangelizing the unchurched, and is always in his office when needed.
#joke
Japanese Food
An American businessman goes to Japan on a business trip, but he hates Japanese food, so he asks the concierge at his hotel if there's any place around where he can get American food. The concierge tells him he's in luck, there's a pizza place that just opened, and they deliver. The concierge gives the businessman the phone number, and he goes back to his room and orders a pizza.
Thirty minutes later, the delivery guy shows up to the door with the pizza. The businessman takes the pizza, and starts sneezing uncontrollably. He asks the delivery man, "What the Heck did you put on this pizza?" The delivery man bows deeply and says, "We put on the pizza what you ordered, pepper only."
#joke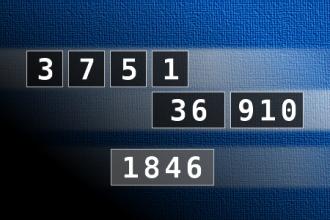 Calculate the number 1846
NUMBERMANIA: Calculate the number 1846 using numbers [3, 7, 5, 1, 36, 910] and basic arithmetic operations (+, -, *, /). Each of the numbers can be used only once.
The new minister's wife had a ...
The new minister's wife had a baby. The minister appealed to the congregation for a salary increase to cover the addition to the family.The congregation agreed that it was only fair, and approved it.
When the next child arrived, the minister appealed again and the congregation approved again.
Several years and five children later, the congregation was a bit upset over the increasing expense. This turned into a rather loud meeting one night with the minister. Finally, the minister stood and shouted out,"Having children is an act of God!!"
An older man in the back stood and shouted back, "Rain and snow are acts of God, too, and we wear rubbers for them."
#joke
Chris Rock: Natural Causes
When you die at 72, no matter what you die of, its natural causes. Even if you get hit by a truck, its natural causes. Cause if you was younger, youd got out of the way.
Bag
Saddam sent his son shopping to get some food.
His son came back with the food on his head.
So Saddam says "Why have you got the shopping on your head?"
The son replies, "Because there is no Baghdad!"
Submitted by Curtis
Edited by Calamjo
End of the earth
BOY : I would go to the end of the world for you!
GIRL : Yes, but would you stay there?
Submitted by sai1ram
Edited by Curtis