"'I like to go with
"'I like to go with the flow', said the hydrologist, fluidly."
Robert Schmidt 05
Droughts are because God didn't pay his water bill.
Is "tired old cliche" one?
if you tell a joke in the forest, but nobody laughs, was it a joke?
The sign said "eight items or less". So I changed my name to Les.
Yesterday I told a chicken to cross the road. It said, "what for?"
Yesterday I saw a chicken crossing the road. I asked it why. It told me it was none of my business.
In school, every period ends with a bell. Every sentence ends with a period. Every crime ends with a sentence.
I Xeroxed my watch. Now I have time to spare.
I Xeroxed my watch. Now I can give away free watches.
#joke
A Unitarian Miracle and Other UU Jokes
Q: Have you heard the latest UU miracle?A: Someone saw the face of Ralph Waldo Emerson on a tortilla.Q: Why can't Unitarian Universalists sing very well in choirs?A: Because they're always reading ahead to see if they agree with the next verse.Q: What do you get when you cross a Unitarian Universalist with a Jehovah's Witness?A: Somebody who comes knocking at your door for no apparent reason.
#joke
Did They All Live Happily Ever After?
Cinderella was now 75 years old. After a fulfilling life with the now passed-away Prince, she happily sat upon her rocking chair, watching the world go by from her front porch, with a cat called Alan for companionship. One sunny afternoon, out of nowhere, appeared the Fairy Godmother. Cinderella said: "Fairy Godmother, what are you doing here after all these years?"
The Fairy Godmother replied: "Well, Cinderella, as you have lived a good, wholesome life since we last met, I have decided to grant you three wishes. Is there anything for which your heart still yearns?"
Cinderella was overjoyed, and after some thoughtful consideration, almost under her breath, she uttered her first wish:
"I wish I was wealthy beyond comprehension."
Instantly, her rocking chair was turned into solid gold. Cinderella was stunned. Alan, her old faithful cat, jumped off her lap and scampered to the edge of the porch, quivering with fear.
Cinderella said: "Oh thank you, Fairy Godmother!"
The Fairy Godmother replied: "It's the least I can do. What does your heart desire for your second wish?"
Cinderella looked down at her frail body and said: "I wish I were young and full of the beauty of youth again."
At once, her wish became reality, and her beautiful youthful visage returned. Cinderella felt stirrings inside her that had been dormant for years. And long forgotten vigor and vitality began to course through her very soul.
Then the Fairy Godmother again spoke: "You have one more wish, what will you have?"
Cinderella looked over to the frightened cat in the corner and said: "I wish you to transform Alan my old cat into a beautiful and handsome young man."
Magically, Alan suddenly underwent a fundamental change in his biological make-up, that, when complete, he stood before her a boy so beautiful – the likes of which neither she nor the world had ever seen – so fair indeed that birds began to fall from the sky at his feet.
The Fairy Godmother again spoke: "Congratulations, Cinderella. Enjoy your new life!" And, with a blazing shock of bright blue electricity, she was gone. For a few eerie moments, Alan and Cinderella looked into each other's eyes. Cinderella sat, breathless, gazing at the most stunningly perfect boy she had ever seen.
Then Alan walked over to Cinderella, who sat transfixed in her rocking chair, and held her close in his strong, youthful arms. He leaned in close to her ear, whispered, blowing her golden hair with his warm breath:
"I bet you regret having me neutered now, don't you?"
#joke
At the doctor's office...
At the doctor's office.
- What bothers you?
- I have a bad memory.
- Ok. What else?
- I have a very bad memory.
- What else?!
- And... I have a really bad memory.
- Yes, I understand that you have a bad memory! What else??
- And I have hearing problems.
- What else?
- What did you say?
- What else?!
- Say it again?
- What else?!
- Ah-ah! And I have a bad memory.
The accountant
An accountant got out of bed and complained that he had not slept a wink.
"Why didn't you count sheep?" his wife asked
"I did, that is what got me into trouble" the accountant replied "I made a mistake during the first hour, and it took me until this morning to correct it."
#joke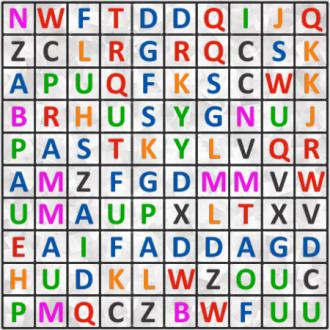 Find a famous person
Find the first and the last name of a famous person. Text may go in all 8 directions. Length of words in solution: 7,7.
A man phones home from his off...
A man phones home from his office and says to his wife, "I have the chance to go fishing for a week. It's the opportunity of a lifetime. I have to leave right away. Pack my clothes, my fishing equipment, and my blue silk pajamas. I'll be home in an hour to pick them up."
The man rushes home to grab everything. He hugs his wife, apologizes for the short notice, and then hurries off.
A week later, the man returns and his wife asks, "Did you have a good trip, dear?"
The man replies, "Yep, the fishing was great...but you forgot to pack my blue silk pajamas."
His wife smiles and says, "Oh, no I didn't...I put them in your tackle box.
#joke
In a fight between Batman and ...
In a fight between Batman and Darth Vader, the winner would be Chuck Norris.