Man: Just look at that young p
Man: Just look at that young person with the short hair and blue jeans. Is it a boy or a girl?
Bystander: It's a girl. She's my daughter.
Man: Oh, please forgive me, sir. I had no idea you were her father.
Bystander: I'm not. I'm her mother.

"I'm starting a new
"I'm starting a new cell phone company, our service carries the best signal, bar none."
Wealthy Investors
A wealthy investor walked into a bank and said to the bank manager, "I would like to speak with Mr. Reginald Jones, who I understand is a tried and trusted employee of yours."
The banker said, "Yes he certainly was trusted. And he will be tried as soon as we catch him."
#joke
Went fishing, got caught...
A man phones home from his office and tells his wife: "Something has just come up. I have a chance to go fishing for a week. It's the opportunity of a lifetime. We leave right away. So please pack my clothes, my fishing equipment, and especially my blue.silk pajamas. I'll be home in an hour to pick them up."
He goes home in a hurry and grabs everything and rushes off. A week later he returns. His wife asks: "Did you have a good trip, dear?" He says: "Oh yes, great! But you forgot to pack my blue silk pajamas." His wife smiles and says, "Oh no I didn't. I put them in your tackle box!"
#joke
There was once a great actor, ...
There was once a great actor, who had a problem. He could no longer remember his lines. Finally after many years he finds a theatre where they are prepared to give him a chance to shine again. The director says,"This is the most important part, and it has only one line. You must walk onto the stage carrying a rose, you must hold the rose with just one finger and your thumb to your nose, sniff the rose deeply and then say the line... 'Ah, the sweet aroma of my mistress.'" The actor is thrilled.All day long before the play he's practicing his line, over and over again. Finally the time came.
The curtain went up, the actor walked onto the stage, and with great passion, he delivered the line; "Ah, the sweet aroma of my mistress".
The theatre erupted, the audience screamed with laughter... and the director was steaming! "You bloody fool!" he cried, "You have ruined me!"
The actor, quite bewildered, asked, "What happened, did I forget my line?" he asked.
"No!" the director screamed.... "You forgot the bloody rose!"
#joke
Mike Birbiglia: Fear the Most
I was living with a girl for a while. We worried about different things. One day, I was like, What do you fear the most? And she was like, I fear youll meet someone else, and youll leave me, and Ill be all alone. And she was like, What do you fear the most? And I was like, Bears.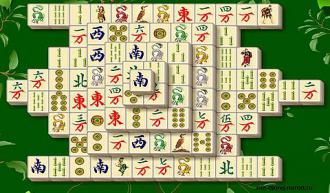 Guess the Game Name
Look carefully the picture and guess the game name.
Efficiency Expert
An efficiency expert concluded his lecture with a note of caution. "You don't want to try these techniques at home."
"Why not?" asked somebody from the audience.
"I watched my wife's routine at breakfast for years," the expert explained. "She made lots of trips between the refrigerator, stove, table and cabinets, often carrying a single item at a time. One day I told her, 'Hon, why don't you try carrying several things at once?'"
"Did it save time?" the person in the audience asked.
"Actually, yes," replied the expert. "It used to take her 20 minutes to make breakfast. Now I do it in seven."
#joke
This Guy's Got His Panhandling Strategy Sorted
Jose and Carlos are panhandlers that panhandle in different areas of town.
Carlos panhandles just as long as Jose but only collects $2-3 every day.
Jose brings home a suitcase FULL of $10 bills every day, drives a Mercedes, lives in a mortgage-free house and has a lot of money to spend.
One day, Carlos asked Jose: "I work just as long and hard as you do, but how do you bring home a suitcase full of $10 bills every day?"
"Look at your sign, what does it say?" replies Jose.
Carlos' sign reads: "I have no work, a wife and six kids to support."
Jose says: "no wonder you only get $2-3."
'Carlos says: "So what does your sign say then?"
Jose shows Carlos his sign – it reads: "I only need another $10 to move back to Mexico"
#joke