"The dermatologist lo
"The dermatologist loved to cook. He made everything from scratch."
Dough Robbery
Did you see the recent story in the Jewish Chronicle about the theft of egg-enriched dough from a north London warehouse? Unfortunately, the theft happened just before Shabbos and it forced many local bakeries to bake their challas with plain, white flour. A leading rabbi was quoted as saying, "I'm appalled by the rise in white challa crimes."
#joke
THE ARAB DOG VS. THE ISRAELI DOG
The Israelis and Arabs realized that, if they continued fighting, they would someday end up destroying the whole world.
So, they decided to settle their dispute with an ancient practice: a duel of two, like David and Goliath. This 'duel' would be a dog fight.
The negotiators agreed each side would take 5 years to develop the best fighting dog they could. The dog that won the fight would earn its people the right to rule the disputed areas. The losing side would have to lay down its arms for good.
The Arabs found the biggest, meanest Dobermans and Rottweilers in the world. They bred them together and then crossed their offspring with the meanest Siberian wolves.
They selected only the biggest, strongest puppy of each litter, fed it the best food and killed all the other puppies.
They used steroids and trainers in their quest for the perfect killing machine.
After the 5 years were up, they had a dog that needed steel prison bars on its cage. Only expert trainers could handle this incredibly nasty and ferocious beast.
When the day of the big dog-fight finally arrived, the Israelis showed up with a very strange-looking animal, a Dachshund that was 10 feet long!
Everyone at the dogfight arena felt sorry for the Israelis. No one there seriously thought this weird, odd-looking animal stood any chance against the growling beast over in the Arab camp.
All the bookies took one look and predicted that the Arab dog would win in less than a minute.
As the cages were opened, the Dachshund slowly waddled toward the center of the ring.
The Arab dog leaped from its cage and charged the giant wiener-dog.
As he got to within an inch of the Israeli dog, the Dachshund opened its jaws and swallowed the Arab beast whole in one bite.
There was nothing left but a small puff of fur from the Arab killer dog's tail floating to the ground.
The stunned crowd of international observers, bookies and media personnel let out a collective gasp of disbelief and surprise.
The Arabs approached the Israelis, muttering and shaking their heads in disbelief.
'We do not understand,' said their leader, 'Our top scientists and breeders worked for 5 long years with the meanest, biggest Dobermans, Rottweilers and Siberian wolves, and they developed an incredible killing machine of a dog!'
The Israelis replied. 'Well, for 5 years, we have had a team of Jewish plastic surgeons from Boca Raton working to make an alligator look like a Dachshund.'
#joke
Mr. and Mrs. Steinfeld are asl
Mr. and Mrs. Steinfeld are asleep in their beds late one night, when Mrs. Steinfeld hears a noise downstairs.
"Wake up!" cried Mrs. Steinfeld, nudging her husband. "There are burglars in the kitchen. I think they're eating the pot roast I made tonight!"
"What do we care," said Mr. Steinfeld. "They won't get far, they'll probably die in the back yard."
#joke
Who Owns The Cows?
After his graduation from college, the son of a Spanish lawyer was considering his future. He went to his father and asked if he might be given a desk in the corner from which he could observe his father's activities and be introduced to his father's clients as a clerk. His observations would help him decide whether or not to become a lawyer. His father thought this was a great idea and immediately helped to set it up.
The first client the next morning was a tenant farmer--a rough man with calloused hands who was dressed in workman's clothing. He said,
"Mr. Lawyer, I work for the Gonzales farm on the east side of town. For many years I have tended their crops and animals, including some cows. I have raised the cows, fed them and looked after them. And I was always given the understanding and the belief that I was the owner of these cows. Now Mr. Gonzales has died and his son has inherited the farm. He believes that since the cows were raised on his land and ate his hay, the cows are his. In short, we are in dispute over who owns the cows."
The lawyer said, "Thank you. I have heard enough. I will take your case. Don't worry about the cows!"
The next client to come in, a young and well-dressed young man, was obviously a landowner. He said, "My name is Gonzales and I own a farm on the east side of town. We have a tenant farmer who has worked for my family for many years, tending crops and the animals, including some cows. I believe the cows belong to me because they were raised on my land and were fed my hay. But the tenant farmer believes they are his because he raised them and cared for them. In short, we are in dispute over who owns the cows."
The lawyer said, "Thank you. I have heard enough. I will take your case. Don't worry about the cows!"
After the client left, the lawyer's son could not help but express his concern. "Father, I know very little about the law, but it seems we have a very serious problem concerning these cows."
"Don't worry about the cows!" the lawyer said. "The cows will be ours!"
The Gift
Upon getting to work one morning, seventy-five year old Marvin is reminded by his secretary that it's his wife's birthday today. At lunch, Marvin goes to the local mall and tries to find a gift for her.
Unfortunately, he realizes that life has been good and she has everything she needs. Upon passing a lingerie store, Marvin realizes that his wife has never bought any lingerie in her life. He gets the idea to buy his wife something sexy to make her feel good and young.
Marvin goes into the store and tells the clerk to wrap up the most expensive, sheerest negligee she has. Marvin takes the gift and excitedly runs home to his wife.
Upon finding her in the kitchen he tells her to take the gift upstairs and unwrap it. He'll wait in the kitchen. His wife thanks him and goes up to the bedroom.
Once the package is opened she realizes that this is something she has never had before. She also sees that it is so sheer it leaves nothing to the imagination. She thinks for a moment and then decides that she'll really surprise Marvin and go downstairs without any clothes on at all. So she leaves the negligee on the bed and starts down the stairs stark naked. She calls out, 'Marvin, come out to the hallway and look.'
Marvin walks out to the staircase, looks up at his wife, and exclaims, 'All that money and they didn't even iron it.'
#joke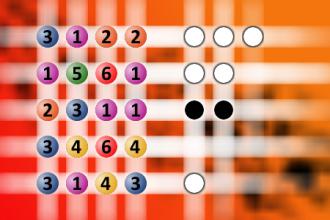 Find the right combination
The computer chose a secret code (sequence of 4 digits from 1 to 6). Your goal is to find that code. Black circles indicate the number of hits on the right spot. White circles indicate the number of hits on the wrong spot.
"Brokeback Mountain" is not ju...
"Brokeback Mountain" is not just a movie. It's also what Chuck Norris calls the pile of dead ninjas in his front yard.
An elderly couple is vacationi...
An elderly couple is vacationing in the West. Sam always wanted a pair of authentic cowboy boots. Seeing some on sale one day, he buys them, wears them home, walking proudly. He walks into their room and says to his wife, "Notice anything different, Bessie?"
Bessie looks him over. "Nope."
Sam says excitedly, "Come on, Bessie, take a good look. Notice anything different about me?"
Bessie looks again. "Nope."
Frustrated, Sam storms off into the bathroom, undresses, and walks back into the room completely naked except for the boots. Again he asks, a little louder this time, "Notice anything different?"
Bessie looks up and down and says, "Sam, what's different? It was hanging down yesterday, it's hanging down today and it will be hanging down tomorrow!"
Furious, Sam yells, "And do you know why its hanging down, Bessie? It's hanging down because it's looking at my new boots!"
Bessie replies, "Should'a bought a hat, Sam!"
#joke
Laura Kightlinger: Christmas Sadness
My grandmother, she passed away at Christmas time. So now, I have this built in sadness, you know, every holiday. Cause Im plagued with the thought of, you know, what she would have given me. What didnt I get to open this year?
Give him an orange
One day in Contract Law class, Professor Jepson asked one of his better students, "Now if you were to give someone an orange, how would you go about it?"
The student replied, "Here's an orange."
The professor was livid. "No! No! Think like a lawyer!" The student then recited, "Okay, I'd tell him, 'I hereby give and convey to you all and singular, my estate and interests, rights, claim, title, calim and advantages of and in, said orange, together with all its rind, juice, pulp, and seeds, and all rights and advantages with full power to bite, cut, freeze and otherwise eat, the same, or give the same away with and without the pulp, juice, rind and seeds, anything herein before or hereinafter or in any deed, or deeds, instruments of whatever nature or kind whatsoever to the contrary in anywise notwithstanding..."