The Wisdom of King Solomon
During King Solomon's reign, there was a handsome, successful young man who was wanted by all the young maidens in the kingdom. This young man was certainly aware of his advantages, and he would go wild with different girls and promise each of them the whole world. While most of the ladies knew he could not be trusted, two young women took his words seriously and announced to their family that they were going to marry the most successful and beautiful man in the kingdom.
The rumors of the marriage spread, and the two mothers of the young women who heard that someone else would marry the wanted man began to quarrel over the fate and future of their daughters. After failing to settle the dispute, the two mothers decided to go to King Solomon, the wisest man, and ask him to decide which of their daughters would marry the boy.
They dragged the young man to court and made their claims to the wise king. Solomon listened to them patiently, and after they finished he ordered, 'Bring me the greatest sword in the palace, I will split the man in two, and each woman will receive half of him!'
The first mother looked rather indifferent and said, 'Bring him the sword.'
The other mother, who was shocked by the order, yelled, 'Your majesty, remove the command, I will give up the groom-only do not spill his blood!'
King Solomon looked at the two women with a big smile and said, 'The first mother's daughter will marry the young man!'
The confused court clerk turned to Solomon and said, 'My wise king, aren't you confused? The first mother was willing to cut that young man into two!'
'Right!' King Solomon replied, 'This proves that she is worthy of being his real Mother in law!'
#joke
"I am writing a term
"I am writing a term paper on various types of golf courses. I have found many links on the computer."
A young man was walking throug
A young man was walking through a supermarket to pick up a few things when he noticed an old lady following him around. Thinking nothing of it, he ignored her and continued on. Finally he went to the checkout line, but she got in front of him.
"Pardon me," she said, "I'm sorry if my staring at you has made you feel uncomfortable. It's just that you look just like my son, who just died recently."
"I'm very sorry," replied the young man, "is there anything I can do for you?"
"Yes," she said, "As I'm leaving, can you say 'Good bye, Mother!' ? It would make me feel so much better."
"Sure," answered the young man.
As the old woman was leaving, he called out, "Goodbye, Mother!"
As he stepped up to the checkout counter, he saw that his total was $127.50.
"How can that be?" he asked, "I only purchased a few things!"
"Your mother said that you would pay for her," said the clerk.
#joke
Answering Machine Message 182
Hello you have reached the Smith residence. All of our operators are busy. Your call will be processed in the order it was received. (Annoying music...) Due to a large volume of calls, all of our operators are bu... (Ringing phone.) Hello, we're sorry were not home right now, so please leave your message after the beep.
#joke
The Pious Man and the Atheist
A very religious man lived right next door to an atheist. While the religious one prayed day in, day out, and was constantly on his knees in communion with his Lord, the atheist never even looked twice at a church. However, the atheist's life was good, he had a well-paying job and a beautiful wife, and his children were healthy and good-natured, whereas the pious man's job was strenuous and his wages were low, his wife was getting fatter every day and his kids wouldn't give him the time of the day.So one day, deep in prayer as usual, the pious man raised his eyes towards heaven and asked: "Oh God, I honor you every day, I ask your advice for every problem and confess to you my every sin. Yet my neighbor, who doesn't even believe in you and certainly never prays, seems blessed with every happiness, while I go poor and suffer many an indignity. Why is this?" And a great voice was heard from above... "BECAUSE HE DOESN'T BOTHER ME ALL THE TIME!"
#joke
Jimmy and Johnny
Two guys, Jimmy and Johnny, were standing at heaven's gate, waiting to be interviewed by St. Peter.
Jimmy: "How did you get here?"
Johnny: "Hypothermia. You?"
Jimmy: "You won't believe it. I was sure my wife was cheating on me, so I came home early one day hoping to find the guy. I accused my wife of unfaithfulness and searched the whole house without any luck. Then I felt so badly about the whole thing I had a massive heart attack."
Johnny: "Oh, man, if you had checked the walk-in freezer we'd both be alive!"
#joke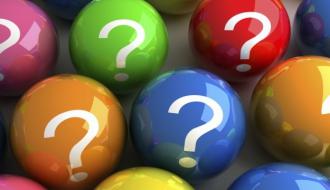 What am I?
I'm tall when I'm young, I'm short when I'm old. What am I?
A man walked into a bar, s...
A man walked into a bar, sat down, ordered 3 shots of whiskey, drank them, then left. This continued daily for several weeks.
Curious, the bartender asked him one day, "Why do you always order three shots of whiskey?"
The man answered, "Because my two brothers and I always used to have one shot each, and since they've both passed on, I've continued to order the three shots in their honor."
The bartender thought that this was a very noble thing to do, and welcomed the man every time he visited the bar.
Two weeks later, the man walked into the bar for his daily visit and ordered two shots of whiskey. Surprised, the bartender asked him why he only ordered two when had had always been ordering three.
The man answered, "Oh, I've decided to stop drinking."
#joke
Bad weather
This old man went to a whorehouse and said to the manager that he wanted something different.
So the manager sent him up to room "69".
He got in there and this woman named Hurricane Sally stripped him down and began working wonders.
Suddenly she pissed on his stomach, he asked, "What the hell was that?"
She replied, "That is the cooling rain falling all over you."
She got at it again and farted in his face.
He said, "What the hell was that?"
She then again replied, "That is the warm ocean winds blowing."
Suddenly the man got up and started to get dressed.
Hurricane Sally said, "Where are you going?"
He said, "Hell, a man can't fuck with this kind of weather!"
Submitted by Curtis
Edited by Glaci
#joke
Siblings
A Sunday school teacher was discussing the Ten Commandments with her five and six year olds.
After explaining the commandment to "honor" thy Father and thy Mother, she asked, "Is there a commandment that teaches us how to treat our brothers and sisters?"
Without missing a beat one little boy (the oldest of a family) answered, "Thou shall not kill."
#joke
"Did you hear about t...
"Did you hear about the lost sausage? It was the missing link."