"Watching railway tra
"Watching railway tracks on one's journey is very soothing. I love a bit of Trainscendental Meditation."
Your Father Is Drunk
To The Tune Of Santa Claus Is Coming To Town
Oh you better not shout, you better not cry,
You better not pout, I'm tellin' you why,
Daddy's home and I think he's drunk.
He's walkin' real slow, he slurs when he speaks,
I don't even think he's shaved in two weeks,
Daddy's home and boy is he drunk,
He spent most of our money on Johnny Walker Black
And then he took all of the rest and lost it at the track.
Sooooooo....
You better not pout, you better not cry,
I don't like that look in his eye,
Daddy's home and I think he's....
Daddy's home and boy is he.......
Daddy's home and he's really drunk!
#joke
You Might Be A College Student If…..
... you have ever price shopped for Top Ramen
.... you live in a house with three couches, none of which match.
... you consider Mac and Cheese a balanced meal.
... you have ever written a check for 45 cents.
... you get more e-mail than snail mail.
... your glass set is composed of McDonald's Extra Value Meal Plastic Cups
... your underwear supply dictates the time between laundry loads.
... your trash is overflowing and your bank account isn't.
... you are personally keeping the local pizza place from bankruptcy.
... you wake up 10 minutes before class.
... you get more sleep in class than in your room.
#joke
A sweet grandmother telephoned...
A sweet grandmother telephoned St. Joseph's Hospital and she timidly asked, "Is it possible to speak to someone who can tell me how a patient is doing?"
The operator responded, "I'll be glad to help, dear. What's the patient's name and room number?"
The grandmother in her weak tremulous voice said, "Norma Findlay, Room 302."
The operator replied, "Let me place you on hold while I check with her nurse."
After a few minutes the operator returned to the phone, "Oh, good news. Her nurse has told me that Norma is doing very well. Her blood pressure is fine; her blood work just came back as normal. And her physician, Dr.Cohen, has scheduled her to be discharged Tuesday."
The grandmother said, "Thank you. That's wonderful. I was so worried! God bless you for the good news."
The operator replied, "You're more than welcome. Is Norma your daughter?"
The grandmother said, "No, I'm Norma Findlay in Room 302. No one tells me anything."
#joke
Boogers and spinach
What is the differance between boogers and spinach?
You can't get your kids to eat spinach.
An elderly couple who were chi
An elderly couple who were childhood sweethearts had married & settled downin their old neighborhood.
To celebrate their 50th wedding anniversary they walk down to their oldschool. There, they hold hands as they find the desk they shared & where hehad carved "I love you, Sally".
On their way back home, a bag of money falls out of an armoured carpractically at their feet. She quickly picks it up, & they don't know whatto do with it so they take it home. There, she counts the money, & itsfifty-thousand dollars.
The husband says: "We've got to give it back".
She says, "Finders keepers" & puts the money back in the bag & hides it upin their attic.
The next day, two FBI men are going from door-to-door in the neighbourhoodlooking for the money show up at their home.
One knocks on the door & says: "Pardon me, but did either of you find anymoney that fell out of an armoured car yesterday?"
She says: "No"..
The husband says: "She's lying. She hid it up in the attic."
She says: "Don't believe him, he's getting senile."
But the agents sit the man down & begin to question him.
One says: "Tell us the story from the beginning."
The old man says: "Well, when Sally & I were walking home from schoolyesterday ..."
At this, the FBI guy looks at his partner & says: "We're outta here ..."
#joke
FLEX WORDLE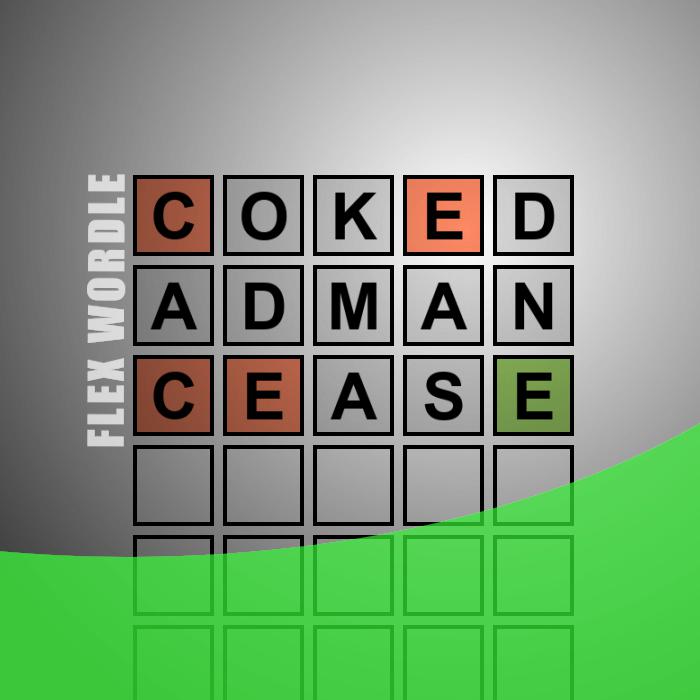 Guess the
WORDLE
in 3 tries. After each guess, the color of the tiles will change to show how close your guess was to the solution.
An old man goes to the Wizard ...
An old man goes to the Wizard to ask him if he can remove a "Curse" he has been living with for the last 40 years.
The Wizard says "maybe, but you will have to tell me the exact words that were used to put the curse on you."
The old man says without hesitation "'I now pronounce you man and wife'".
#joke
How Many Women?
A little boy was attending his first wedding. After the service, his cousin asked him, "How many women can a man marry?"
"Sixteen," the boy responded.
His cousin was amazed that he knew the answer so quickly. "How do you know that?"
"Easy," the little boy said.
"All you have to do is add it up, like the Preacher said: 4 better, 4 worse, 4 richer, 4 poorer."
#joke
Conway Twitty, Is That Really You?
A young pastor moved to town and decided he would go around and introduce himself to the new congregation. He rang the first door bell and a lady came to the door. She stared at him as he introduced himself.
She said, "I can't believe how much you look like Conway Twitty, the country music singer."
He replied, "Yes, ma'am, I hear that a lot."
He went to the next house and the next, and every lady that came to the door said the same thing—that he looked like Conway Twitty.
At the last house, a shapely young lady came to the door with a towel around her. He started to introduce himself, but she loosened her towel, threw her arms in the air, and screamed, "Conway Twitty!"
The pastor stood there, stunned. Then he said, "Hello, darling!"
#joke
Traffic lights camera
A...
Traffic lights camera
A man was driving down the road. He passed a traffic camera and saw it flash.
Astounded that he had been caught speeding when he was under the speed limit, he turned around and, going even slower, he passed by the camera.
Again, he saw it flash. He couldn't believe it! So he turned and, going at snail's pace, he passed the camera.
AGAIN, he saw the camera flash. He guessed it must have a fault, and home he went.
Four weeks later he received 3 traffic fines in the mail, all for not wearing a seatbelt.
#joke
Join us on WhatsApp