Jim is planning to marry, he i
Jim is planning to marry, he is, and asks his family doctor how he could tell if his bride-to-be is still a virgin.
His doctor says, "Jim, all of us use three things for what we call a Do-It-Yourself Virginity Test Kit, which consist of a small can of red paint, a small can of blue paint and a shovel."
Jim asks, "Aye, and what do I do with these things, doctor?"
The doctor replies, "Before you climb into bed on your wedding night, you paint one of your balls red and the other ball blue. If she says, 'That's the strangest pair of balls I've ever seen', you hit her with the shovel."
In 1972, Joe Miller was on ho
In 1972, Joe Miller was on holiday in Kenya after graduating from Tulsa Junior College .On a hike through the bush, he came across a young bull elephant standing with one leg raised in the air.
The elephant seemed distressed, so Joe approached it very carefully. He got down on one knee, inspected theelephants foot, and found a large piece of wooddeeply embedded in it. As carefully and as gently ashe could, Joe worked the wood out with his knife,after which the elephant gingerly put down its foot.
The elephant turned to Joe, and with a rather curious look on its face, stared at him for several tense moments. Joestood frozen, thinking of nothing else but being trampled.Eventually the elephant trumpeted loudly, turned, and walked away. Joe never forgot that elephant or the events of that day.
Thirty years later, Joe was walking through the Tulsa Zoo with his family. As they approached the elephant enclosure, one of the creatures turned and walked over to near where Joe and his family were standing.The large bull elephant stared at Joe, lifted its frontfoot off the ground, and then put it down.The elephant did that several times then trumpeted loudly, all the while staring at the man.
Remembering the encounter in 1972, Joe could not help wondering if this was the same elephant...Joe summoned up his courage, climbed over the railing, and madehis way into the enclosure. He walked right up tothe elephant and stared back in wonder. The elephanttrumpeted again, wrapped its trunk around one ofJoe's legs and slammed him against the railing killing him instantly.
Probably wasn't the same elephant.
#joke
School Collection 01
A history joke
How did the Vikings send secret messages?
By norse code!
A math joke
Teacher: What's 2 and 2?
Pupil: 4
Teacher: That's good.
Pupil: Good?, that's perfect!
A history joke
Why did the knight run about shouting for a tin opneder?
He had a bee in his suit of armour!
A history joke
Teacher: Who can tell me where Hadrians Wall is?
Pupil: I expect it's around Hadrian's garden miss!
A history joke
Why were the early days of history called the dark ages?
Because there were so many knights!
#joke
Why No Luck?
Ole and Lena are driving home from a party one night when Ole gets pulled over for speeding. The officer comes to the window and asks Ole, "Sir, did you realize that you were speeding?"
"No sir," replies Ole, "I had no idea I was speeding."
Suddenly, Lena blurts out, "Yeah you did Ole! You were speeding and you knew it the whole time!"
"Would you be quiet Lena, this isn't the time or the place!"
"Well, you were speeding and now you're trying to lie about it," says Lena.
Ole replies, "Will you just shut up for once, I'm sick of you bossing me around!"
The officer, still standing at the window of the car is surprised at the way Ole is talking to his wife. He asks, "Ma'am, does your husband always talk to you like this?"
"No," she replies, "only when he's been drinking."
#joke
Can We....
On their way to get married, a young Catholic couple is involved in a fatal car accident.  The couple find themselves sitting outside the Pearly Gates waiting for St. Peter to process them into Heaven.
While waiting, they begin to wonder: Could they possibly get married in Heaven?
When St. Peter showed up, they asked him. St. Peter said, 'I don't know. This is the first time anyone has asked. Let me go find out,' and he leaves.
The couple sat and waited, and waited. Two months passed and the couple are still waiting. While waiting, they began to wonder what would happen if it didn't work out; could you get a divorce in heaven.
After yet another month, St. Peter finally returns, looking somewhat bedraggled. 'Yes,' he informs the couple, 'you can get married in Heaven.'
'Great!' said the couple, 'But we were just wondering, what if things don't work out? Could we also get a divorce in Heaven?'
St. Peter, red-faced with anger, slammed his clipboard onto the ground.
'What's wrong?' asked the frightened couple.

'OH, COME ON!', St. Peter shouted, 'It took me three months to find a priest up here! Do you have any idea how long it'll take me to find a lawyer?
FLEX WORDLE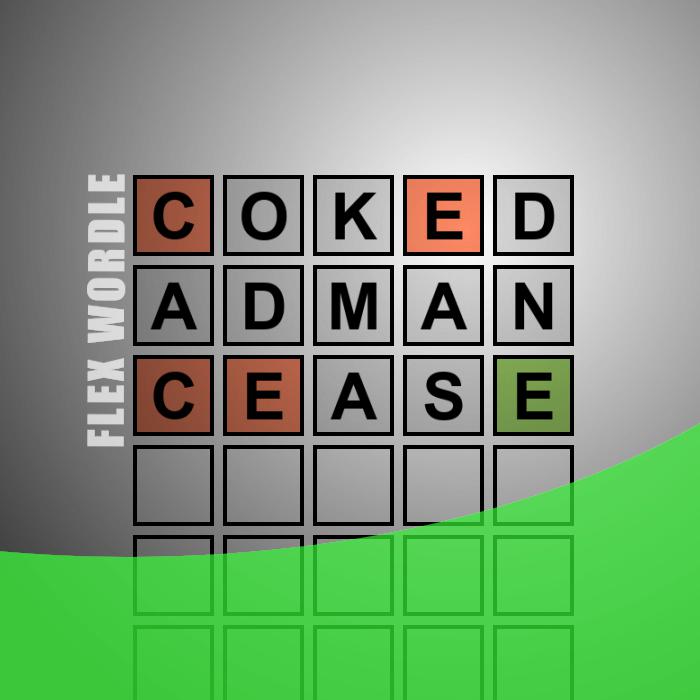 Guess the
WORDLE
in 3 tries. After each guess, the color of the tiles will change to show how close your guess was to the solution.
Drunk date
A guy enters a bar and orders two shots of vodka. He drinks the first and dumps the second on his right hand.
He then orders a second round of shots, drinks the first and again dumps the second on his right hand.
The bartender sees this and becomes curious as the guy orders a third round and does the exact same thing.
So the bartender asks the guy, "Hey man, I hope you don't mind me asking but why the waste of good drinks?"
So the man says, "I have to get my date drunk."
Submitted by Curtis
Edited by Yisman
#joke
To be or not to be? That is th...
To be or not to be? That is the question. The answer? Chuck Norris.
Join us on WhatsApp