1. I started with nothing. I s
1. I started with nothing. I still have most of it.
2. When did my wild oats turn to prunes and all bran?
3. I finally got my head together, now my body is fallingapart.
4. Funny, I don't remember being absent minded.
5. All reports are in. Life is now officially unfair.
6. If all is not lost, where is it?
7. It is easier to get older than it is to get wiser.
8. If at first you do succeed, try not to look astonished.
9. The first rule of holes: if you are in one, stop digging.
10. I tried to get a life once, but they told me they wereout of stock.
11. I went to school to become a wit, only got halfwaythough.
12. It was so different before everything changed.
13. Some day's you're the dog, and some day's you're thehydrant.
14. Nostalgia isn't what it use to be.
15. Old programmers never die. They just terminate andstay resident.
#joke
Although he always odered just...
Although he always odered just ham and eggs everyday, one customer at the diner always studied the menu carefully each day before ordering.
One day his regular waitress decided to see if he could be made to order anything else. Before giving him the menu she marked out the ham and eggs entry.
After waiting a few minutes she asked, "Did you notice, sir, that I scratched something that you like?"
Without looking up from the menu, he replied, "So go wash your hands and bring me some ham and eggs."
#joke
Water in the carburetor
WIFE: "There's trouble with the car. It has water in the carburetor."
HUSBAND: "Water in the carburetor? That's ridiculous."
WIFE: "I tell you the car has water in the carburetor."
HUSBAND: "You don't even know what a carburetor is. I'll check it out. Where's the car?"
WIFE: "In the pool."
#joke
Silly Collection 06
What is Cheddar Gorge?
A large cheese sandwich!
What happens when you throw a green stone in the red sea?
It gets wet!
Why did the woman take a loaf of bread to bed with her?
To feed her nightmare!
What city cheats at exams?
Peking!
What makes the leaning Tower of Pisa lean?
It doesn't eat much!
Why is Alabama the smartest state in the USA?
Because it has 4 A's and one B!
Who invented fire?
Some bright spark!
#joke
After the Office Party
John, woke up after the annual office Christmas party with a pounding headache, cotton-mouthed and utterly unable to recall the events of the preceding evening.
After a trip to the bathroom, he made his way downstairs, where his wife put some coffee in front of him.
"Louise," he moaned, "tell me what happened last night. Was it as bad as I think?"
"Even worse," she said, her voice oozing scorn. "You made a complete ass of yourself. You succeeded in antagonising the entire board of directors and you insulted the president of the company, right to his face."
"He's an asshole," John said. "Piss on him."
"You did," came the reply. "And he fired you."
"Well, screw him!" said John.
"I did. You're back at work on Monday.
FLEX WORDLE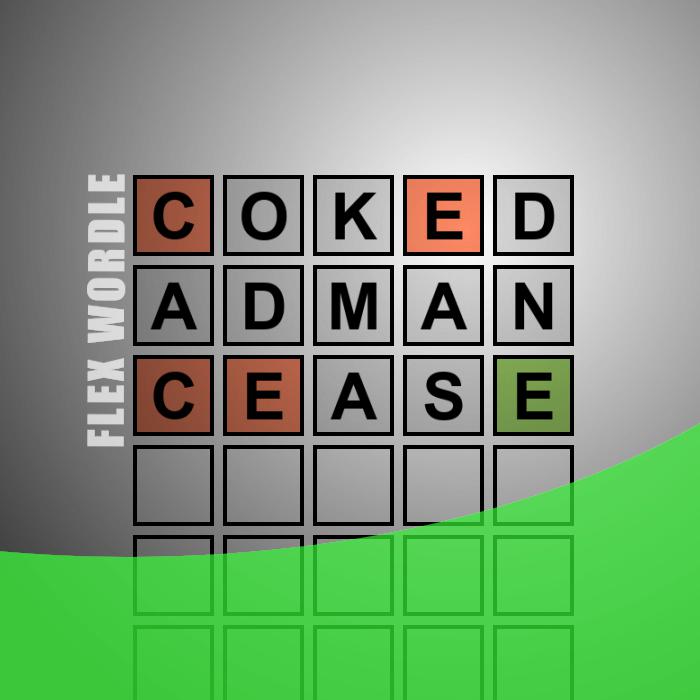 Guess the
WORDLE
in 3 tries. After each guess, the color of the tiles will change to show how close your guess was to the solution.
This Wife Is Too Jealous
There was once a wife so jealous that when her husband came home one night and she couldn't find hairs on his jackets she yelled at him, "Great, so now you're cheating on me with a bald woman!"
The next night, when she didn't smell any perfume, she yelled again by saying, "She's not only bald, but she's too cheap to buy any perfume!"
#joke
Texan Farmer Travels
A Texan farmer goes to Australia for a vacation. There he meets an Aussie farmer and gets talking. The Aussie shows off his big wheat field and the Texan says, "Oh! We have wheat fields that are at least twice as large".
Then they walk around the ranch a little and the Aussie shows off his herd of cattle. The Texan immediately says, " We have longhorns that are at least twice as large as your cows".
The conversation has, meanwhile, almost died when the Texan sees a herd of kangaroos hopping through the field. He asks, "And what are those"?
The Aussie asks with an incredulous look, "Don't you have any grasshoppers in Texas"?
#joke
I think Cheney is starting to lose...
"I think Cheney is starting to lose it. After he shot the guy he screamed, 'Anyone else want to call domestic wire tapping illegal?'" -- Jay Leno
Join us on WhatsApp