A wee Belfast boy came home fr...
A wee Belfast boy came home from school in tears.
"What's the matter, son?" asked his mammy.
"We were doing sums today, Mammy," he said.
"And were they too hard?"
"Well, the teacher said either I either couldn't count, or I was stupid, or maybe all three."
#joke
Pathologists seldom...
"Pathologists seldom get lost."
Household Physics
Laws of Household Physics
Ever notice that the laws of household physics are every bit as real as every other law in the universe? Here are a few examples:
1. A child's eagerness to assist in any project varies in inverse proportion to the ability to actually do the work involved.
2. Leftovers always expand to fill all available containers plus one.
3. A newly washed window gathers dirt at double the speed of an unwashed window.
4. The availability of a ballpoint pen is inversely proportional to how badly it is needed.
5. The same clutter that will fill a one-car garage will fill a two-car garage.
6. Three children plus two cookies equals a fight.
7. The potential for disaster is in direct proportion to the number of TV remote controls divided by the number of viewers.
8. The number of doors left open varies inversely with the outdoor temperature.
9. The capacity of any hot water heater is equal to one and one-half sibling showers.
10. What goes up must come down, except for bubble gum, kites and slightly used Rice Krispies.
11. Place two children in a room full of toys and they will both want to play with the same toy.
#joke
1. I can't reach my license u...
1. I can't reach my license unless you hold my beer. (OK in Texas)
2. Sorry, Officer, I didn't realize my radar detector wasn't plugged in.
3. Aren't you the guy from the Village People?
4. Hey, you must've been doin' about 125 mph to keep up with me. Good job!
5. Are You Andy or Barney?
6. I thought you had to be in relatively good physical condition to be a police officer.
7. You're not gonna check the trunk, are you?
8. I pay your salary!
9. Gee, Officer! That's terrific. The last officer only gave me a warning, too!
10. Do you know why you pulled me over? Okay, just so one of us does.
11. I was trying to keep up with traffic. Yes, I know there are no other cars around. That's how far ahead of me they are.
12. When the Officer says "Gee Son....Your eyes look red, have you been drinking?" You probably shouldn't respond with, "Gee Officer your eyes look glazed, have you been eating doughnuts?"
Have you been drinking?
A policeman pulls a man over for speeding and asks him to get out of the car. After looking the man over he says, "Sir, I couldn't help but notice your eyes are bloodshot. Have you been drinking?"
The man gets really indignant and says, "Officer, I couldn't help but notice your eyes are glazed. Have you been eating doughnuts?"
A man wakes up one morning to...
A man wakes up one morning to find a bear on his roof. So he looks in the yellow pages and sure enough, there's an ad for "Bear Removers."
He calls the number, and the bear remover says he'll be over in 30 minutes. The bear remover arrives, and gets out of his van. He's got a ladder, a baseball bat, a shotgun and a mean old pit bull.
"What are you going to do," the homeowner asks?
"I'm going to put this ladder up against the roof, then I'm going to go up there and knock the bear off the roof with this baseball bat. When the bear falls off, the pit bull is trained to grab his testicles and not let go. The bear will then be subdued enough for me to put him in the cage in the back of the van."
He hands the shotgun to the homeowner.
"What's the shotgun for?" asks the homeowner.
"If the bear knocks me off the roof, shoot the dog."
#joke
FLEX WORDLE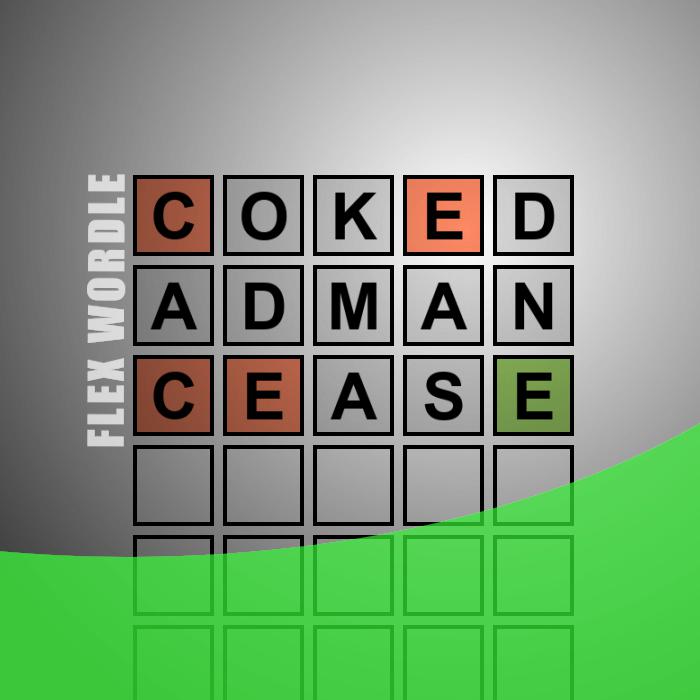 Guess the
WORDLE
in 3 tries. After each guess, the color of the tiles will change to show how close your guess was to the solution.
A Great Salesman
A man named Donald bought a horse from a farmer for $250. The farmer agreed to deliver the horse the next day. The next day, the farmer drove up to Donald's house and said, "Sorry, son, but I have some bad news. The horse died."
Donald replied, "Well, then just give me back my money."
The farmer said, "Can't do that. I went and spent it already."
Donald said, "Ok, then just bring me the dead horse."
The farmer asked, "What ya gonna do with him?"
Donald said, "I'm going to raffle him off."
The farmer said, "You can't raffle off a dead horse!"
Donald said, "Sure I can! Watch me.
A month Later, the farmer met up with Donald and asked, "What happened with that dead horse?"
Donald said, "I raffled him off. I sold 500 tickets at five dollars apiece and made a profit of $2495."
The farmer said, "Didn't anyone complain?"
Donald said, "Just the guy who won. So I gave him back his five dollars."
Donald is moving into the White House later this month.
#joke
Church Sign Chuckles
Some favorite messages spotted on church signs or billboards, submitted by Beliefnet members:
-Fire Insurance Inside
-This Church Is Prayer Conditioned
-God Answers Knee Mail
-PRAY NOW! Avoid Christmas Rush!
-Sign broken, come inside for message
-This is a ch--ch. What's missing? U R!
-Stop in the name of love and meet the Supreme
-Wal-Mart's not the only savings place
-The best position is on your knees!
More Hilarious Al Gore Quotes And Blunders
"I am not part of the problem. I am a Democrat."
-- Vice President Al Gore
---
"A low voter turnout is an indication of fewer people going to the polls."
-- Vice President Al Gore
---
"Illegitimacy is something we should talk about in terms of not having it."
-- Vice President Al Gore, 5/20/996
---
"Democrats understand the importance of bondage between a mother and child."
-- Vice President Al Gore
---
"Welcome to President Clinton, Mrs. Clinton, and my fellow astronauts."
-- Vice President Al Gore
---
"Mars is essentially in the same orbit... Mars is somewhat the same distance from the Sun, which is very important. We have seen pictures where there are canals, we believe, and water. If there is water, that means there is oxygen. If oxygen, that means we can breathe."
-- Vice President Al Gore
---
"What a waste it is to lose one's mind. Or not to have a mind is being very wasteful. How true that is."
-- Vice President Al Gore
---
"People that are really very weird can get into sensitive positions and have tremendous impact on history."
-- Vice President Al Gore
(Ed note. Hmmmm, anyone in particular come to mind?)
---
"When I have been asked who caused the riots and the killing in L.A., my answer has been direct and simple: Who is to blame for the riots? The rioters are to blame. Who is to blame for the killings? The killers are to blame."
-- Al Gore
---
"The American people would not want to know of any misquotes that Al Gore may or may not make."
-- Vice President Al Gore
#joke
JB Smoove: Sound System
I did a club one night -- the speakers were old as hell. My jokes were coming out in black and white.
Join us on WhatsApp