Signs she is getting bored
Signs she is getting bored having sex with you
1. After you request sex she replies, "Wait 'til the Nyquil kicks in."
2. Gets very upset when the ashtray falls off your ass.
3. Actually answers when you ask, "Who's your daddy?"
4. Last time she screamed during sex was the first time she won at solitaire.
5. Only moans during commercial breaks.
6. Starts her fake orgasms during foreplay.
7. Keeps trying to set you up with her friends.
8. Runs for vacant Senate seat in New York.
9. You are currently sitting backstage at the Springer show.
10. Beginning to think she is only "playing" dead.
11. During the act, she actually yelled out, "Oh, Baby, Yadda, Yadda, Yadda."
12. Has suddenly started making you pay in advance.
13. Her moans of delight discovered to actually be a .wav file.
14. Instead of asking to leave her shirt on, she wants to leave her pants on too.
15. Keeps asking, "Are you sure you're not gay?"
16. Boredom? So that's why she keeps deflating.
17. Holds up a picture of the Playboy centerfold to hurry you along.
18. Asks to be on top so she can balance her checkbook better.
19. She yells out her own name.
20. Bangs her head on the headboard before you begin.
#joke
Clever News Reporter
A car was involved in an accident in a street. As expected a large crowd gathered. A newspaper reporter, anxious to get his story could not get near the car.
Being a clever sort, he started shouting loudly, "Let me through! Let me through! I am the son of the victim."
The crowd made way for him.
Lying in front of the car was a donkey.
#joke
Once there was a Sco...
"Once there was a Scottish thief who stole only valuable, antique tartans. When he was arrested, he plaid guilty."
"My fellow Americans, I've si
"My fellow Americans, I've signed legislation that will outlaw Russia forever. We begin bombing in five minutes." -- Ronald Reagan, about to go on the air for a radio broadcast, unaware that the microphone was already on.
"I want to make sure everybody who has a job wants a job" -- George Bush, during his first Presidential campaign.
"This is a great day for France!" -- Richard Nixon, while attending Charles De Gaulle's funeral.
"Now, like, I'm President. It would be pretty hard for some drug guy to come into the White House and start offering it up, you know? ... I bet if they did, I hope I would say, 'Hey, get lost. We don't want any of that.'" -- George Bush, talking about drug abuse to a group of students.
"For seven and a half years I've worked alongside President Reagan. We've had triumphs. Made some mistakes. We've had some sex ... uh...setbacks." -- George Bush
"I believe we are on an irreversible trend toward more freedom and democracy. But that could change." -- Dan Quayle
"Hawaii has always been a very pivotal role in the Pacific. It is in the Pacific. It is a part of the United States that is an island that is right here." --Dan Quayle during a visit to Hawaii in 1989.
"What a waste it is to lose one's mind-or not to have a mind. How true that is." -- Dan Quayle addressing the United Negro College Fund.
"I am honored today to begin my first term as the Governor of Baltimore-that is Maryland." -- William Donald Schaefer, first inaugural address.
"The caribou love it. They rub against it and they have babies. There are more caribou in Alaska than you can shake a stick at." -- George Bush, on the Alaska pipeline
"I hope I stand for anti-bigotry, anti-Semitism, anti-racism. This is what drives me." -- George Bush
"If I listened to Michael Dukakis long enough I would be convinced that we're in an economic downturn and people are homeless and going without food and medical attention and that we've got to do something about the unemployed." -- Ronald Reagan
"Now we are trying to get unemployment to go up and I think we're going to succeed." -- Ronald Reagan
#joke
Ice Fishing In Alaska
A drunk guy in Alaska decides to go ice fishing. So he packs up his stuff and goes out onto the ice. He starts sawing a hole in the ice, and a loud booming voice says,
"YOU WILL FIND NO FISH UNDER THAT ICE."
The drunk looks up, ignores it, and continues on.
The voice repeats, "YOU WILL FIND NO FISH
The drunk looks up and says, "Is this God trying to warn me?"
The voice says "NO, I'M THE MANAGER OF THIS ICE RINK."
#joke
Sheng Wang: Toilet With No Water
I took a dump in a toilet with no water. I had to tell my friends, Yeah, I dropped the kids off at the skate park.
FLEX WORDLE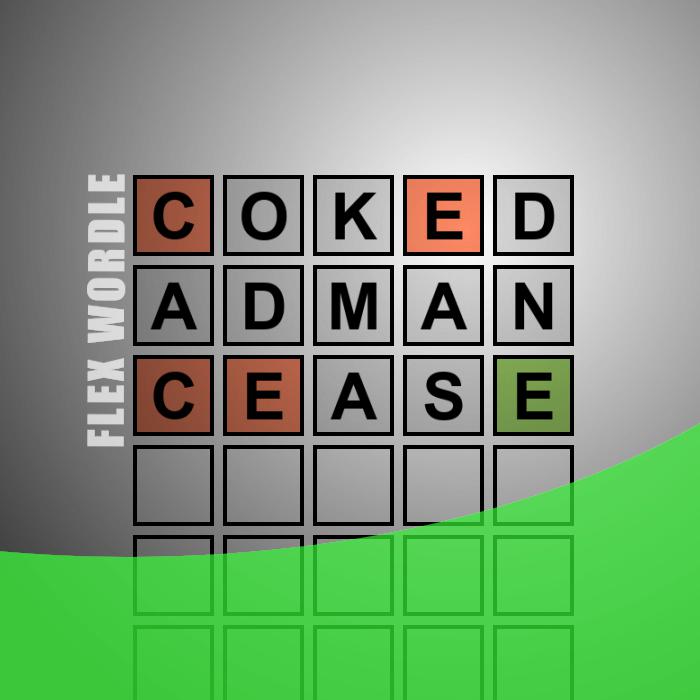 Guess the
WORDLE
in 3 tries. After each guess, the color of the tiles will change to show how close your guess was to the solution.
Brian Regan: New Baby Greeting Cards
They have a section called, New Baby. I dont think you need the word new. Theyd have to clear up confusion. Do you have an Old Baby section? Cause my friends had a baby, and I let time get away from me, and hes 12.
Love and Cherish till …..
A husband died. A few weeks later the wife died. As she got to heaven she saw her husband. She ran up to him with tears in her eyes.
'Darling, how I've missed you!'
The husband extends his arms stopping her from embracing him and says, 'Whoa there woman, the contract was until death!'
#joke
Leaving Dan In My Will
A lawyer meets with the family of a recently deceased millionaire for the reading of the will.
'To my loving wife, Rose, who always stood by me, I leave the house and $2 million,' the attorney reads.
'To my darling daughter, Jessica, who looked after me in sickness and kept the business going, I leave the yacht, the business and $1 million.'
'And finally,' the lawyer concludes, 'to my cousin Dan, who hated me, argued with me and thought I would never mention him in my will. Well, you were wrong. Hi Dan!'
Join us on WhatsApp