Once there was a Sco...
"Once there was a Scottish thief who stole only valuable, antique tartans. When he was arrested, he plaid guilty."
"My fellow Americans, I've si
"My fellow Americans, I've signed legislation that will outlaw Russia forever. We begin bombing in five minutes." -- Ronald Reagan, about to go on the air for a radio broadcast, unaware that the microphone was already on.
"I want to make sure everybody who has a job wants a job" -- George Bush, during his first Presidential campaign.
"This is a great day for France!" -- Richard Nixon, while attending Charles De Gaulle's funeral.
"Now, like, I'm President. It would be pretty hard for some drug guy to come into the White House and start offering it up, you know? ... I bet if they did, I hope I would say, 'Hey, get lost. We don't want any of that.'" -- George Bush, talking about drug abuse to a group of students.
"For seven and a half years I've worked alongside President Reagan. We've had triumphs. Made some mistakes. We've had some sex ... uh...setbacks." -- George Bush
"I believe we are on an irreversible trend toward more freedom and democracy. But that could change." -- Dan Quayle
"Hawaii has always been a very pivotal role in the Pacific. It is in the Pacific. It is a part of the United States that is an island that is right here." --Dan Quayle during a visit to Hawaii in 1989.
"What a waste it is to lose one's mind-or not to have a mind. How true that is." -- Dan Quayle addressing the United Negro College Fund.
"I am honored today to begin my first term as the Governor of Baltimore-that is Maryland." -- William Donald Schaefer, first inaugural address.
"The caribou love it. They rub against it and they have babies. There are more caribou in Alaska than you can shake a stick at." -- George Bush, on the Alaska pipeline
"I hope I stand for anti-bigotry, anti-Semitism, anti-racism. This is what drives me." -- George Bush
"If I listened to Michael Dukakis long enough I would be convinced that we're in an economic downturn and people are homeless and going without food and medical attention and that we've got to do something about the unemployed." -- Ronald Reagan
"Now we are trying to get unemployment to go up and I think we're going to succeed." -- Ronald Reagan
#joke
Saint Peter (Pun)
Three men die in a car accident Christmas Eve. They all find themselves at the pearly gates waiting to enter heaven. On entering they are told that they must present something "Christmassy." in order to get in.
The first man searches his pocket, and finds some pine needles from the family's Christmas tree. He is let in.
The second man presents a bow and some ribbon, from presents that were opened earlier in that night. So he is also allowed in.
The third man pulls out a pair of panties. Confused at this last gesture, St. Peter asks, "How do these represent Christmas?"
To which he replies, "Oh, . . . They're Carol's."
A doctor wanted to get off wor...
A doctor wanted to get off work and go fishing, so he approached his assistant. "Murphy, I am going fishing tomorrow and don't want to close the clinic. I want you to take care of the clinic and take care of all me patients."
"Yes, sir!" answers Murphy.
The doctor goes fishing and returns the following day and asks: "So, Murphy, how was your day?"
Murphy told him that he took care of three patients... "The first one had a headache so he did...So I gave him Paracetamol."
"Very good, Murphy lad, and the second one?" asks the doctor.
"The second one had indigestion and I gave him Gaviscon," says Murphy.
"Great! You're good at this and what about the third one?" asks the doctor.
"Sir, I was sitting here and suddenly the door flies open and a young gorgeous woman bursts in. Like a bolt outta the blue, she tears off her clothes, taking off everyting including her bra and her panties and lies down on the table, spreading her legs and shouts: 'HELP ME! For five years I have not seen any man!'"
"Oh my... What did you do?" asks the doctor.
"I put drops in her eyes."
Rednecks Go Fishing
Two rednecks go on a fishing trip. They rent all the equipment - the reels, the rods, the wading suits, the rowboat, the car, and even a cabin in the woods. I mean they spend a fortune!
The first day they go fishing, but they don't catch anything. The same thing happens on the second day, and on the third day. It goes on like this until finally, on the last day of their vacation, one of the men catches a fish.
As they're driving home they're really depressed. One guy turns to the other and says, "Do you realize that this one lousy fish we caught cost us fifteen hundred bucks?"
The other guy says, "Wow! Then it's a good thing we didn't catch any more!"
#joke
Patton Oswalt: The Apocalypse
Were probably going to die in the f**king apocalypse, but you know whats kind of exciting about that is that if the apocalypse actually goes down -- and I mean the f**king biblical apocalypse -- and if that starts to happen -- I mean, like, the ground opening up and demons flying out and gnawing on your flesh -- it means a couple of things. One: It means that Im wrong, and there is God and there is an afterlife. Two: It means that since there is an afterlife, you will be in the f**king VIP section of the afterlife.
#joke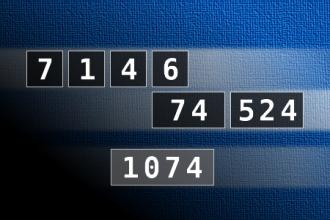 Calculate the number 1074
NUMBERMANIA: Calculate the number 1074 using numbers [7, 1, 4, 6, 74, 524] and basic arithmetic operations (+, -, *, /). Each of the numbers can be used only once.
Bum Deodorant
A blonde walks into a pharmacy and asks the assistant for some bum deodorant. The pharmacist, a little bemused, explains to the woman that they don't sell bum deodorant, and never have.
Unfazed, the blonde assures the pharmacist that she has been buying the stuff from this store on a regular basis, and would like some more.
"I'm sorry," says the pharmacist, "we don't have any."
"But I always get it here," says the blonde.
"Do you have the container it comes in?"
"Yes!" said the blonde, "I'll go home and get it."
She returns with the container and hands it to the pharmacist who looks at it and says to her, "This is just a normal stick of underarm deodorant."
The annoyed blonde snatches the container back and reads out loud from the container,
"To apply, push up bottom."
A new soldier was on sentry du...
A new soldier was on sentry duty at the main gate. His orders were clear - no car was to enter unless it had a special sticker on the windshield. A big Army car came up with a general seated in the back. The sentry said, "Halt, who goes there?"
The chauffeur, a corporal, says, "General Wheeler."
"I'm sorry, I can't let you through. You've got to have a sticker on the windshield."
The general said, "Drive on!"
The sentry said, "Hold it! You really can't come through. I have orders to shoot if you try driving in without a sticker."
The general repeated, "I'm telling you, son, drive on!"
The sentry walked up to the rear window and said, "General, I'm new at this. Do I shoot you or the driver?"
#joke
Three Policemen at the Pearly Gates
Three police officers were standing in line at the Pearly Gates.Saint Peter asked the first officer, "What did you do with your life?""I was a police officer," he responded."What kind of police officer?" Saint Peter asked."I was a vice officer. I kept drugs off the streets and out of the hands of kids.""Welcome to heaven. You may end the gates."He asked the second man what he did as a police officer."I was a traffic officer," said the man. "I kept the roads and highways safe.""Welcome to heaven. You may enter the gates."He asked the third man what he did as a police officer."I was a military policeman, sir," replied the man."Wonderful! I've been waiting for you all day!" replied Saint Peter. "I need to take a break! Watch the gate, will you?"
I finally got one over
The other day, Louise and I got into some petty argument. (I say it was petty. She would have said it was Armageddon.) As is our nature, neither of us would admit the possibility that we might be in error.
To her credit, Louise finally said, 'Look. I'll tell you what. I'll admit I'm wrong if you admit I was right.'
'Fine.' I said.
She took a deep breath, looked me in the eye and said, 'I'm wrong.'
I grinned and replied, 'You're right.'
#joke
Join us on WhatsApp