Jokes of the day for Monday, 11 February 2019
Funny jokes, funny photo and funny video collected from the internet on Monday, 11 February 2019
A big-rig operator stopped to...
A big-rig operator stopped to pick up a female hitchhiker wearing REALLY short shorts.
"Say, what's your name, mister?" she inquired, after she climbed up in the truck.
"It's Snow ... Roy Snow," he answered, "and what's yours?"
"Me, I'm June ... June Hansen," she said.
After a short while she asked, "Hey, why do you keep sizing me up with those sidelong glances?"
"Can you imagine what it might be like," he countered, "having eight inches of Snow in June?"
#joke
We have a giant squi...
"We have a giant squid to catch, so let's get kraken!"
A Dog's Life
I don't know why most people think a dog's life is so easy.
Every time I come home from work, I ask my dog how his day went.
He always says, "Rough!"
In school one day, the teacher...
In school one day, the teacher decided that for science class she would teach about raw materials. She stood in the front of the class and said,
"Children, if you could have one raw material in the world, what would it be?"
Little Stevie raised his hand and said "I would want gold, because gold is worth a lot of money and I could buy a Corvette."
The teacher nodded and called on little Susie. Little Susie said, "I would want platinum because platinum is worth more than gold and I could buy a Porsche"
The teacher smiled and then called on Little Adam. Little Adam stood up and said, "I would want silicon."
The teacher said, "Adam, why silicon?"
"Because my mom has two bags of it and you should see all the sports cars parked outside of our house!!"
#joke
Louisiana Highway Department e...
Louisiana Highway Department employees stopped at a farm and talkedwith an old farmer. The man in charge told the farmer, 'We need to inspectyour farm for a possible new road.'
The old farmer said, 'OK, but don't get out in that pasture over there.'
The Highway Dept. employee flashed out his identification card andsaid, 'I have the authority of the State of Louisiana to go anywhere I want.See this card? I will go wherever I wish.'
So the old farmer went about his chores.It wasn't too much later when the farmer heard loud screams and yelling.
He looked over and saw several Highway Department employees running fortheir lives and right behind was the farmer's huge prize bull. The bull was madder than a hornet's nest and was gaining on the Highway employees at every step.
The old farmer yelled out, 'Show him your card, Smart Ass.... Show himyour card!!
#joke
A dog at the movies...
A man follows a woman out of a movie theatre. She has a dog on a leash.
He stops her and says, "I'm sorry to bother you, but I couldn't help but notice that your dog was really into the movie. He cried at the right spots, he moved nervously in his seat at the boring parts, but most of all, he laughed like crazy at the funny parts. Did you find that unusual??"
"Yes," she replied, "I found it very unusual ... because he hated the book!"
#joke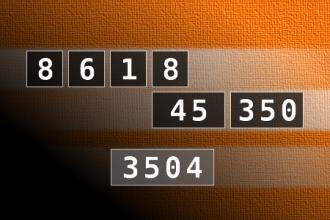 Calculate the number 3504
NUMBERMANIA: Calculate the number 3504 using numbers [8, 6, 1, 8, 45, 350] and basic arithmetic operations (+, -, *, /). Each of the numbers can be used only once.
Is There A Way To Thank You?
"How can I ever thank you?" gushed a woman to Clarence Darrow, after he had solved her legal troubles.
"My dear woman," Darrow replied, "ever since the Phoenicians invented money there has been only one answer to that question."

Why do the Vikings play in a D...
Why do the Vikings play in a Dome?
Because even God can't stand to watch!
My Evil Brother Was A Saint…
There were two evil brothers. They were rich and used their money to keep their ways from the public eye. They even attended the same church and looked to be perfect Christians.
Then, their pastor retired and a new one was hired. Not only could he see right through the brothers' deception, but he also spoke well and true, and the church started to swell in numbers.
A fundraising campaign was started to build a new assembly.
All of a sudden, one of the brothers died. The remaining brother sought out the new pastor the day before the funeral and handed him a check for the amount needed to finish paying for the new building.
"I have only one condition," he said. "At his funeral, you must say my brother was a saint."
The pastor gave his word and deposited the check.
The next day at the funeral, the pastor did not hold back. "He was an evil man," he said. "He cheated on his wife and abused his family." After going on in this vein for a small time, he concluded with, "But, compared to his brother, he was a saint."
#joke
A Faithful Woman
An elderly Muslim lady was well-known for her faith and for her confidence in talking about it. She would stand in front of her house and say "Allah be praised" to all those who passed by.
Next door to her lived an atheist who would get so angry at her proclamations he would shout, "There ain't no Lord!!"
Hard times came upon the elderly lady, and she prayed for Allah to send her some assistance. She would pray out loud in her night prayer "Oh Allah! I need food!! I am having a hard time, please Lord, PLEASE LORD, SEND ME SOME GROCERIES!!"
One night the atheist happened to hear her as she was praying, and decided to play a prank on her. The next morning the lady went out on her porch and found a large bag of groceries. She raised her hands and shouted, "Allah be praised!."
The neighbor jumped from behind a bush and said, "Aha! I told you there was no Lord. I bought those groceries, God didn't."
The old lady laughed and clapped her hands and said, "ALLAH BE PRAISED. He not only sent me groceries, but he made the devil pay for them!"
#joke #prank
The Preacher and the Frog Princess
An old country preacher was fishing one afternoon when he noticed a frog sitting next to him. The frog said, "Mister, I've had a spell cast on me. If you'll kiss me, I'll turn into a beautiful princess and I'll make you happy for the rest of your life."The old preacher smiled, picked up the frog, and put it in his pocket. After a while, he looked into his pocket to see how the frog was doing.The frog said again, "Mister, I've had a spell cast on me. If you'll kiss me, I'll turn into a beautiful princess and I'll make you happy for the rest of your life."The preacher just smiled and kept on fishing. When he checked on the frog again, it said, "What's wrong with you, fella? I said I've been bewitched. Just kiss me and I'll turn back into a beautiful princess and make you the happiest man on earth for the rest of your life!"The old preacher just smiled and said, "Frog, I'm sorry to tell you this…but at my age, I'd rather have a talking frog than a beautiful princess!"
#joke
Raffle prizes!
Bubba & Earl were in the local bar enjoying a beer when the decided to get in on the weekly charity raffle. They bought five tickets each at a dollar a pop.
The following week, when the raffle was drawn, each had won a prize. Earl won 1st prize, a year's supply of gourmet spaghetti sauce and extra-long spaghetti. Bubba won 6th prize, a toilet brush.
About a week or so had passed when the men met back in the neighborhood bar for a couple of beers. Bubba asked Earl how he liked his prize, to which Earl replied, "Great, I love spaghetti! How about you, how's that toilet brush?"
"Not so good," replied Bubba, "I reckon I'm gonna go back to paper."