Grandpa, Did God Make You?
A little girl was sitting on her grandfather's lap as he read her a bedtime story. From time to time, she would take her eyes off the book and reach up to touch his wrinkled cheek. She was alternately stroking her own cheek, then his again. Finally she spoke up, "Grandpa, did God make you?""Yes, sweetheart," he answered. "God made me a long time ago.""Oh," she paused. "Grandpa, did God make me too?""Yes, indeed, honey," he said. "God made you just a little while ago."Feeling their respective faces again, the little girl observed, "God's getting better at it, isn't He?"
#joke
Its hard to describe in one se...
Its hard to describe in one sentence the Obama legacy so far. What with earning a Nobel Peace Prize, getting U.S. troops out of Iraq and Afghanistan, closing Guantanamo Bay, trying terrorists in Federal Courts on U.S. soil, stopping the influx of illegal aliens, creating jobs, lowering the deficit, balancing the budget and cutting the cost of medical treatment while insuring the masses.
Some critics have asked the difference between Obama's accomplishments and a car battery.
A car battery has a positive side.
#joke
A judge was interviewing a wom...
A judge was interviewing a woman regarding her pending divorce, and asked, "What are the grounds for your divorce?"
She replied, "About four acres and a nice little home in the middle of the property with a stream running by."
"No," he said, "I mean what is the foundation of this case?"
"It is made of concrete, brick and mortar," she responded.
"I mean," he continued, "What are your relations like?"
"I have an aunt and uncle living here in town, and so do my husband's parents."
He said, "Do you have a real grudge?"
"No," she replied, "We have a two-car carport and have never really needed one."
"Please," he tried again, "is there any infidelity in your marriage?"
"Yes, both my son and daughter have stereo sets. We don't necessarily like the music, but the answer to your questions is yes."
"Ma'am, does your husband ever beat you up?"
"Yes," she responded, "about twice a week he gets up earlier than I do."
Finally, in frustration, the judge asked, "Lady, why do you want a divorce?"
"Oh, I don't want a divorce," she replied. "I've never wanted a divorce. My husband does. He said he can't communicate with me!"
#joke
Cat Jokes 02
Q: What do you get if you cross a tiger with a sheep?
A: A stripey sweater!
Q: How do you know if your cat has eaten a duckling?
A: She's got that down in the mouth look!
Q: What do you get if you cross a cat with a canary?
A: A peeping tom!
Q: Why is the desert lion everyone's favorite at Christmas?
A: Because he has sandy claws!
Q: How does a lion greet the other animals in the field?
A: 'Pleased to eat you.'!
Q: What do you get if you cross a tiger with a snowman?
A: Frostbite!
Q: What is a French cat's favorite pudding?
A: Chocolate mousse!
If It Ain't Broke, Don't Fix It
Most people will say, "If it ain't broke, don't fix it."
An engineer will say, "If it ain't broke, it doesn't have enough features yet."
"Did you hear about t
"Did you hear about the dog who ran two miles to bring back his master's stick? Personally, I think it's a bit far-fetched."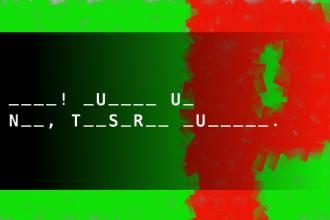 PALINDROME
Make the palindrome of the following letters: D, D, E, E, M, M, N, N, O, O, O, O, P, P, R, R, R, R, S, S, S, S, T, T, T, T, U, U, U, U
Geography of a Woman...
Geography of a Woman:
Between 18 and 22, a woman is like Africa - half discovered, half wild, fertile and naturally beautiful.
Between 23 and 30, a woman is like Europe - well developed and open to trade, especially for something of real value.
Between 31 and 35, a woman is like Spain - very hot, relaxed and convinced of her own beauty.
Between 36 and 40, a woman is like Greece - gently aging, but still a warm and desirable place to visit.
Between 41 and 50, a woman is like Great Britain - with a glorious and all-conquering past.
Between 51 and 60, a woman is like Israel - has been through war, doesn't make the same mistakes twice and takes care of business.
Between 61 and 70, a woman is like Canada - cool, self-preserving, but open to meeting new people.
After 70, she becomes Tibet - wildly beautiful, with a mysterious past and the wisdom of the ages ... an adventurous spirit and a thirst for spiritual knowledge.
Geography of a man:
Between 1 and 80, a man is like Iran - ruled by a couple of nuts.
#joke
Court case
A lawyer defending a man accused of burglary tried this creative defense:
"My client merely inserted his arm into the window and removed a few trifling articles. His arm is not himself, and I fail to see how you can punish the whole individual for an offense committed by his limb."
"Well put," the judge replied. "Using your logic, I sentence the defendant's arm to one year's imprisonment. He can accompany it or not, as he chooses."
The defendant smiled.
With his lawyer's assistance, he detached his artificial limb, laid it on the bench, and walked out.
Slept with
An old couple were talking. The wife asked her husband, "How many women have you slept with?"
"Only you, Darling," the man replied proudly. "With all the others I was awake."
Whenever John wanted to have s...
Whenever John wanted to have sex he would say to Mary "Lets do some laundry, honey".

Well one day Mary felt horny so she said to John "Honey, how about doing some laundry?"

John replied "No thanks honey, I only had a small load so I did it by hand.
The Jewish Boy and the Muslim Boy
David, a Jewish boy, and Ali, a Muslim boy, are having a conversation.
Ali: I'm getting operated on tomorrow.
David: Oh? What are they going to do?
Ali: Circumcise me!
David: I had that done when I was just a few days old.
Ali: Did it hurt?
David: I couldn't walk for a year!
#joke
Grandpa and Grandpa...
Grandpa and Grandpa were sitting in their porch rockers watching the beautiful sunset and reminiscing about "the good days," when Grandma turned to Grandpa and said, "Honey, do you remember when we first started dating and you used to just casually reach over and take my hand?"
Grandpa looked over at her, smiled and took her aged hand in his. With a wry little smile Grandma pressed a little farther, "Honey, do you remember how after we were engaged you'd sometimes lean over and suddenly kiss me on the cheek?"
Grandpa leaned slowly toward Grandma and gave her a lingering kiss on her wrinkled cheek.
Growing bolder still, Grandma said, "Honey, do you remember how, after we were first married, you'd kind of nibble on my ear?"
Grandpa slowly got up from his rocker and headed into the house. Alarmed, Grandma said, "Honey, where are you going?"
Grandpa replied, "To get my teeth!"
#joke