75 Cents
The teacher asks Joanie, "If you had a million dollars and gave away one quarter and another quarter and then another quarter, how much would you have left?"
Joanie replies, "A million dollars minus 75 cents."
A young man named John receive
A young man named John received a parrot as a gift. The parrot had a bad attitude and an even worse vocabulary. Every word out of the bird's mouth was rude, obnoxious and laced with profanity.
John tried and tried to change the bird's attitude by consistently saying only polite words, playing soft music and anything else he could think of to "clean up" the bird's vocabulary.
Finally, John was fed up and he yelled at the parrot. The parrot yelled back. John shook the parrot and the parrot got angrier and even John, in desperation, threw up his hand, grabbed the bird and put him in the freezer. For a few minutes the parrot squawked and kicked and screamed. Then suddenly there was total quiet. Not a peep was heard for over a minute.
Fearing that he'd hurt the parrot, John quickly opened the door to the freezer. The parrot calmly stepped out onto John's outstretched arms and said "I believe I may have offended you with my rude language and actions. I'm sincerely remorseful for my inappropriate transgressions and I fully intend to do everything I can to correct my rude and unforgivable behaviour."
John was stunned at the change in the bird's attitude. As he was about to ask the parrot what had made such a dramatic change in his behaviour, the bird continued, "May I ask what the turkey did?"
#joke
"The least honest of
"The least honest of all the musical instruments? The lyres."
Philanthropy
"I hear that Mrs. Brewster hasn't paid her servants any wages for a number of months," remarked one lady to another in a suburban town.
"Why does she keep such a number of them then?" was the pertinent inquiry.
"Oh, Mrs. Brewster tells everyone she regards it as her solemn duty to employ as many as possible when times are so hard."
#joke
You Might Be A Redneck If 78
You might be a reneck if...
Ambulance is a mule driven buckboard with a spinning lantern.
Nurses wear flour sack uniforms and look like burned out cloggers.
Dogs hang around O. R. for scraps.
Maternity Room is a do-it-yourself with fresh straw, a jack knife and a string.
Anesthesiologist in bib overalls, feeds you a clear liquid out of a mason jar.
Your Gynecologist is Ernest.
Your Proctologist, who watched Deliverance 200 times, asks you if can squeal like a pig.
The Interns are led by Ernest T. Bass.
Surgical instruments include a stick of dynamite and a chain saw.
#joke
I hope that this will once aga
I hope that this will once again confirm that the most important information in your life won't come from a teacher, the library or the internet, but from a mentor, and on a very personal level.
My long-passed grandfather's birthday is coming up, and for me it is a time to reminisce. The long walks we used to take. The long drives.The special trips he would make to pick me up so I could spend weekends with him, and the advice he used to give!
Much was wasted because I was young when he died. If he were alive today and sharing his pearls of wisdom, I'd be a better man.
Those gems were well and good, but the one I remember most, the jewel in the crown of grandfatherly advice, came when I was on 12. We were sitting in a park, watching children and their mothers enjoying a beautiful spring day. He told me that one day, I'd find a woman and start my own family.
"And son," he said, "be sure you marry a woman with small hands."
"How come, Grandpa?" I asked.
"It makes your pecker look bigger."
Kinda brings a tear to your eye, doesn't it?
#joke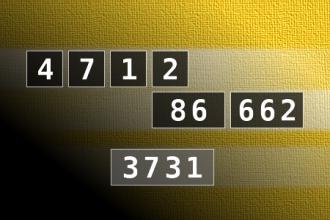 Calculate the number 3731
NUMBERMANIA: Calculate the number 3731 using numbers [4, 7, 1, 2, 86, 662] and basic arithmetic operations (+, -, *, /). Each of the numbers can be used only once.
Looks are deceiving...
A woman sought the advice of a sex therapist, confiding that she found it increasingly difficult to find a man who could satisfy her, and that it was very wearisome getting in and out of all these short term relationships.
"Isn't there some way to judge the size of a man's equipment from the outside?" she asked earnestly.
"The only foolproof way, is by the size of his feet" counseled the therapist.
So the woman went downtown and proceeded to cruise the streets, until she came across a young fellow standing in an unemployment line with the biggest feet she had ever laid her eyes on. She took him out to dinner, wined and dined him, and then took him back to her apartment for an evening of abandon.
When the man woke up the next morning, the woman had already gone but, by the bedside table was a $20 bill and a note that read, "With my compliments, take this money and go out and buy a pair of shoes that fit you."
#joke
Confucius Say ...
Confucius say, "When you are angry at neighbor, walk a mile in his shoes. Then you will be a mile away from him, and you will have his shoes!"
Pun With Monks
Lost on a rainy night, a nun stumbles across a monastery and requests shelter there. Fortunately, she's just in time for dinner and was treated to the best fish and chips she's ever had.
After dinner, she goes into the kitchen to thank the chefs.
She is met by two brothers, "Hello, I'm Brother Michael, and this is Brother Charles."
"I'm very pleased to meet you. I just wanted to thank you for a wonderful dinner. The fish and chips were the best I've ever tasted. Out of curiosity, who cooked what?"
Brother Charles replied, "Well, I'm the fish friar."
She turns the other brother and says, "Then you must be...?"
"Yes, I'm the chip monk."
#joke
Absolutely naked woman enters ...
Absolutely naked woman enters the pub. Barman looks at her very attentively.
Woman: Hey, what's up? Haven't you ever seen naked woman?

Barman: Well, yes I have... I'm only interested - where will you take your cash from?
How the diet going?
"How the diet going?"
"Not good, I had eggs for breakfast."
"Scrambled?"
"No, chocolate."
A blonde was driving down the ...
A blonde was driving down the road and she looks up and she sees a tree so she swerves to the left.
The tree is still nfront of her so she swerves to the right, this time her car rolls into the ditch.
When the Police Officer came to the scene of the accident the blonde told the Police Officer about the tree that was in front of her. The officer kindly explained that the tree was the green air freshener hanging off her rear view mirror.