"On New Year's Eve,
"On New Year's Eve, old Father Time hands over time to Baby New Year with a scythe of relief!"
A timeless lesson on how consu
A timeless lesson on how consultants can make a difference for an organization...
Last week, we took some friends out to a new restaurant, and noticed that the waiter who took our order carried a spoon in his shirt pocket. It seemed a little strange, but I ignored it. However, when the busboy brought out water and utensils, I noticed he also had a spoon in his shirt pocket, then I looked around the room and saw that all the staff had spoons in their pockets.
When the waiter came back to serve our soup I asked, "Why the spoon?"
"Well," he explained, "the restaurant's owners hired Andersen Consulting, experts in efficiency, in order to revamp all our processes. After several months of statistical analysis, they concluded that the spoon was the most frequently dropped utensil. This represents a drop frequency of approximately 3 spoons per table per hour. If our personnel is prepared to deal with that contingency, we can reduce the number of trips back to the kitchen and save 15 man-hours per shift."
As luck would have it I dropped my spoon and he was able to replace it with his spare spoon. "I'll get another spoon next time I go to the kitchen instead of making an extra trip to get it right now." I was rather impressed.
I noticed that there was a very thin string hanging out of the waiter's fly. Looking around, I noticed that all the waiters had the same string hanging from their flies. My curiosity got the better of me and before he walked off, I asked the waiter, "Excuse me, but can you tell me why you have that string right there?"
"Oh, certainly!" he answered, lowering his voice. "Not everyone is as observant as you. That consulting firm I mentioned also found out that we can save time in the restroom."
"How so?"
"See," he continued,"by tying this string to the tip of you know what, we can pull it out over the urinal without touching it and that way eliminate the need to wash the hands, shortening the time spent in the restroom by 76.39 percent."
"After you get it out, how do you put it back?" I asked.
"Well," he whispered, lowering his voice even further, "I don't know about the others, but I use the spoon."
#joke
New Exercise Program
I've started a new exercise program.
I do twenty sit-ups every morning.
That may not sound like a lot, but you can only hit that SNOOZE button just so many times...
Sherlock Holmes and Dr. Watson
Sherlock Holmes and Dr. Watson go on a camping trip, set up their tent, and fall asleep. Some hours later, Holmes wakes his faithful friend.
'Watson, look up at the sky and tell me what you see.'
Watson replies, 'I see millions of stars.'
'What does that tell you?'
Watson ponders for a minute.' Astronomically speaking, it tells me that there are millions of galaxies and potentially billions of planets. Astrologically, it tells me that Saturn is in Leo. Time wise, it appears to be approximately a quarter past three. Theologically, it's evident the Lord is all-powerful and we are small and insignificant. Meteorologically, it seems we will have a beautiful day tomorrow. What does it tell you?
Holmes is silent for a moment, then speaks. 'Watson, you idiot, someone has stolen our tent.'
#joke
You Might Be A Redneck If 78
You might be a reneck if...
Ambulance is a mule driven buckboard with a spinning lantern.
Nurses wear flour sack uniforms and look like burned out cloggers.
Dogs hang around O. R. for scraps.
Maternity Room is a do-it-yourself with fresh straw, a jack knife and a string.
Anesthesiologist in bib overalls, feeds you a clear liquid out of a mason jar.
Your Gynecologist is Ernest.
Your Proctologist, who watched Deliverance 200 times, asks you if can squeal like a pig.
The Interns are led by Ernest T. Bass.
Surgical instruments include a stick of dynamite and a chain saw.
#joke
Self help...
A man walks into a book store and asks the clerk if she could tell him where the "self-help" area is.
She replied, "Of course I can, but that would defeat the purpose, now wouldn't it?"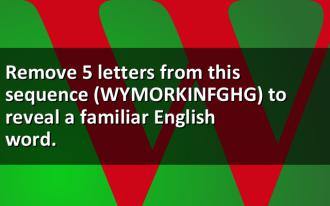 Remove 5 letters from this seq...
Remove 5 letters from this sequence (WYMORKINFGHG) to reveal a familiar English word.
Moral of the story
O n elephant and a mouse are walking together through the jungle when the elephant falls into a very large hole. The hole is so large that try as he might, the elephant is unable to climb out.
So the mouse says, "Hang around, I'll get something to drag you out with" and leaves. A little while later the mouse returns driving a Porsche and with a rope tied to the bumper bar and he drags the elephant out of the hole.
The two friends continue their stroll through the jungle when all of a sudden, the mouse falls into a hole. The elephant immediately stands over the hole and squatting over it, lowers his penis so the mouse can grab it and lift himself out of the hole.
The moral of this story is that "If your dick is long enough you dont need a Porsche."
#joke
Circle of flies....
A farmer got pulled over by a state trooper for speeding, and the trooper started to lecture the farmer about his speed, and in general began to throw his weight around to try to make the farmer uncomfortable. Finally, the trooper got around to writing out the ticket, and as he was doing that he kept swatting at some flies that were buzzing around his head.
The farmer said, 'Having some problems with circle flies there, are ya?' The trooper stopped writing the ticket and said, 'Well yeah, if that's what they are, but I never heard of circle flies.'
So the farmer says, 'Well, circle flies are common on farms. See, they're called circle flies because they're almost always found circling around the back end of a horse.'
The trooper says, 'Oh,' and goes back to writing the ticket. Then after a minute he stops and says, 'Hey...wait a minute, are you trying to call me a horse's ass?'
The farmer says, 'Oh no, officer. I have too much respect for law enforcement and police officers to even think about calling you a horse's ass.'
The trooper says, 'Well, that's a good thing,' and goes back to writing the ticket.
After a long pause, the farmer says, 'Hard to fool them flies though...'
#joke
The Marriage of Miss Bad Breath and Mr. Smelly Feet
A young couple, madly in love, decided to get married. But as the wedding day neared, both grew increasingly nervous over secret problems they had never shared with anyone. Privately, the groom-to-be approached his minister."I'm really concerned about this marriage," the young man said."Don't you love her?" the pastor asked in surprise."Of course," the groom said. "But I have unbelievably smelly feet—and I'm afraid my fiancée won't be able to stand them.""Oh, is that all?" the pastor replied. "Look, all you need to do is wash your feet twice a day and wear socks all the time."The groom thought it over and decided it just might work.Meanwhile, the nervous bride had privately approached the minister's wife. "I'm so worried," she sobbed. "I have really bad breath when I wake up each day!""Oh, dear," the pastor's wife replied," everyone has bad breath in the morning. Don't worry about it.""No, you don't understand," the bride implored. "My morning breath is so awful, my fiancé won't even want to be near me!""Well, I have an idea," the pastor's wife said soothingly. "Set your alarm just a few minutes before your husband wakes up. Run to the bathroom, brush your teeth, and gargle with mouthwash before he gets out of bed. The key is not to say anything until you've taken care of your breath."The bride thought it over and decided it just might work.In time, a beautiful wedding was held and the bride and groom enjoyed the day without once worrying about their secret problems. For several months they managed to keep their issues to themselves. They one morning, the husband awoke before dawn to find that one of his socks had come off in the night. Frantic, he searched the bed, afraid of what might happen if he didn't find his sock soon. His bride woke with a start, and, without thinking, blurted out, "What in the world are you doing?""Oh, dear!" the young man wailed. "You swallowed my sock!"From "
The Book of Church Jokes
," published by
Barbour Publishing, Inc.
, Uhrichsville, Ohio. Copyright 2009. Used by permission of Barbour Publishing, Inc.
#joke
Juston McKinney: Stay Off My Wall
My wife is actually a little upset with me right now because I wont approve her as a friend on my Facebook. Im like, You got every wall in the house. Can I have one wall without you popping up on and ruining it? Stay off my wall.