The Supportive Younger Brother
Mary was having a tough day and had stretched herself out on the couch to do a bit of what she thought to be well deserved complaining and self-pitying.
She moaned to her mom and her younger brother, "Nobody loves me...the whole world hates me!"
Her brother, busily occupied playing a game, hardly looked up at her and passed on this encouraging word... "That's not true, Mary. Some people don't even know you."

#joke
At one point during a game, th...
At one point during a game, the coach called one of his 7-year-oldhockey players aside and asked, "Do you understand whatcooperation is? What a team is?"
The little boy nodded in the affirmative.
"Do you understand that what matters is not whether we win orlose, but how we play together as a team?"
The little boy nodded yes.
"So," the coach continued, "I'm sure you know, when apenalty is called, you shouldn't argue, curse, attack the referee, orcall him a pecker-head."
Do you understand all that?"
Again the little boy nodded.
He continued, "And when I call you off the ice so thatanother boy gets a chance to play,it's not good sportsmanship to call your coach 'adumb a--hole', is it?"
Again the little boy nodded.
"Good," said the coach. "Now go over there and explain allthat to your mother."
#joke
Go Give Us A Donation
Traffic was backed up for miles, the police were going car to car. When they got to my car I asked the officer what was going on.
He said "It's Al Gore. He's up there threatening to set himself on fire! We are going car to car collecting donations."
"Donations!" I said, "How much you got so far?"
He said "about ten gallons."
#joke
"On New Year's Eve,
"On New Year's Eve, old Father Time hands over time to Baby New Year with a scythe of relief!"
A woman, searching for a job,
A woman, searching for a job, inquired about the benefits. The Personnel Manager informed her they had group health and life insurance, but the costs were deducted from the employee's pay.
She said, "My last employer had full health coverage, as well as five years salary for life insurance and a month's sick leave AND they paid the full premiums."
"I can't help but asking madam why you would leave a job with such benefits," the interviewer replied.
The woman shrugged her shoulders and said, "The company went bankrupt."
#joke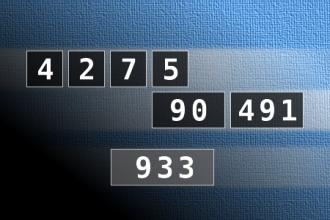 Calculate the number 933
NUMBERMANIA: Calculate the number 933 using numbers [4, 2, 7, 5, 90, 491] and basic arithmetic operations (+, -, *, /). Each of the numbers can be used only once.
Final Exam
A college teacher reminds her class of tomorrow's final exam. 'Now class, I won't tolerate any excuses for you not being here tomorrow. I might consider a nuclear attack or a serious personal injury, illness, or a death in your immediate family, but that's it, no other excuses whatsoever!' 
A smart-ass student in the back of the room raised his hand and asked, 'What would you say if tomorrow I said I was suffering from complete and utter sexual exhaustion?'
The entire class is reduced to laughter and snickering. When silence was restored, the teacher smiled knowingly at the student, shook her head and sweetly said, 'Well, I guess you'd have to write the exam with your other hand.'
#joke
Greg Giraldo: On Catholicism
We have a whole religion based on a woman who really stuck to her story.
Black Eyes
A man walked into work on Monday with two black eyes. His boss asked what happened.
The man said, "I was sitting behind a big woman at church. When we stood up to sing hymns, I noticed that her dress was caught in her crack, so I pulled it out. She turned around and punched me square in the eye."
"Where did you get the other shiner?" the boss asked.
"Well," the man said, "I figured she didn't want it out, so I pushed it back in."
Hymns By Word Association
A minister decided to do something a little different one Sunday morning.
He said, "Today, in church, I am going to say a single word and you are going to help me preach. Whatever single word I say, I want you to sing whatever hymn comes to your mind."
The pastor shouted out, "Cross!" Immediately the congregation started singing, in unison, "The Old Rugged Cross."
The pastor hollered out, "Grace!" The congregation began to sing "Amazing Grace, how sweet the sound..."
The pastor said, "Power." The congregation sang "There Is Power in the Blood." The Pastor said, "Sex." The congregation fell in total silence. Everyone was in shock.
They all nervously began to look around at each other, afraid to say anything.
Then all of a sudden, way from in the back of the church, a little old 87-year-old grandmother stood up and began to sing "Precious Memories."
#joke