All the good knights were leav
All the good knights were leaving for the Crusades.
One knight told his best friend: "My bride is without doubt one of the most beautiful women in the world. It would be a terrible waste if no man could have her. Therefore, as my best and most trusted friend, I am leaving you the key to her chastity belt to use should I not return from the Crusade."
The company of knights were only a mile or so out of town when they noticed a cloud of dust approaching.
Thinking it might be an important message from the town the column halted.
A horseman approached. It was the knight's best friend.
He yells: "Hey, you gave me the wrong key!!"
#joke
An old Italian Mafia 'Don' i
An old Italian Mafia 'Don' is dying and he calls his grandson into his bedroom.
'Lissin-a me. I wanna for you to taka my chrome plated 38 revolver so you will always remember me.'
'But grandpa, I really don't lika guns. Howzabout you leava me your Rolex watch instead?'
'Shuddup an lissin. Somma day you gonna runna da business.....you gonna have a beautiful wife, lotsa money, a big home and maybe a couple a bambinos.'
'Somma day you gonna comma home and maybe finda you wife inna bed with another man. Whadda you gonna do then ....... pointa to your watch and say 'Times up?'
#joke
Answering Machine Message 209
Congratulations! By correctly dialing 123-4567, you have become eligible to leave a message! (Applause.) Join the lucky few that have advanced to the next level! (Cheers.) And now, at the sound of the tone, leave your name, number, the time you called, and a brief message.
#joke
It's Opportunity
Knock, knock!
Who's there?
Opportunity!
That is impossible. Opportunity doesn't come knocking twice!

Shit! My neighborhood barb
Shit! My neighborhood barber just got arrested for selling drugs! I've been his customer for 4 years, but I had no idea he was a barber.
"The weapon smuggler
"The weapon smuggler had a barrel of fun in the judge's private chamber."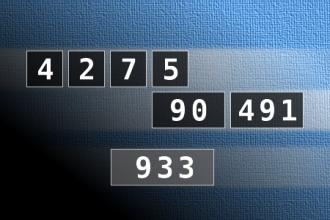 Calculate the number 933
NUMBERMANIA: Calculate the number 933 using numbers [4, 2, 7, 5, 90, 491] and basic arithmetic operations (+, -, *, /). Each of the numbers can be used only once.
Wedding vows...
During the wedding rehearsal, the groom approached the pastor with an unusual offer. "Look, I'll give you $100 if you'll change the wedding vows.
When you get to me and the part where I'm to promise to 'love, honor and obey' and 'forsaking all others, be faithful to her forever,' I'd appreciate it if you'd just leave that part out." He passed the minister a $100 bill and walked away satisfied.
It is now the day of the wedding, and the bride and groom have moved to that part of the ceremony where the vows are exchanged. When it comes time for the groom's vows, the pastor looks the young man in the eye and says:
"Will you promise to obey her every command and wish, serve her breakfast in bed every morning of your life and swear eternally before God and your lovely wife that you will not ever even look at another woman, as long as you both shall live?" The groom gulped and looked around, and said in a tiny voice, "Yes."
The groom leaned toward the pastor and hissed, "I thought we had a deal."
The pastor put the $100 bill into his hand and whispered back, "She made me a much better offer."
#joke
So this sardarji is walking th...
So this sardarji is walking the other day and comes across a banana peel on the road.
Can you guess what he might be thinking??
Saala aaj bhi girna padega!!!
Stopped By The Police
John and Jessica were on their way home from the bar one night and John got pulled over by the police. The officer told John that he was stopped because his tail light was burned out. John said, "I'm very sorry officer, I didn't realize it was out, I'll get it fixed right away."
Just then Jessica said, "I knew this would happen when I told you two days ago to get that light fixed."
So the officer asked for John's license and after looking at it said, "Sir your license has expired."
And again John apologized and mentioned that he didn't realize that it had expired and would take care of it first thing in the morning.
Jessica said, "I told you a week ago that the state sent you a letter telling you that your license had expired."
Well by this time, John is a bit upset with his wife contradicting him in front of the officer, and he said in a rather loud voice, "Jessica, shut your mouth!"
The officer then leaned over toward Jessica and asked. "Does your husband always talk to you like that?"
Jessica replied, "only when he's drunk."
#joke
Three old ladies are sitting i...
Three old ladies are sitting in a diner, chatting about various things. One lady says, "You know, I'm getting really forgetful. This morning, I was standing at the top of the stairs, and I couldn't remember whether I had just come up or was about to go down." The second lady says, "You think that's bad? The other day, I was sitting on the edge of my bed, and I couldn't remember whether I was going to bed or had just waken up!" The third lady smiles smugly. "Well, my memory's just as good as it's always been, knock on wood." She raps the table. With a startled look on her face, she asks, "Who's there?!"
#joke
A Meeting With the Board
After a long, dry sermon, the minister announced that he wished to meet with the church board after the service. The first man to arrive was a stranger.
"You misunderstood my announcement. This is a meeting of the board," said the minister.
"I know," said the man. "If there is anyone here more bored than I am, I'd like to meet him."
#joke