"I invented some new
"I invented some new cookware but the critics panned it."
The efficiency expert conclude
The efficiency expert concluded his lecture with a note of caution: "You don't want to try these techniques at home."
"Why not?" asked somebody from the audience.
"I watched my wife's routine at breakfast for years," the expert explained. "She made lots of trips between the refrigerator, stove, table and cabinets, often carrying a single item at a time. One day I told her, 'Hon, why don't you try carrying several things at once?'"
"Did it save time?" the guy in the audience asked.
"Actually, yes", replied the expert. "It used to take her 20 minutes to make breakfast. Now I do it in seven."
#joke
Two Eskimos
Two eskimos were chatting. One said, "Where did your mother come from?"
"Alaska."
"Don't bother, I'll ask her myself!"
Shit! My neighborhood barb
Shit! My neighborhood barber just got arrested for selling drugs! I've been his customer for 4 years, but I had no idea he was a barber.
GREAT TRUTHS THAT LITTLE CHILD
GREAT TRUTHS THAT LITTLE CHILDREN HAVE LEARNED:
1) No matter how hard you try, you can't baptize cats.
2) When your Mom is mad at your Dad, don't let her brush your hair.
3) If your sister hits you, don't hit her back. They always catch the second person.
4) Never ask your 3-year old brother to hold a tomato.
5) You can't trust dogs to watch your food.
6) Don't sneeze when someone is cutting your hair.
7) Never hold a Dust-Buster and a cat at the same time.
8) You can't hide a piece of broccoli in a glass of milk.
9) Don't wear polka-dot underwear under white shorts.
10) The best place to be when you're sad is Grandpa's lap.
GREAT TRUTHS THAT ADULTS HAVE LEARNED:
1) Raising teenagers is like nailing Jell-O to a tree.
2) Wrinkles don't hurt.
3) Families are like fudge...mostly sweet, with a few nuts.
4) Today's mighty oak is just yesterday's nut that held its ground.
5) Laughing is good exercise. It's like jogging on the inside.
6) Middle age is when you choose your cereal for the fiber, not the toy.
GREAT TRUTHS ABOUT GROWING OLD
1) Growing up is mandatory; growing old is optional.
2) Forget the health food. I need all the preservatives I can get.
3) When you fall down, you wonder what else you can do while you're down there.
4) You're getting old when you get the same sensation from a rocking chair that you once got from a roller coaster.
5) It's frustrating when you know all the answers but nobody bothers to ask you the questions.
6) Time may be a great healer, but it's a lousy beautician.
7) Wisdom comes with age, but sometimes age comes alone.
#joke
Two cannibals
There are two cannibals eating a clown, one turns to the other and says, 'Does this taste funny to you?!'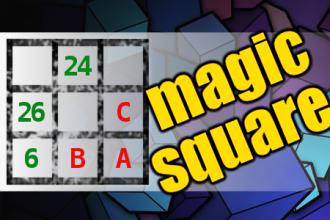 MAGIC SQUARE: Calculate A*B-C
The aim is to place the some numbers from the list (6, 7, 8, 24, 25, 26, 64, 65, 66) into the empty squares and squares marked with A, B an C. Sum of each row and column should be equal. All the numbers of the magic square must be different. Find values for A, B, and C. Solution is A*B-C.
Some Yogurt Visits A Local Bar

Two cartons of yogurt walk into a bar. The bartender, who was a tub of cottage cheese, says to them, "We don't serve your kind in here."
One of the yogurt cartons says back to him, "Why not? We're cultured individuals."


An Atheist's Holiday
An atheist became incensed over Christmas holiday preparations. He filed a lawsuit about the constant celebrations given to Christians and Jews while atheists had no holiday to celebrate. The case was brought before a judge. After listening to the long, passionate presentation by the atheist's lawyer, the judge banged his gavel and declared, "Case dismissed!"The lawyer immediately stood and objected to the ruling. "Your honor, how can you possibly dismiss this case? The Christians have Christmas, Easter, and many other observances. Jews have Passover, Yom Kippur, and Hanukkah. Yet, my client and all other atheists have no such holiday!"The judge leaned forward in his chair and simply said, "Obviously, your client is too confused to know about, much less celebrate, his own atheist holiday!" The lawyer pompously said, "Your honor, we are unaware of any such holiday for atheists. Just when might that holiday be?" The judge replied, "Well, it comes every year on exactly the same date. Psalm 14:1 states, 'The fool says in his heart, there is no God.' Thus, if your client says there is no God then, according to the Bible, he is a fool. April Fool's Day is his holiday. Now, get out of my courtroom!"-
Joke shared on Beliefnet's Religious Humor page
Bingo sign
How do you get 500 old cows in a barn?
Put up a Bingo sign.
Submitted by Curtis
Edited by Calamjo
A Recently Spotted Bumper Sticker:
"God is coming --
and is SHE pissed!"
Jo Koy: When Monkeys Get Mad
When monkeys get mad, they crap in their hand and they throw it. How cool is that? Whos going to fight a guy with a lump of crap in his hand?
1. "Weather at our destination...
1. "Weather at our destination is 50 degrees with some broken
clouds, but we'll try to have them fixed before we arrive. Thank you, and
remember, nobody loves you, or your money, more than Southwest Airlines."
2. "Your seat cushions can be used for flotation, and, in the
event of an emergency water landing, please paddle to shore and take
them with you with our compliments."
3. "As you exit the plane, make sure to gather all of your
belongings. Anything left behind will be distributed evenly among
the flight attendants. Please do not leave children or spouses."
4. And from the pilot during his welcome message: "Delta airlines
is pleased to have some of the best flight attendants in the
industry. Unfortunately, none of them are on this flight!"
5. Overheard on an American Airlines flight into Amarillo, Texas, on a particularly
windy and bumpy day: During the final approach, the Captain was really having to
fight it. After an extremely hard landing, the Flight Attendant said, "Ladies and Gentlemen, welcome to Amarillo. Please remain in your seats with your seat belts fastened
while the Captain taxis what's left of our airplane to the gate
#joke