"In cricket nightwatc
"In cricket nightwatchmen do not bat eye lids till they get their eye on the ball!"
A woman is enjoying a good gam
A woman is enjoying a good game of bridge with her girlfriends one evening. "Oh, no! I have to rush home and fix dinner for my husband! He's going to really ticked if it's not ready on time."
When she gets home, she realizes she doesn't have enough time to go to the supermarket, and all she has in the cupboard is a wilted lettuce leaf, an egg, and a can of cat food. In a panic, she opens the can of cat food, stirs in the egg, and garnishes it with the lettuce leaf just as her husband is pulling up.
She greets her husband and then watches in horror as he sits down to his dinner. To her surprise, the husband is really enjoying his dinner. "Darling, this is the best dinner you have made for me in forty years of marriage. You can make this for me any old day."
Needless to say, every bridge night from then on, the woman made her husband the same dish. She told her bridge cronies about it and they were all horrified. "You're going to kill him!" they exclaimed.
Two months later, her husband died. The women were sitting around the table playing bridge when one of the cronies said, "You killed him! We told you that feeding him that cat food every week would do him in! How can you just sit there so calmly and play bridge knowing you murdered your husband?"
The wife stoically replied, "I didn't kill him. He fell off the mantel while he was licking his paws."
#joke
Samsung Security Guards
What do you call security guards working outside Samsung shops?
Guardians of the Galaxy.
Q :How did Harry Potter ge
Q :How did Harry Potter get down the hill?
A: Walking......Jk,Rowling
The Preacher and the Peanuts
A preacher visits an elderly woman from his congregation. As he sits on the couch, he notices a large bowl of peanuts on the coffee table. "Mind if I have a few?" he asks. "No, not at all!" the woman replied. They chat for an hour and, as the preacher stands to leave, he realizes that instead of eating just a few peanuts, he emptied most of the bowl. "I'm terribly sorry for eating all your peanuts. I really just meant to eat a few." "Oh, that's all right," the woman says. "Ever since I lost my teeth, all I can do is suck the chocolate off them."-
Joke shared by Beliefnet member goden1
#joke
A man entered the bus with bot...
A man entered the bus with both of his front pants pockets full ofgolf balls, and sat down next to a beautiful (you guessed it) blonde.
The puzzled blonde kept looking at him and his bulging pockets.
Finally, after many such glances from her, he said, "It's golf balls".
Nevertheless, the blonde continued to look at him thoughtfully andfinally, not being able to contain her curiosity any longer, asked."Does it hurt as much as tennis elbow?"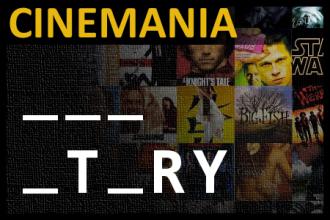 CINEMANIA: Guess the movie title
Film was made in 1995.
Two football jocks taking an exam
Two college football players named Bubba and Jed were taking an exam in English Literature. They must pass this exam in order to fulfill the academic requirement. If they fail, they would be dropped from the college varsity team for the whole season.
The exam was relatively easy as it consisted mainly of fill-in-the-blank type of answers. However, Bubba was stumped by one particular item.
The statement read "Complete the nursery phrase ... Ol' MacDonald had a ______." Trying as hard as he could, Bubba could not think of the answer. Seeing the professor was busy reading a book, Bubba took this opportunity to ask his teammate Jed.
"Pssst, Jed," whispered Bubba. "What did Ol' MacDonald have?"
"Gosh, Bubba, that's easy!" said Jed. Looking to make sure the professor wasn't looking, Jed said, "A farm! Bubba! That's what Ol' MacDonald had. Even babies know that!"
"Oh! Right!" nodded Bubba as though it was at the tip of his tongue. But as he proceeded to write down the answer, Bubba stopped to ask Jed again in a low voice.
"Hey, Jed! How do you spell farm?"
"Jeez, you're so dumb, Bubba!" admonished Jed. "Every one knows farm is spelled 'e-i-e-i-o'."
#joke
Diary Of A Computer Lamer
July 18
I just tried to connect to America online, which I've heard is the best online service I can get. I can't connect, I don't know what is wrong.
July 19
Some guy at the tech support center says my computer needs a modem. I don't see why. He's just trying to cheat me. How dumb does he think I am?
July 20
I bought the modem, I couldn't figure out where it goes though, it wouldn't fit in the monitor or the printer. I'm confused.
July 21
I finally got the modem in and hooked up. A three year old next door did it for me.
July 22
The three year old kid next door hooked me up to America online for me. He's so smart.
July 23
What the heck is the internet? I thought I was on America Online, not this internet thingy. I'm confused.
July 24
The three year old kid next door showed me how to use this America Online stuff. He must be a genius at least compared to me.
July 25
I tried to use chat today. I tried to talk into my computer but nothing happened. Maybe I need to buy a microphone.
July 26
I found this thingy called Usenet. I got out of it because I'm connected to America Online, not Usenet. I went to the doctor today for my regular checkup. He says that since I connected, My brain has mysteriously shrunk to half its normal size.
July 27
These people in this Usenet thingy keep using capital letters. How do they do that? i never figured out how to type capital letters. Maybe they have a different type of keyboard.
July 28
I found this thingy called the Usenet oracle. It says that it can answer any questions I ask it. I asked it 44 separate questions about the internet. I hope it responds soon.
July 29
I found a group called rec.humor. I decided to post this joke about why the chicken crossed the road. To get to the other side! ha ha! I wasn't sure if i posted it right so I posted it 56 more times.
July 30
I keep hearing about the World Wide Web. I didn't know spiders grew that large.
July 31
The oracle responded to my questions today. Geez, it was rude. I was so angry that I posted an angry message about it to rec.humor.oracle.d. I wasn't sure if it posted right so I posted it 22 more times.
August 1
Someone told me to read the FAQ. Geez, they didn't have to use profanity.
August 2
I just read this post called make money fast. I'm so exited, I'm going to make lots of money. I followed his instructions and posted it to every newsgroup i could find.
August 3
I just made my signature file. It's only 6 pages long, So I will have to work on it some more.
August 4
I just looked at a group called alt.aol.sucks. I read a few posts and I really believe that aol should be wiped off the face of the Earth. I wonder what an "aol" is, however.
August 5
I was asking where to find some information about something. Some guy told me to check out ftp.netcom.com. I've looked and looked, but I cant find that group.
August 6
Some guy suspended my account because of what i was doing. I told him I don't have an account at his bank. He's so dumb.
Chuck Norris invented Kentucky...
Chuck Norris invented Kentucky Fried Chicken's famous secret recipe, with eleven herbs and spices. But nobody ever mentions the twelfth ingredient: Fear.
A trip to the dentist...
A woman phoned her dentist when she received a huge bill.
"I'm shocked!" she complained.
"This is three times what you normally charge."
"Yes, I know," said the dentist. "But you screamed so loudly, you scared away two other patients."
Biblical Puns
Q: What was the secret of Delilah getting into Samson's house?
A: She picked his locks.
Q: Why didn't Pharaoh let the Israelites go into the wilderness after the first six plagues?
A: He was in de Nile.
Q: Why did Samson try to avoid arguing with Delilah?
A: He didn't want to split hairs.
#joke
Bret Ernst: Blame America
Everybody likes to blame America for everything. What are we, only 233 years old? These other countries are thousands of years old. Not only did they not get it right, but a lot of times they screw up and ask us for help. Thats like a 90-year-old man asking a two-year-old for advice.
A Very Minor Sin
A famous professor of surgery died and went to heaven. At the pearly gates he was asked by the gatekeeper, "Have you ever committed a sin you truly regret?""Yes," the professor answered. "When I was a young candidate at the Hospital of Saint Lucas, we played soccer against a team from the Community Hospital, and I scored a goal, which was off-side. But the referee did not see it, and the goal won us the match. I regret that now."
"Well," said the gatekeeper. "That is a very minor sin. You may enter."
"Thank you very much, Saint Peter," the professor answered.
"You're welcome, but I am not Saint Peter," said the gatekeeper. "He is having his lunch break. I am Saint Lucas."
#joke