You Must Admire His Honesty
His girlfriend's father was interviewing Young Charles.
"So," said the father, "you want to be my son-in-law, do you?"
"No, not particularly," said Charles tactlessly, "but if I want to marry your daughter I haven't much choice, have I?"

#joke
A man walks up to a farmers ho
A man walks up to a farmers house, knocks on the door. When a woman opened the door, the man asked if she knew how to have sex. Not amused, she slammed the door. Again, the man knocked, again, and asked the same question.
Again, not amused, she screamed at him to leave. Later, she told her husband of the incident. He said he would stay home the following day just in case. Sure enough, the next day the same man returned. The husband hid with his gun while the lady answered the door.
When she was asked again if she knew how to have sex, she said yes.
The man replied, "Great, give some to your husband the next time you see him, and tell him to keep away from my wife!"
#joke
I Just Needed To Use Your Car
After shopping for most of the day, a couple returns to find their car has been stolen. They go to the police station to make a full report. Then, a detective drives them back to the parking lot to see if any evidence can be found at the scene of the crime. To their amazement, the car has been returned.
There is an envelope on the windshield with a note of apology and two tickets to a music concert. The note reads, "I apologize for taking your car, but my wife was having a baby and I had to hot-wire your ignition to rush her to the hospital. Please forgive the inconvenience. Here are two tickets for tonight's concert of Garth Brooks, the country-and-western music star."
Their faith in humanity restored, the couple attend the concert and return home late. They find their house has been robbed. Valuable goods have been taken from thoughout the house, from basement to attic. And, there is a note on the door reading, "Well, you still have your car. I have to put my newly born kid through college somehow, don't I?"
#joke
"I couldn't find the
"I couldn't find the car window scraper this morning, so I used a plastic store discount card to clean my windows. It didn't work very well. I only got 20% off."
There are a lot of folks who c
There are a lot of folks who can't understand howwe came to have an oil shortage here in America.
Well, there's a very simple answer.
Nobody bothered to check the oil.
We just didn't know we were getting low.
The reason for that is purely geographical.
All our oil is in Alaska, Texas, California, and Oklahoma.
All our dipsticks are in Washington, DC.
#joke
My son....
A young punk gets on the cross town bus. He's got spiked, multicolored hair that's green, purple & orange. His clothing is a tattered mix of leather rags. His legs are bare and he's without shoes. His entire face and body are riddled with pierced jewelry and his earrings are big, bright red, yellow and green feathers. He sits down in the only vacant seat, directly across from an old man who just glares at him for the next ten miles.
Finally the punk gets self-conscious and yells at the old man, "What are you looking at you old fart! Didn't you do anything wild when you were young?"
Without missing a beat the old man replied, "Yeah. Back when I was very young and in the Navy, I got really drunk in Singapore & had sex with a parrot. I thought you might be my son."
#joke
FLEX WORDLE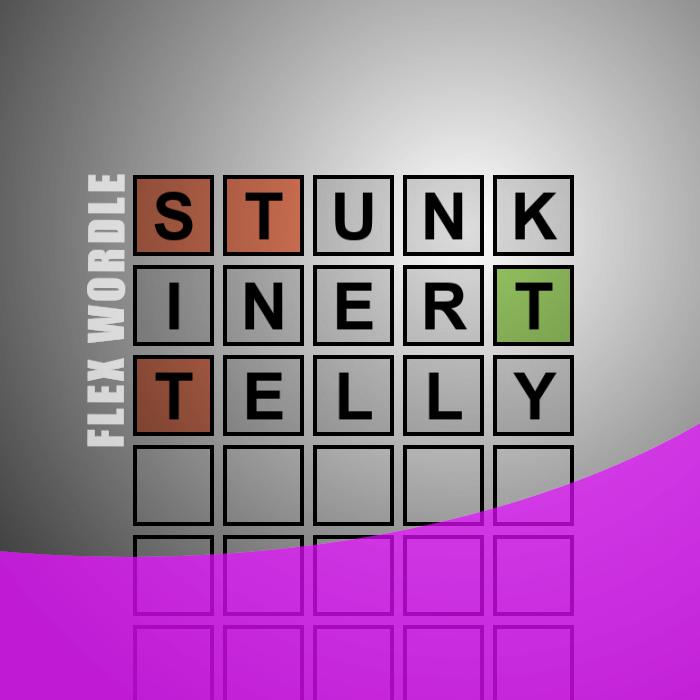 Guess the
WORDLE
in 3 tries. After each guess, the color of the tiles will change to show how close your guess was to the solution.
How do you tell a kebab to be ...
How do you tell a kebab to be quiet?
Shh, kebab
A German asks a Mexican if the...
A German asks a Mexican if they have any Jews in Mexico. The Mexican says, "Sí, we have orange jews, apple jews, and grape jews!"
Demetri Martin: How to Be a Bouncer
How to be a bouncer: 1) be an a**hole; 2) stand near a door.
Big Mouth!
A Jewish gentleman stood before a delicatessen display counter and pointed to a tray. "I'll have a pound of that salmon," he said.
"That's not salmon," the clerk said. "It's ham."
"Mister," the customer snapped, "in case nobody ever told you, you got a big mouth!"
Irish Tradition
Patrick walks into a bar in Dublin, orders three pints of Guinness and sits in the corner of the room, drinking a sip out of each pint in turn. When he had finished all three, he went back to the bar and ordered three more.
The barman says, "You know a pint goes flat soon after I pull it . Your pints would taste better if you bought one at a time."
Patrick replies, "Well now, I have two brodders, one is in America and de odder in Australia and here I am in Dublin . When we all left home, we promised dat we'd drink dis way to remember de days we all drank togedder."
The barman admits that this is a nice custom and says no more.
Patrick becomes a regular customer and always drinks the same way … ordering three pints and drinking a sip out of each in turn, until they are finished. One day, he comes in and orders just two pints. All the other regulars in the bar notice and fall silent. When he goes back to the bar for the second round, the barman says, "I don't want to intrude on your grief but I wanted to offer my condolences on your great loss." Patrick looks confused for a moment, then the penny drops and he starts to laugh, "Oh no," he says,
Bejesus, everyone is fine! Tis me … I've quit drinking!"
#joke #walksintoabar
Join us on WhatsApp