Have a great time for
Christmas
, check out our latest
Christmas jokes of 2022
on:
Christmas jokes collection
"I discovered that th
"I discovered that the mortician had buried my father in the wrong plot. It was a grave mistake."
Jill's car was unreliable and
Jill's car was unreliable and she called John for a ride every time it broke down. One day John got yet another one of those calls.
"What happened this time?" he asked.
"My brakes went out," Jill said. "Can you come to get me?"
"Where are you?" John asked.
"I'm in the drugstore," Jill responded.
"And where's the car?" John asked.
"It's right here, with me."
#joke
A young cowboy from Texas goes
A young cowboy from Texas goes off to college. Halfway through the semester, he has foolishly squandered all his money.
He calls home. "Dad," he says, "You won't believe what modern education isdeveloping! They actually have a program here in College Station that will teach our dog, Ol' Blue how to talk!"
"That's amazing," his Dad says. "How do we get Ol' Blue in that program?" "Just send him down here with $1,000" the young cowboy says."I'll get him in the course."
So, his father sends the dog and $1,000. About two-thirds of the way through the semester, the money again runs out. The boy calls home."So how's Ol' Blue doing son?" his father asks. "
Awesome, Dad, he's talking up a storm," he says, "but you just won't believe this - they've had such good results they have started to teach the animals how to read!"
"Read!?" says his father, "No kidding! How do we get Blue into that program?" "Just send $2,500, I'll get him in the class."
The money promptly arrives. But our hero has a problem. At the end of theyear, his father will find out the dog can neither talk, nor read... so he shootsthe dog.
When he arrives home at the end of the year, his father is all excited."Where's Ol' Blue? I just can't wait to see him read something and talk!"
"Dad," the boy says, "I have some grim news. Yesterday morning, just before we left to drive home, Ol' Blue was in the living room, kicked back in the recliner, reading the Wall Street Journal, like he usually does. Then he turned to me and asked, "So, is your daddy still messing' around with that young lady who lives in town?"
The father exclaimed,"I hope you shot that son of a bitch before he talks to your Mother!"
"I sure did, Dad!"
"That's my boy!"
The kid went on to be a successful lawyer and then went into politics.
The Top Ten Signs That Someone Is Using Your E-mail Account
10. "Honey, why is an 18-wheeler from Amazon.com backing into our driveway?"
9. One Secret Service agent is sitting on your head while another is slapping cuffs on you.
8. Apparently, your flame war with DonCorleone@mafia.com is about to turn ugly.
7. When you log on, your computer says "You've got lawsuits!"
6. You're suddenly getting more Spam than the Hormel outlet store.
5. Sotheby's says the Rembrandt is yours and that you now owe them $71,000,000 and change.
4. You now have 130,000 ClubTop5 subscriptions and the list moderator is on the cover of Business Week.
3. Terse "Knock it off, Oedipus" e-mail from your Mom.
2. Your wife calls you at the office to report that Pogdi, your Pakistani mail-order bride, has arrived.
1. "The resistance welcomes your involvement. Your contact information has been forwarded to a local insurgent who will bring supplies and reinforcements to you immediately."
This document copyright © 1999 by Chris White.
#joke
Can't See It
Mom: Having trouble with your computer, son?
Son: My PC says it can't see my printer.
Mom: I'm not surprised. Look how messy your room is.
FLEX WORDLE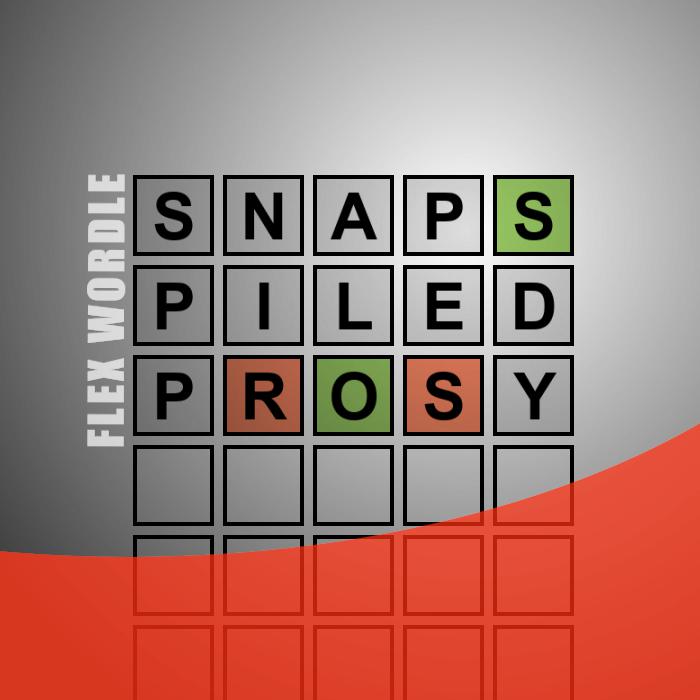 Guess the
WORDLE
in 3 tries. After each guess, the color of the tiles will change to show how close your guess was to the solution.
Answering Machine Message 225

(Oriental voice:) Hello, you have reached honorable Chan's residence. I, Kato, will go and get honorable Chan. (Godzilla scream.) Oh no! Godzilla coming! Please leave name and number at gong and Chan will call back if house still here.


Salvation by Annoyance
An exasperated mother, whose son was always getting into mischief, finally asked him, "How do you expect to get into Heaven?"
The boy thought it over and said, "Well, I'll run in and out and in and out and keep slamming the door until St. Peter says, 'For Heaven's sake, Dylan, come in or stay out!'"
#joke
Every time a bell rings Chuck ...
Every time a bell rings Chuck Norris kills a bear.
Shy guy in bar
A very shy guy goes into a bar and sees a beautiful woman sitting at the bar.
After an hour of gathering up his courage he finally goes over to her and asks, tentatively, "Um, would you mind if I chatted with you for a while?"
To which she responds by yelling, at the top of her lungs, "No, I won't sleep with you tonight!"
Everyone in the bar is now staring at them.
Naturally, the guy is hopelessly and completely embarrassed and he slinks back to his table.
After a few minutes, the woman walks over to him and apologizes. She smiles at him and says, "I'm sorry if I embarrassed you. You see, I'm a graduate student in psychology and I'm studying how people respond to embarrassing situations."
To which he responds, at the top of his lungs, "What do you mean $200 for a blowjob?"
#joke
Chicken Gun
Scientists at Rolls Royce built a gun specifically to launch dead chickens at the windshields of airliners and military jets all travelling at maximum velocity. The idea was to simulate the frequent incidents of collisions with airborne fowl to test the strength of the windshields.
American engineers heard about the gun and were eager to test it on the windshields of their new high speed trains. Arrangements were made, and a gun was sent to the American engineers.
When the gun was fired, the engineers stood shocked as the chicken hurled out of the barrel, crashed into the shatterproof shield, smashed it to smithereens, blasted through the control console, snapped the engineer's back-rest in two and embedded itself in the back wall of the cabin like an arrow shot from a bow..
The horrified engineers sent Rolls Royce the disastrous results of the experiment, along with the designs of the windshield and begged the British scientists for suggestions.
Rolls Royce responded with a one-line memo:
Defrost the chicken..
#joke