"The Orthodontists we
"The Orthodontists went on strike until they could get things straightened out."
A frustrated father told his w
A frustrated father told his work colleague: "When I was a youngster, I was disciplined by being sent to my room without supper. But in my son's room he has a color TV, computer, game console, cell phone, iPad and DVD player."
"So what do you do?"
The father replied: "I send him to my room!"
#joke
They Both Looked Good
What do the Tampa Bay Lightning and the Titanic have in common?
They both looked good until they hit the ice!
Answering Machine Message 21
Hello. This is Ron's answering machine, Marvin, and I'm so depressed. I have 50,000 times the memory capacity of my owner, but all I get to do is answer the phone. Life. Don't talk to me about life. Just leave your name and number after the beep. Here comes the beep, how I hate that beep, it's so cheery sounding.
#joke
The Irishman's Olives
McQuillan walked into a bar and ordered martini after martini, each time removing the olives and placing them in a jar. When the jar was filled with olives and all the drinks consumed, the Irishman started to leave.
"S'cuse me," said a customer, who was puzzled over what McQuillan had done. "What was that all about?"
"Nothing," said the Irishman, "my wife just sent me out for a jar of olives."
#joke
The children were lined up in...
The children were lined up in the cafeteria of a Catholic elementary school for lunch. At the head of the table was a large pile of apples.. The nun made a note, and posted on the apple tray: 'Take only ONE . God is watching.'
Moving further along the lunch line, at the other end of the table was a large pile of chocolate chip cookies.
A child had written a note, 'Take all you want. God is watching the apples'.
#joke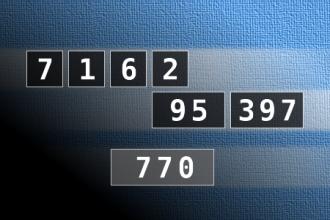 Calculate the number 770
NUMBERMANIA: Calculate the number 770 using numbers [7, 1, 6, 2, 95, 397] and basic arithmetic operations (+, -, *, /). Each of the numbers can be used only once.
Feels great...
A fellow wakes up one morning, singing and whistling to himself, "I feel great, just great". Goes down to greet his wife, and tells her, "I feel great, honey!"
She replies,. "Well you look terrible"!
He shakes his head and starts out to work thinking, "She's probably in a bad mood, can't appreciate my good feelings". Meets his best friend, Joe and says, "Joe, I feel great".
Joe looks at him and says "Jeez, you really look terrible"! At this point the fellow is becoming worried and wonders, "Maybe I've got some unusual disease or something." He quickly calls his physician and heads on over for an emergency consult. He tells the physician, "Doc, I feel great, but everyone is telling me I look terrible."
The physician replies, "Well, you do look terrible. Let me look this up." The physician consults his handbook (Merck, of course) and leafing through the pages mutters to himself: "Feels great, looks great, no that's not you". "Feels terrible, looks terrible, no that's not you". "Feels great, looks terrible...Yes that's you... "It says here you're a vagina!"
#joke
An Englishman wanted to become...
An Englishman wanted to become an Irishman, so he visited a doctor to find out how to go about this. "Well" said the doctor, "this is a very delicate operation and there is a lot that can go wrong. I will have to remove half your brain". "That's OK" said the Englishman. "I've always wanted to be Irish and I'm prepared to take the risk".
The operation went ahead but the Englishman woke to find a look of horror on the face of the doctor. "I'm so terribly sorry!!" the doctor said. "Instead of removing half the brain, I've taken the whole brain out". The patient replied, "No worries, mate!!"
Two elderly gentlemen, who had...
Two elderly gentlemen, who had been without sex for several years, decided they needed to visit a cat-house for some tail. When they arrived, the madam took one look at them and decided she wasn't going to waste any of her girls on these two old men. So she used "blow-up" dolls instead. She put the dolls in each man's room and left them to their business.
After the two men were finished, they started for home and got to talking.
The first man said, "I think the girl I had was dead. She never moved, talked or even groaned... how was it for you?"
The second man replied, "I think mine was a witch."
The first man asked, "How's that?"
"Well," said the second man, "when I nibbled on her breast... she farted and flew out the window!"
#joke
Chuck Norris can skip water on...
Chuck Norris can skip water on a rock.