"There is a haunted A
"There is a haunted AC unit at my work. It's been giving everyone the chills!"
The Christmas Airport
It was a few days before Christmas. The trip went reasonably well, and he was ready to go back home. The airport on the other end had turned a tacky red and green, and loudspeakers blared annoying elevator renditions of cherished Christmas carols.
Being someone who took Christmas very seriously, and being slightly tired, he was not in a particularly good mood. (Almost a scrooge) Going to check in his luggage (which, for some reason, had become one suitcase with entirely new clothes), he saw hanging mistletoe. Not real mistletoe, but very cheap plastic with red paint on some of the rounder parts and green paint on some of the flatter and pointer parts, that could be taken for mistletoe only in a very Picasso sort of way.
With a considerable degree of irritation and nowhere else to vent it, he said to the attendant, "Even if we were married, I would not want to kiss you under such a ghastly mockery of mistletoe."
"Sir, look more closely at where the mistletoe is."
"Ok, I see that it's above the luggage scale which is the place you'd have to step forward for a kiss."
"That's not why it's there."
"Ok, I give up. Why is it there?"
"It's there so you can kiss your luggage good-bye."
Headache Remedy
"What does your mother do for a headache?"
"She sends me out to play."
With his wife out for the even
With his wife out for the evening, a father was trying to watch TV, but his young son kept coming in and asking for a glass of water.
After the seventh glass, the father lost his temper and yelled: "Go to sleep, I'm watching TV."
"But Dad," he protested, "my room is still on fire!"
#joke
Fig Leaf Found
A little boy opened the large old family Bible, and he looked with fascination at the ancient pages as he turned them one by one.
He was still in Genesis when something fell out of the Bible. He picked it up and looked at it closely. It was a very large old tree leaf that had been pressed between the pages of the Bible long ago."Momma, look what I found!" the boy called out.
"What do you have there?" his mother asked.
With astonishment in his voice, the young boy answered, "I think it's Adam's underwear!"
#joke
A guy gets on a plane and find...
A guy gets on a plane and finds himself seated next to a cute blonde.
He immediately turns to her and makes his move.
"You know," he says, "I've heard that flights will go quicker if you strike up a conversation with your fellow passenger.
So let's talk."
The blonde, who had just opened her book, closes it slowly and says to the guy, " What would you like to discuss?"
"Oh, I don't know,"says the guy.
"How about nuclear power?"
"OK," says the blonde.
"That could be an interesting topic.
But let me ask you a question first.
A horse, a cow, and a deer all eat the same stuff--grass.
Yet the deer excretes little pellets, the cow turns out a flat patty, and the horse produces muffins of dried poop. Why do you suppose that is?"
The guy is dumbfounded. Finally he replies, "I haven't the slightest idea."
"So tell me," says the blonde, "How is it that you feel qualified to discuss nuclear power when you don't know shit?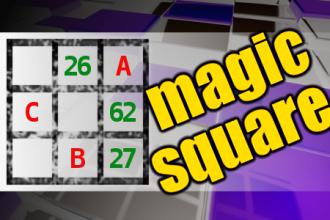 MAGIC SQUARE: Calculate A-B*C
The aim is to place the some numbers from the list (5, 13, 14, 20, 26, 27, 33, 42, 62, 63, 69) into the empty squares and squares marked with A, B an C. Sum of each row and column should be equal. All the numbers of the magic square must be different. Find values for A, B, and C. Solution is A-B*C.
Lost it!
A guy and a girl are lying in a dorm-room bed after just having sex.
The guy lies on his side of the bed and rests.
The girl rolls to her side of the bed and says to herself, "I finally did it! I'm no longer a virgin."
The guy overhears her talking to herself and asks, "Are you saying you lost your virginity to me?"
"Well," the girl explains, "I always wanted to wait until I was with the man I love to lose my virginity."
Astounded, the guy replies, "So you really love me?"
"Oh God no!" the girl says. "I just got sick of waiting."
Submitted by Calamjo
Edited by Curtis
#joke
Are you kidding?
Reaching the end of a job interview, the Human Resources Person asked a young Engineer fresh out of MIT, "And what starting salary were you looking for?"
The Engineer said, "In the neighborhood of $125,000 a year, depending on the benefits package."
The interviewer said, "Well, what would you say to a package of 5 weeks vacation, 14 paid holidays, full medical and dental, a company matching retirement fund for 50% of your salary, and a company car leased every 2 years -- say, a red Corvette?"
The Engineer sat up straight and said, "Wow! Are you kidding?"
And the interviewer replied, "Yeah, but you started it."
#joke
Phone sex
I tried phone sex once, but the holes were too small.
Submitted by Calamjo
Edited by Curtis