While in China, a man is very
While in China, a man is very sexually promiscuous and does not use a condom all the time he is there.
A week after arriving back home in the States, he wakes one morning to find his penis covered with bright green and purple spots.
Horrified, he immediately goes to see a doctor.
The doctor, never having seen anything like this before, orders some tests and tells the man to return in two days for the results.
The man returns a couple of days later and the doctor says, "I've got bad news for you, you've contracted Mongolian VD. It's very rare and almost unheard of here, we know very little about it."
The man looks a little perplexed and says, "Well, give me a shot or something and fix me up, Doc."
The doctor answers, "I'm sorry, there's no known cure. We're going to have to amputate your penis."
The man screams in horror, "Absolutely not! I want a second opinion."
The doctor replies, "Well, it's your choice. Go ahead if you want, but surgery is your only choice."
The next day, the man seeks out a Chinese doctor, figuring that he'll know more about the disease.
The Chinese doctor examines his penis and proclaims, "Ah, yes, Mongolian VD. Vewy ware disease."
The guy says to the doctor, "Yeah, yeah, I already know that but what can we do? My American doctor wants to operate and amputate my penis!"
The Chinese doctor shakes his head and laughs, "Stupid American docttah, always want to opawate. Make more money dat way. No need to amputate!"
"Oh, Thank you!" the man replies.
"Yes," says the Chinese doctor, "wait two weeks. Faw off by itself!"
On the Toadstool
Why didn't the frog sit on the toadstool?
Because there wasn't mushroom.
Once upon a time, in a nice li
Once upon a time, in a nice little forest, there lived a blind little bunny and a blind little snake.
One day, the bunny was hopping through the forest, and the snake was slithering through the forest, when the bunny tripped over the snake and fell down. This, of course, knocked the snake about quite a bit.
"Oh, my," said the bunny, "I'm terribly sorry. I didn't mean to hurt you. I've been blind since birth, so, I can't see where I'm going. In fact, I don't even know what I am."
"It's quite okay," replied the snake. "Actually, my story is much the same as yours. I, too, have been blind since birth. Tell you what, maybe I could kinda slither over you, and figure out what you are, so at least you'll have that going for you."
"Oh, that would be wonderful," replied the bunny. So the snake slithered all over the bunny, and said, "Well, you're covered with soft fur, you have really long ears, your nose twitches, and you have a soft cottony tail. I'd say that you must be a bunny."
"Oh, thank you! Thank you," cried the bunny in obvious excitement. The bunny suggested to the snake, "Maybe I could feel you with my paw, and help you the same way you've helped me."
So the bunny felt the snake all over, and remarked, "Well, you're scaly and smooth, and you have a forked tongue, no backbone and no balls. I'd say you must be either a politician, an attorney, or possibly someone in upper management."
#joke
Answering Machine Message 135

Hi, you've reached 474-2340. Don, Kendy and Sylvia can't come to the phone right now because they've been kidnapped by aliens and replaced by android duplicates. You could leave your name and number at the tone, but I wouldn't -- you might be next! (evil laugh)


"How did Pavlov win a
"How did Pavlov win a Nobel prize?"
A Push Please
A man is in bed with his wife when there is a knock at the door. He rolls over and looks at his clock, and it's 3:30 in the morning. "I'm not getting out of bed at this time," he thinks, and rolls over.
Then a louder knock follows. "Aren't you going to answer that?" says his wife. So he drags himself out of bed and goes downstairs. He opens the door and there is a man standing on the porch. It didn't take the homeowner long to realize the man was drunk.
"Hi there," slurs the stranger. "Can you give me a push??"
"No, get lost! It's half past three. I was in bed," says the man and he slams the door. He goes back up to bed and tells his wife what happened and she says, "That wasn't very nice of you. Remember that night we broke down in the pouring rain on the way to pick the kids up from the babysitter and you had to knock on that man's house to get us started again? What would have happened if he'd told us to get lost?"
"But the guy was drunk," says the husband. "It doesn't matter," says the wife. "He needs our help and it would be the Christian thing to help him."
So the husband gets out of bed again, gets dressed, and goes downstairs. He opens the front door, and not being able to see the stranger anywhere he shouts, "Hey, do you still want a push?" And he hears a voice cry out, "Yeah, please." So, still being unable to see the stranger he shouts, "Where are you?"
And the drunk replies, "Over here, on the swing."
#joke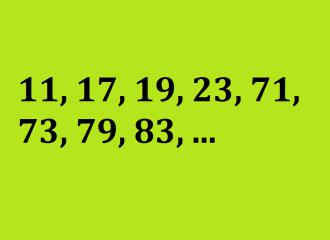 What number comes next in th...
What number comes next in the following series 11, 17, 19, 23, 71, 73, 79, 83, ?
Off to Vegas
A man came home from work one day to find his wife sitting on the front porch with her bags packed. He asked her where she was going and she replied "I'm going to Las Vegas."
He questioned her as to why she was going and she told him "I just found out that I can make $400.00 a night doing what I give you for free". He pondered that then went into the house and packed his bags and returned to the porch and with his wife. She said "And just where do you think you're going?"
"I'm going too!" he replied.
"Why?" She asked.
"I want to see how you are going to live on $800.00 a year"!   
#joke
Lessons from Comp 4
I recently finished up teaching Comp 4, the computer literacy course here at UNC, during a compressed summer session. Comp 4 is an introductory class that assumes NO knowledge of computers among its students, and believe me when I say that this was often the case. The class was great fun to teach, and one of the facets that made it interesting (day-in and day-out) was the wealth of new knowledge that the students imparted to me on tests and examinations. I thought that I'd share some of these nuggets with you. My comments are in the standard C delimiters (/* and */). *Your* comments are encouraged. Here goes:
Bacchus invented FORTRAN. /* I knew FORTRAN was old, and that it may have been designed under the influence of alcohol, but... */
There are three kinds of program statements: sequence, repetition, and seduction.
There are two types of graphics: vector and rascal. /* Otay... */
Programming languages have specifictions. /* Obviously this student has dealt with a few standards. */
Macs are compatible with each other. /* Imagine the alternative: "What's your Mac's serial number? We'll go back to the warehouse and get your software."
*/
Doctors use computers to create a three demential picture of a person's brain. /* Is this classic, or what? */
One kind of a hostile computer program is a Trojan.
C is a logical programming language. /* */
Heuristics (from the French heure, "hour") limit the amount of time spent executing something. [When using heuristics] it shouldn't take longer than an hour to do something. /* An absolutely terrific "false cognate". */
Having the computer automatically fill in images for animation is called "spleening". /* Derivation: most likely "splines" + "tweening". */
One method of computer security is a phone line. /* She qualified it later by adding, "You have to know the number."
*/
Video games are examples of fault-tolerant systems.
On one test, I gave the students some abbreviations and asked them to tell me what they stood for. You won't believe the creativity of a student in a test situation. For example, one of the abbreviations was "fax", which *really* stands for "facsimile". However, various Comp 4'ers said it stood for: Fiber-optic Aided Xeroxing Frequency Automatic X-rays
/* and my favorite... */
Fast A** Xeroxing
The students also had to hand in term papers, and these were rife with interesting tidbits. I've clipped a few, quoted verbatim:
"The worst thing the Mac has to offer, is that cooperative multitasking is not available to be used."
"... footnotes present an interesting problem, which may be solvable by Hypercad."
/* I assume the last term is the newest rage -- a free-form database for designers. */
"...Linda, a blind girl, was able to attend public school due to the aid of a speaking computer that taught her the basic fundmamentals [sic] of grammar and spelling."
/* Linda may want to lend her computer out... */
"The program is manufactured by Quantel, a Silicon Valley company located in Clearwater, Florida."
/* A *long* valley, as my roommate put it. */
"At the beginning of each season [Edwin] Moses teats himself on computerized weight machines..."
/* Ouch! */
blonde getting a haircut
A blond was rollerblading with her headphones on. she stopped in the hair salon and asked for a hair cut. she instructed that the hair stylist could not take off the headphones.
the stylist replied "no" so the blond left. she went to a different hair salon and said the same thing. the stylist replied "ok".
after a while, the blond fell asleep in the chair. the stylist took off the headphones and the blonde died on the spot. confused at what happened, the stylist put on the headphones. they were saying, "breath in, breath out"