A woman was at her hairdresser
A woman was at her hairdresser's getting her hair styled for a trip to Rome with her husband. She mentioned the trip to the hairdresser, who responded:
"Rome? Why would anyone want to go there? It's crowded and dirty. You're crazy to go to Rome. So, how are you getting there?"
"We're taking Continental," was the reply. "We got a great rate!"
"Continental?" exclaimed the hairdresser. "That's a terrible airline. Their planes are old, their flight attendants are ugly, and they're always late. So, where are you staying in Rome?"
"We'll be at this exclusive little place over on Rome's Tiber River called Teste."
"Don't go any further. I know that place. Everybody thinks it's gonna be something special and exclusive, but it's really a dump, the worst hotel in the city! The rooms are small, the service is surly, and they're overpriced. So, whatcha' doing when you get there?"
"We're going to go to see the Vatican and we hope to see the Pope."
"That's rich," laughed the hairdresser. "You and a million other people are trying to see him. He'll look the size of an ant. Boy, good luck on this lousy trip of yours. You're going to need it."
A month later, the woman again came in for a hairdo. The hairdresser asked her about her trip to Rome. "It was wonderful," explained the woman, "not only were we on time in one of Continental's brand new planes, but it was overbooked and they bumped us up to first class. The food and wine were wonderful, and I had a handsome 28-year-old steward who waited on me hand and foot. And the hotel was great! They'd just finished a $5 million remodeling job and now it's a jewel, the finest hotel in the city. They, too, were overbooked, so they apologized and gave us their owner's suite at no extra charge!"
"Well," muttered the hairdresser, "that's all well and good, but I know you didn't get to see the Pope."
"Actually, we were quite lucky, because as we toured the Vatican, a Swiss Guard tapped me on the shoulder, and explained that the Pope likes to meet some of the visitors, and if I'd be so kind as to step into his private room and wait, the Pope would personally greet me. Sure enough, five minutes later, the Pope walked through the door and shook my hand, I knelt down, and he spoke a few words to me."
"Oh, really! What did he say?"
"He said: 'Where did you get the shitty hairdo?'"
#joke
Life Of Cows And Bulls
A bunch of cows and bulls are standing in a field. A huge gust of wind comes along and all the cows fall over, but the bulls just stand there, bracing themselves against the gale. So all the cows stand up and brush themselves off and go back to their business. Pretty soon, a tornado blows through and all of the cows are knocked to the ground, but the bulls just munch on the grass. Next, a hurricane comes through and all the cows are knocked into the next pasture. The bulls just say "moo." Finally, one of the cows walks up to one of the bulls and says, "Moo? What's the mooing deal? How come the wind always knocks us for a loop and you just stand there unharmed ?" "Isn't it obvious?" the bull replies. "We bulls wobble, but we don't fall down."
#joke
The Comforting Mother
Daughter: " I don't like the boy you found for me... his teeth are not in order and he looks ugly when he smiles."
Mother: "Don't worry about that. He will not be smiling after he marries you."
People who live in glass house
People who live in glass houses should make love in the basement.
Never read the fine print.There ain't no way you're going to like it.
If you let a smile be your umbrella,then most likely your butt will get soaking wet.
The only two things we do with greater frequencyin middle age are urinate and attend funerals.
The trouble with bucket seats is that not everybodyhas the same size bucket.
To err is human, to forgive - highly unlikely.
Do you realize that in about 40 years,we'll have thousands of old ladiesrunning around with tattoos?
Money can't buy happiness -- but somehow it's more comfortableto cry in a Porsche than in a Hyundai.
Drinking makes some husbands see double and feel single.
Living in a n*dist colony takes all the fun out of Halloween.
After a certain age, if you don't wake up aching in every joint,you are probably dead.
Hung Chow calls into work and...
Hung Chow calls into work and says, "Hey, boss I no come work today, I really sick. I got headache, stomachache and my legshurt, I no come work."
The boss says, "You know Hung Chow, I really need you today.
When I feel like this I go to my wife and tell her give me sex.That makes everything better and I go work. You try that."
Two hours later Hung Chow calls again. "Boss, I do what you say and I feel great. I be at work soon. You got nice house."
#joke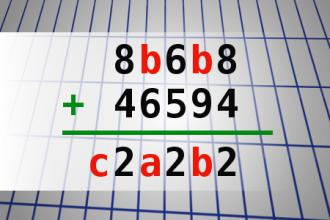 Find number abc
If 8b6b8 + 46594 = c2a2b2 find number abc. Multiple solutions may exist.
Daniel Tosh: Blaming the Amish
Am I the only person who blames global warming entirely on the Amish? Are they not a constant reminder of how awful life would be without all this great technology? Every time I want to cut back and conserve on natural resources, I just look at the Amish and Im like, F**k that.
When the Boogeyman goes to bed...
When the Boogeyman goes to bed he checks his closet for Chuck Norris.
More Pilot Errors
Actual e...
More Pilot Errors
Actual exchanges between pilots and control towers
Tower: "Eastern 702, cleared for takeoff, contact Departure on frequency 124.7"
Eastern 702: "Tower, Eastern 702 switching to Departure. By the way,after we lifted off we saw some kind of dead animal on the far end of the runway."
Tower: "Continental 635, cleared for takeoff behind Eastern 702, contact Departure on frequency 124.7. Did you copy that report from Eastern 702?"
BR Continental 635: "Continental 635, cleared for takeoff, roger; and yes, we copied Eastern... we've already notified our caterers."
******************
One day the pilot of a Cherokee 180 was told by the tower to hold short of the active runway while a DC-8 landed. The DC-8 landed, rolled out, turned around, and taxied back past the Cherokee.
Some quick-witted comedian in the DC-8 crew got on the radio and said, "What a cute little plane. Did you make it all by yourself?"
The Cherokee pilot, not about to let the insult go by, came back with a real zinger: "I made it out of DC-8 parts. Another landing like yours and I'll have enough parts for another one."
******************
The German air controllers at Frankfurt Airport are renowned as a short-tempered lot. They not only expect one to know one's gate parking location, but how to get there without any assistance from them. So it was with some amusement that we (a Pan Am 747) listened to the following exchange between Frankfurt ground control and a British Airways 747... call sign Speedbird 206.
Speedbird 206: "Frankfurt, Speedbird 206! clear of active runway."
Ground: "Speedbird 206. Taxi to gate Alpha One-Seven."
The BA 747 pulled onto the main taxiway and slowed to a stop.
Ground: "Speedbird, do you not know where you are going?"
Speedbird 206: "Stand by, Ground, I'm looking up our gate location now."
Ground (with quite arrogant impatience): "Speedbird 206, have you not been to Frankfurt before?"
Speedbird 206 (coolly): "Yes, twice in 1944, but it was dark, And I didn't land."
******************
While taxiing at London 's Gatwick Airport , the crew of a US Air flight departing for Ft. Lauderdale made a wrong turn and came nose to nose with a United 727. An irate female ground controller lashed out at the US Air crew, screaming: "US Air 2771, where the hell are you going? I told you to turn right onto Charlie taxiway! You turned right on Delta! Stop right there. I know it's difficult for you to tell the difference between C and D, but get it right!"
Continuing her rage to the embarrassed crew, she was now shouting hysterically: "God! Now you've screwed everything up! It'll take forever to sort this out! You stay right there and don't move till I tell you to! You can expect progressive taxi instructions in about half an hour, and I want you to go exactly where I tell you, when I tell you, and how I tell you! You got that, US Air 2771?"
"Yes, ma'am," the humbled crew responded.
Naturally, the ground control communications frequency fell terribly silent after the verbal bashing of US Air 2771. Nobody wanted to chance engaging the irate ground controller in her current state of mind. Tension in every cockpit out around Gatwick was definitely running high. Just then an unknown pilot broke the silence and keyed his microphone, asking:
"Wasn't I married to you once?"
******************
A Pan Am 727 flight, waiting for start clearance in Munich , overheard the following:
Lufthansa (in German): "Ground, what is our start clearance time?"
Ground (in English): "If you want an answer you must speak in English."
Lufthansa (in English): "I am a German, flying a German airplane, in Germany. Why must I speak English?"
Unknown voice from another plane (in a beautiful British accent): "Because you lost the bloody war!"
#joke
Lady on the Bus
A lady about 8 months pregnant got on a bus she noticed the man opposite her was smiling at her. She immediately moved to another seat. This time the smile turned into a grin, so she moved again. The man seemed more amused. When on the fourth move, the man burst out laughing, she complained to the driver and he had the man arrested.
The case came up in court. The judge asked the man (about 20 years old) what he had to say for himself.
The young man replied, Well your Honor, it was like this: When the lady got on the bus, I couldn't help but notice her condition. She sat down under a sign that said, "The Double Mint Twins are coming" and I grinned. Then she moved and sat under a sign that said, "Logan's Liniment will reduce the swelling", and I had to smile. Then she placed herself under a deodorant sign that said, "William's Big Stick Did the Trick", and I could hardly contain myself.
BUT, Your Honor, when she moved the fourth time and sat under a sign that said, "Goodyear Rubber could have prevented this Accident", I just lost it.
"CASE DISMISSED!!"
#joke