Jokes of the day for Sunday, 19 May 2019
Funny jokes, funny photo and funny video collected from the internet on Sunday, 19 May 2019
A woman and a baby were in the
A woman and a baby were in the doctor's examining room, waiting for the Doctor to come in for the baby's first exam. The Doctor arrived, examined the baby, checked his weight, and seeming a little concerned, asked if the baby was breast-fed or bottle-fed.
"Breast-fed," she replied.
"Strip down to your waist," the Doctor said. She did. He pinched her nipples, then pressed, kneaded, and rubbed both breasts for awhile in a detailed examination. Motioning her to get dressed, he said, "No wonder this baby is underweight, you don't have any milk."
"I know," she said, "I'm his Grandma, but I'm glad I came."
Business One-liners 114
Gold's Law: If the shoe fits, it's ugly
Goldenstern's Rules: 1. Always hire a rich attorney. 2. Never buy from a rich salesman.
Golden Rule Of Arts And Sciences: Whoever has the gold makes the rules.
Gordian Maxim: If a string has one end, it has another.
Gordon's First Law: If a research project is not worth doing at all, it is not worth doing well.
Gordon's Object Lifespan Theorem: No matter the amount of care given the purchased object, it will fuse/explode/disassemble within three days of warranty expiration.
Gordon's Warranty Law: All warranty clauses expires upon bill payment.
#joke
Do Not Give Up Your Seat
A girl involved with a women's lib group boarded a crowded bus and one man rose to his feet.
"No, no! You must not give up your seat, I insist!" she said.
The man replied, "Lady, you may insist as much as you like. But this is my street, so this is where I get off."
#joke
Todd Barry: Summer School
I never understood the concept of summer school. The teachers going to go up there and go, OK, class, you know that subject you couldnt grasp in nine months? Were going to whip it out in six weeks.
Chuck Norris brushes his teeth...
Chuck Norris brushes his teeth with a mixture of iron shavings, industrial paint remover, and wood-grain alcohol.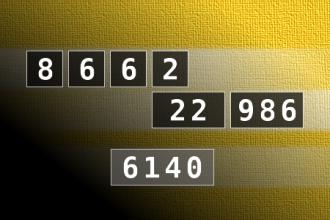 Calculate the number 6140
NUMBERMANIA: Calculate the number 6140 using numbers [8, 6, 6, 2, 22, 986] and basic arithmetic operations (+, -, *, /). Each of the numbers can be used only once.
Two babies lies in the birth section
Baby 1: I'm a boy.
Baby 2: prove it.
Baby 1: Not in front of the nurse.
Baby 2: Okay The nurse leaves
Baby 2: Prove it.
Baby 1: Look, blue socks...
Two very elderly men were havi...
Two very elderly men were having a conversation about sex.
Elmer says, "Yessir, I did it three times last night with a 30 year old!"
Leon replies, "You're kidding! I can't even manage to do it once! What's your secret?"
To which Elmer said, "Well, the secret is to eat lots of whole-wheat bread. I'm not kidding!"
So the second old man rushed to the store.
The clerk asks the old man, "May I help you?'
"Yes, I'd like four loaves of whole-wheat bread, please," said Leon.
"That's a lot of bread! It's sure to get hard before you're done!" the clerk remarked.
Leon replies, "Damn! Does everyone know about this except me?"
#joke
Church Bulletin Bloopers: Peace and Pancakes
Our youth basketball team is back in action Wednesday at 8 PM in the recreation hall. Come out and watch us kill Christ the King.
Ladies, don't forget the rummage sale. It's a chance to get rid of those things not worth keeping around the house. Don't forget your husbands.
The peacemaking meeting scheduled for today has been cancelled due to a conflict.
The Lutheran men's group will meet at 6 pm. Steak, mashed potatoes, green beans, bread, and dessert will be served for a nominal feel.
Ladies Bible Study will be held Thursday morning at 10. All ladies are invited to lunch in the Fellowship Hall after the B.S. is done.
This afternoon, there will be a meeting in the south and north ends of the church. Children will be baptized at both ends.
Tuesday at 4:00 pm there will be an ice cream social. All ladies giving milk will please come early.
Bertha Belch, a missionary from Africa, will be speaking tonight at Calvary Methodist. Come hear Bertha Belch all the way from Africa.
The pastor would appreciate it if the ladies of the congregation would lend him their electric girdles for the pancake breakfast next Sunday.
Due to weather conditions, there will not be any "Women Worth Watching" this week.
The church is glad to have with us today as our guest minister the Rev. Shirley Green, who has Mrs. Green with him. After the service, we request that all remain in the sanctuary for the Hanging of the Greens.
Don't miss this Saturday's exhibit by Christian Martian Arts.
- Joke shared on Beliefnet's Religious Humor page
#joke