Be rady for Thanksgiving
, check out our latest
Thanksgiving jokes of 2021
on:
Thanksgiving jokes collection
"I think I have a problem, Doc
"I think I have a problem, Doc," says a patient. "One of my balls has turned blue."
The doctor examines the man briefly and concludes that the patient will die if he doesn't have his testicle removed.
"Are you crazy?!" bursts the patient. "How could I let you do such a thing to me!"
"You want to die?" asks the doctor rhetorically, at which point the patient has to agree to have his testicle removed.
Two weeks after the operation, the patient comes back. "Doc, I don't know how to say this, but the other ball has turned blue, too."
Again, the doctor tells him that if he wants to live, his other testicle must be cut off, too. Again, the man is very resistant to the idea.
"Hey, you want to die?" asks the doctor, and the patient has to agree with the operation.
After two weeks of being testicle-less, the patient returns to the doctor and says, "I think something is very wrong with me. My penis is now completely blue."
After briefly examining the patient, the doctor gives him the bad news: If he wants to live, his penis has to go. Of course, the patient does not want to hear about it.
"You want to die?" asks the doctor.
"But...how do I pee?"
"We'll install a plastic pipe, and there will be no problem."
So the patient has his penis removed, and, a while after the operation, the unfortunate man enters the doctor's office again.
He is very angry.
"Doctor, the plastic pipe turned blue!"
"What?"
"Can you tell me what the hell is happening??"
The doctor examines the patient more carefully and says,
"Hmmm, I don't know. Could it be the jeans?"
Two Steps Back
Little Johnny turns up late for school one day and his teacher asks why.
Little Johnny responds, "It's snowing heavily outside, so every time I took one step forward, I slipped two steps back."
"Well, how did you make it to school then?"
Little Johnny sighs, "I got fed up, so I turned to go home."
#joke
Good To Be American
Top ten reasosn why it's great to be American


You can have a woman president without electing her

You can spell colour wrong and get away with it

You can call Budweiser beer

You can be a crook and still be president

If you've got enough money you can get elected to do anything

If you can breathe you can get a gun

You can invent a new public holiday every year

You can play golf in the most hideous clothes ever made and nobody seems to care.

You get to call everyone you've never met "buddy"

You can think you're the greatest nation on earth.

You can get a pizza within minutes of ordering.

"Ivory soap is used b
"Ivory soap is used by an elephant to clean its tusks."
The grandfather clock
Harvey's grandfather clock suddenly stops working right one day, so he loads it into his van and takes it to a clock repair shop. In the shop is a little old man who insists he is Swiss, and has a heavy German accent. He asks Harvey, "Vat sims to be ze problem?"
Harvey says, "I'm not sure, but it doesn't go 'tick- tock-tick-tock' anymore. Now it just goes 'tick...tick...tick.'"
The old man says, "Mmm-Hm!" and steps behind the counter, where he rummages around a bit. He emerges with a huge flashlight and walks over to the grandfather clock. He turns the flashlight on, and shines it directly into the clocks face. Then he says in a menacing voice, "Ve haf vays of making you tock!"
#joke
Volunteer fire department
A fire started on some grasslands near a farm. The county fire department was called to put out the fire. The fire was more than the county fire department could handle. Someone suggested that a nearby volunteer bunch be called. Despite some doubt that the volunteer outfit would be of any assistance, the call was made.
The volunteers arrived in a dilapidated old fire truck. They rumbled straight towards the fire, drove right into the middle of the flames and stopped! The firemen jumped off the truck and frantically started spraying water in all directions. Soon they had snuffed out the center of the fire, breaking the blaze into two easily-controlled parts.
Watching all this, the farmer was so impressed with the volunteer fire department's work and was so grateful that his farm had been spared, that right there on the spot he presented the volunteers with a check for $1,000. A local news reporter asked the volunteer fire captain what the department planned to do with the funds.
"That ought to be obvious," he responded, wiping ashes off his coat. "The first thing we're gonna do is get the brakes fixed on our fire truck!"
#joke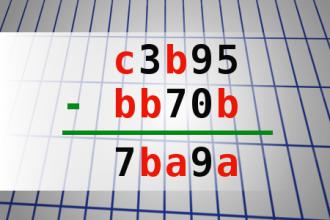 Find number abc
If c3b95 - bb70b = 7ba9a find number abc. Multiple solutions may exist.
Life insurance premiums are ba...
Life insurance premiums are based on how far you live from Chuck Norris.
Little Miss Muffet sat on her ...
Little Miss Muffet sat on her tuffet, until Chuck Norris roundhouse kicked her into a glacier.
Girls Night Out...
The other night, I was invited out for a night with "the girls." I told my husband that I would be home by midnight. "I promise," were my last words.
The hours passed and the margaritas went down way too easily and around 3 a.m. we piled into a cab and headed to our respective homes, quite inebriated.
Just as I walked through the door, the cuckoo clock in the hall started up and cuckooed 3 times!
Realizing that my husband would probably wake up to this, I quickly cuckooed another 9 times. I was quit pleased with myself for coming up with such a quick witted solution to cover up my tardiness. Even with my impaired judgment, I could count 3 cuckoos plus 9 cuckoos equaled 12 cuckoos!
The next morning, my husband asked me what time I got in, and confidently, I replied, "Midnight...like I promised." He didn't even raise and eyebrow and went on reading the morning paper! Phew! Got away with that one!
After a moment, he then replied, "I think we might need a new cuckoo clock."
A bit nervously, I asked him why, to which he responded:
"Well, last night our clock cuckooed 3 times, then said, 'Oh, crap,' cuckooed 4 more times, cleared it's throat, cuckooed another 3 times, giggled, cuckooed twice more, then tripped over the coffee table and farted."
#joke
Fuzz
Phillip and Phoebe are parked in Lover's Lane.
He embraces her with one arm, and begins to explore with the other hand. Looking over her shoulder, he sees a policeman approaching.
"Awwwww Hell !" he murmured, "Fuzz !"
"What did ya expect ?" Phoebe sez, "A perm?"