School Teacher in Court
When asked for her occupation, a woman charged with a traffic violation said she was a school teacher.
The judge rose from the bench. "Madam, I have waited years for a school teacher to appear before this court," he smiled with delight. "Now sit down at that table and write 'I will not pass through a red light' five hundred times!"
#joke
Question: If you could live fo
Question: If you could live forever, would you and why?
Answer: "I would not live forever, because we should not live forever, because if we were supposed to live forever, then we would live forever, but we cannot live forever, which is why I would not live forever."
-- Miss Alabama in the 1994 Miss USA contest
"Whenever I watch TV and see those poor starving kids all over the world, I can't help but cry. I mean I'd love to be skinny like that but not with all those flies and death and stuff."
-- Mariah Carey
"I haven't committed a crime. What I did was fail to comply with the law."
-- David Dinkins, former New York City Mayor, answering accusations that he failed to pay his taxes.
"Smoking kills. If you're killed, you've lost a very important part of your life."
-- Brooke Shields, during an interview to become spokesperson for a federal anti-smoking campaign
"I've never had major knee surgery on any other part of my body."
-- Winston Bennett, University of Kentucky basketball forward.
"We're going to turn this team around 360 degrees."
-- Jason Kidd, upon his being drafted by the Dallas Mavericks
"I'm not going to have some reporters pawing through our papers. We are the president."
-- Hillary Clinton commenting on the release of subpoenaed documents
"China is a big country, inhabited by many Chinese."-- Former French President Charles De Gaulle
"That lowdown scoundrel deserves to be kicked to death by a jackass, and I'm just the one to do it."
-- A congressional candidate in Texas.
"I don't feel we did wrong in taking this great country away from them. There were great numbers of people who needed new land, and the Indians were selfishly trying to keep it for themselves."
-- John Wayne
"Half this game is ninety percent mental."
-- Philadelphia Phillies manager Danny Ozark
"It isn't pollution that's harming the environment. It's the impurities in our air and water that are doing it."
-- Former U.S. Vice-President Dan Quayle
"Without censorship, things can get terribly confused in the public mind."
-- General William Westmoreland
#joke
"A queue at a haunted
"A queue at a haunted house is a line of fright."
50 funny things to do in an elevator
1. Make race car noises when people get on and off.
2. Blow your nose and offer to show the contents of your Kleenex to other passengers.
3. Grimace painfully while slapping your forehead and muttering, "Shut up dammit, all of you just SHUT UP!"
4. Whistle the first 7 notes of "It's a Small World" incessantly.
5. Sell Girl Scout Cookies.
6. On a long ride, sway side to side at the natural frequency of the elevator.
7. Shave.
8. Crack open your briefcase or purse, and while peering inside ask, "Got enough air in there?"
9. Offer name tags to everyone getting on the elevator. Wear your upside-down.
10. Stand silent and motionless in the corner, facing the wall, without getting off.
11. When arriving at your floor, grunt and strain to pull the doors open, then act embarrassed when they open by themselves.
12. Lean over to another passenger and whisper, "Ever had a Wet Willy?"
13. Greet everyone getting on the elevator with a warm handshake and ask them to call you "Admiral."
14. One word: Flatulence!
15. On the highest floor, hold the door open and demand that it stay open until you hear the penny you dropped down the shaft go "plink" at the bottom.
16. Do Tai Chi exercises.
17. Stare, grinning, at another passenger for a while, and then announce: "I've got new socks on."
18. When at least 8 people have boarded, moan from the back, "Oh, not now, damn motion sickness!"
19. Give religious tracts to each passenger.
20. Meow occasionally.
21. Bet the other passengers you can fit a quarter in your nose.
22. Frown and mutter, "Gotta go, gotta go," then sigh and say, "oops!"
23. Show other passengers a wound and ask if it looks infected.
24. Sing "Mary Had a Little Lamb" while continuously pushing buttons.
25. Holler, "Chutes away!!" whenever the elevator descends.
26. Walk on with a cooler that says "Human Head" on the side.
27. Stare at another passenger for a while, then announce, "You're one of THEM!" and move to the far corner of the elevator.
28. Burp, then say, "Mmmmm.....tasty!"
29. Leave a box between the doors.
30. Ask each passenger getting on if you can push the button for them.
31. Wear a hand puppet and talk to the other passengers "through" it.
32. Start a sing-along.
33. When the elevator is silent, look around and ask, "Is that your beeper?"
34. Play the accordion.
35. Shadow box.
36. Say, "Ding!" at each floor.
37. Lean against the button panel.
38. Say, "I wonder what all these do?" and then push ALL the red buttons.
39. Listen to the elevator walls with a stethoscope.
40. Draw a little square on the floor with chalk and announce to the other passengers that this is your "personal space."
41. Bring a chair along.
42. Take a bite of a sandwich and ask another passenger, "Wanna see wha in muh mouf??"
43. Blow spit bubbles.
44. Pull your gum out of your mouth in long strings.
45. Announce in a demonic voice, "I must find a more suitable host body."
46. Carry a blanket a clutch it protectively.
47. Make explosion noises when anyone presses a button.
48. Wear "X-Ray Specs" and leer suggestively at other passengers.
49. Stare at your thumb and say, "I think it's getting bigger."
50. If anyone brushes against you, recoil fiercely and scream, "BAD TOUCH!"
#joke
Why The Bad Plays?
A true story, according to the LA Times.....
Coach Frank Layden of the Utah Jazz asked forward Jeff Wilkins, "Is your bad play due to ignorance or apathy?"
Wilkins replied, "I don't know and I don't care!"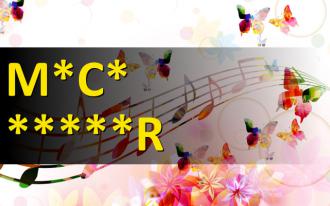 Replace asterisk symbols with ...
Replace asterisk symbols with a letters (M*C* *****R) and guess the name of musician. Length of words in solution: 4,6.
When ghosts go camping, they s...
When ghosts go camping, they sit around the fire and tell Chuck Norris stories.
Behind every successful man, t...
Behind every successful man, there is a woman. Behind every dead man, there is Chuck Norris.
Women And Golf
2 women were playing golf. On the third hole there was a 4 men in front of them but about 175 yards down the fairway.
The first woman said i'll tee off he is far enough away. She hit the drive of her life, like a shot straight down the faraway. She screamed fore at the top of her lungs and as the men turned one was hit solidly. He was rolling on the ground in pain with his hands between his legs.
She ran to him, apologizing and saying "let me help I am a physical therapist." He protested but she got him to put his hands at his side. She unzipped his pants and began massaging him.
"How does that feel?" she asked. He said, "Great, but my thumb still hurts like hell."
#joke
Can I take his place?
An attorney telephoned the governor just after midnight, insisting that he talk to him regarding a matter of utmost urgency.
An aide eventually agreed to wake up the governor.
"So, what is it?" grumbled the governor.
"Judge Garber has just died" said the attorney, "and I want to take his place."
The governor replied: "Well, it's OK with me if it's OK with the undertaker."
#joke
Really funny jokes- Classified classics
A compilation of hilarious classified classics!!!
** A superb and economical restaurant. Fine food, expertly served by waitresses in appetizing forms.
** No matter what your topcoat is made of, this miracle spray will make it really repellent.
** Sale! Sale! An antique desk suitable for lady with thick legs and large drawers.
** We don't tear your clothing with machinery. We do it carefully by hand.
** Great chance to have your ears pierced and get an extra pair to take home, too.
** Toaster: A gift that every member of the family appreciates. Automatically burns toast.
** Dinner Special - Turkey $2.75; Chicken or Beef $2.50; Children $2.00.
** Have several very old dresses from grandmother in beautiful condition.
#joke