"A magician got so an
"A magician got so angry that he hit the man in the juggler and then pulled his hare out."
The five stages of drunkenn
The five stages of drunkenness
Stage 1 - Smart:
This is when you suddenly become an expert on every subject. You know all and greatly wish to express this knowledge to anyone who will listen. At this stage you are also always right. And of course the person you are talking with is very wrong. You will talk for hours trying to convince someone that you are right. This makes for an interesting argument when both parties are "smart". Two people talking, in fact, arguing about a subject neither one really knows anything about, but are convinced that they are the complete authority on the subject makes for great entertainment for those get the opportunity to listen in.
Stage 2 - Handsome/Pretty:
This is when you are convinced that you are the best looking person in the entire room and everyone is looking at you. You begin to wink at perfect strangers and ask them to dance because of course they had been admiring you the whole evening. You are the center of attention, and all eyes are directed at you because you are the most beautiful thing on the face of the earth. Now keep in mind that you are still smart, so you can talk to this person who has been admiring you about any and all subjects under the sun.
Stage 3 - Rich:
This is when you suddenly become the richest person in the world. You can buy drinks for the entire bar and put it on your bill because you surely have an armored truck full of your money parked behind the bar. You can also make bets in this stage. Now of course you still know all, so you will always win all your bets. And you have no concern for how much money you bet because you have all the money in the world. You will also begin to buy drinks for all the people in the bar who are admiring you because you are now the smartest, prettiest, and richest person on the face of the earth.
Stage 4 - Bulletproof:
You can now pick fights with the people you have been betting money with because you cannot be hurt by anything. At this point you would go up to the boyfriend of the woman who had been admiring your beautiful self all evening and challenge him to a battle of wits for money. You have no worry about losing this battle of wits because you know all, have all the money to cover this bet, and you obviously win a fight that might erupt if he loses.
Stage 5 - Invisible:
This is the final stage of drunkenness. At this point you can do absolutely anything because no one can see you. You can get up and dance on a table, to impress the people who have been admiring you all evening, because the rest of the people in the room cannot see you. You are also invisible to the person whom you have picked a fight with earlier in the evening. You can walk through the streets singing at the top of your lungs (because of course you are still smart and know the tune perfectly) and no one will think anything of it because they can't see you. All your social inhibitions are gone. You can do anything, because no one will know. And you certainly won't remember.
#joke
Marriage
Q: Daddy, why are all those cars beeping their horns?
A: Because they were just at a wedding.
Q: Don't we beep the horn as a warning signal, Daddy?
A: Exactly, son.
Telemarketers Go Away
How to Make a Telemarketer Go Away
1. If they want to loan you money, tell them you just filed for bankruptcy and you could sure use some money. Ask, "How long can I keep it? Do I have to ever pay it back, or is it like the other money I borrowed before my bankruptcy?"
2. If you get one of those pushy people who won\\'t shut up, just listen to their sales pitch. When they try to close the sale, tell them that you\\'ll need to go get your credit card. Then, just set the phone down and go do laundry, shopping or whatever. See how long that commission based scum waits for you to get your credit card.
3. If they start out with, "How are you today?" say, "Why do you want to know?" Or you can say, "I\\'m so glad you asked, because no one seems to care these days and I have all these problems, my sciatica is acting up, my eyelashes are sore, my dog just died...." When they try to get back to the sales process, just continue on with telling about your problems.
4. If the person says he\\'s Joe Doe from the ABC Company, ask him to spell his name, then ask him to spell the company name, then ask where it is located. Continue asking personal questions or questions about the company for as long as necessary.
5. This one works better if you are male: Telemarketer: "Hi, my name is Julie and I\\'m with Dodger & Peck Services.... You: "Hang on a second." (few seconds pause) "Okay, (in a really husky voice) what are you wearing?"
6. Crying out, in well-simulated tones of pleasure and surprise, "Julie!! Is this really you? I can\\'t believe it! Julie, how have you BEEN?" Hopefully, this will give Julie a few brief moments of terror as she tries to figure out where the heck she could know you from.
7. Say, "No," over and over. Be sure to vary the sound of each no, and keep an even tempo even as they\\'re trying to speak. This is the most fun if you can keep going until they hang up.
8. If MCI calls trying to get you to sign up with their Family and Friends plan, reply, in as sinister a voice as you can muster, "I don\\'t have any friends...would you be my friend?"
9. If they clean rugs: "Can you get blood out, you can? Well, how about goat blood or HUMAN blood - chicken blood too?"
10. Let the person go through their spiel, providing minimal but necessary feedback in the form of an occasional "Uh-huh, really, or, "That's fascinating." Finally, when they ask you to buy, ask them to marry you. They get all flustered, but just tell them you couldn't give your credit card number to someone who's a complete stranger.
11. Tell them you work for the same company they work for.
Example:
Telemarketer: "This is Bill from Widget & Associates."
You: "Widget & Associates!! Hey I work for them too. Where are you calling from?"
Telemarketer: "Uh, Dallas, Texas."
You: "Great, they have a group there too? How\\'s business/the weather? Too bad the company has a policy against selling to employees! Oh well, see ya."
12. Tell the Telemarketer you are busy and if they will give you their phone number you will call them back. If they say they are not allowed to give out their number, then ask them for their home number and tell them you will call them at home (this is usually the most effective method of getting rid of Telemarketers). If the person says, "Well, I don\\'t really want to get a call at home," say, "Ya! Now you know how I feel." (smiling, of course...)
#joke
If God Had Voice Mail
Thank you for calling heaven. I am sorry, all of our angels and saints are busy helping other sinners right now. However, your prayer is important to us and we will answer it in the order it was received. Please stay on the line.If you would like to speak to:God, press 1. Jesus, press 2. The Holy Spirit, press 3.If you would like to hear King David sing a Psalm while you are holding, press 4.To find a loved one who has been assigned to Heaven, press 5, then enter his or her social security number followed by the pound sign. (If you get a negative response, please hang up and try area code 666.)For reservations in heaven, please enter J-O-H-N 3:16For answers to nagging questions about dinosaurs, the age of the earth, life on other planets, and where Noah's Ark is, please wait until you arrive.If you are calling after hours and need emergency assistance, please contact your local pastor.
#joke
Little Johnny watched, fascina
Little Johnny watched, fascinated, as his mother smoothed cold cream on her face. "Why do you do that, mommy?" he asked.
"To make myself beautiful," said his mother, who then began removing the cream with a tissue.
"What's the matter?" asked Little Johnny. "Giving up?"
#joke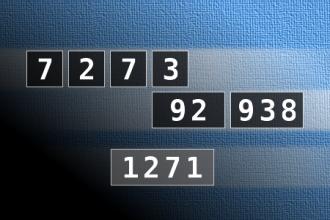 Calculate the number 1271
NUMBERMANIA: Calculate the number 1271 using numbers [7, 2, 7, 3, 92, 938] and basic arithmetic operations (+, -, *, /). Each of the numbers can be used only once.
Remove the curse...
An old man goes to the Wizard to ask him if he can remove a "Curse" he has been living with for the last 40 years.
The Wizard says "maybe, but you will have to tell me the exact words that were used to put the curse on you."
The old man says without hesitation "I now pronounce you man and wife".
#joke
Cruise Control
My family has a tradition of naming the cruise control on our cars. We were used to hearing my father proclaim, "Take it, Max," as he flipped on the cruise control during long trips in our station wagon.
Recently, I was travelling with my parents in their new car when we hit a wide-open expanse of highway. My dad leaned back and said, "I think I'll let Tom drive for a while."
"Tom who?" I asked.
My mother translated for me: "Tom Cruise, of course."
#joke
Just like mom
Manny is almost 29 years old. His friends have already gotten married, but Manny still just dates and dates.
Finally, a friend asks him, "What's the matter, are you looking for the perfect woman? Are you that particular? Can't you find anyone who suits you?"
"No," Manny replies. "I meet many nice girls, but as soon as I bring them home to meet my parents, my Mother doesn't like them. So I keep on looking!"
"Listen," his friend suggests, "Why don't you find a girl who's just like your dear ole Mother?"
Many weeks go by and again Manny and his friend get together. "So, Manny, did you find that perfect girl yet--one that's just like your Mother?"
Manny shrugs his shoulders, "Yes, I found one just like Mom. And my mother loved her, and they became fast friends."
So should I congratulate you? "Are you and this girl engaged, yet?"
"I'm afraid not. My Father can't stand her!"
#joke
It was the kindergarten teache...
It was the kindergarten teachers birthday and the students decided that they would each buy their teacher a gift.
The first student, whose parents own a florist shop, gave her a present. She held it and said "I guess that it is flowers".
"How did you guess?" asked the little boy. She laughed and thanked him.
The second student, whose parents own a candy store, gave her a present. She held it and said, "I guess that is some candy."
"How did you guess?" asked the little boy. She again laughed and thanked him also.
The third student, whose parents own a bottle shop, gave her a box which was leaking. The teacher touched the liquid with her finger and tasted it. "Mmmmm is it wine?" she asked.
"No," said the little girl.
So she tasted it again. "Is it champaigne?" she asked.
"No," replied the little girl, "It is a puppy.
#joke
Kyle Kinane: Not a Hobby
At this age, its really not a hobby, its just a drinking problem now.
Ted Alexandro: Personal Trainer
My sisters a personal trainer. Thats a tough job. I dont think I can do that. You gotta help people with their fitness goals. Can you help me define my abs? Yeah -- disgusting, sloppy, gelatinous.