Twin In Prison
So my twin brother called me from prison
He said, "So you know how we finish each others' sentences?"
Author:TheJenkinsComic reddit user
After years of working for oth
After years of working for others and being passed over for promotions, John and his wife, Mary, decided to go into business together. After examining the classifieds, they bought a small candy stand, paying thirty cents for each box of candy and then selling it for thirty cents.
At the end of the day they were astonished to find that they had sold every box of candy, yet had exactly as much money as when they started.
"You see?" John snarled at his wife. "I told you we should have bought a larger stand!"
#joke
I can't believe I made it any
I can't believe I made it anywhere creatively, though, because I was raised by two loving and supportive parents. Nothing squashes creativity more than unconditional love and support from a functional household. If you have kids, sh*t on their dreams a little bit.
Honesty
A schoolteacher's son brought his report card home. The father said, "Let's see what you have accomplished..."
He opens the report and to his dismay sees all bad grades. "What do you have to say about this Johnny?"
"Well dad, at least you know I'm not cheating!"
#joke
A Tight Travel Budget
All workers please be advised of the following changes to the travel policy.
Memorandum
To: All Employees
From: Headquarters
Subject: Business Travel Policy Guidelines
Date: June 16, 2000
Due to fiscal constraints, the following corporate policies are announced regarding employees on travel for official business. The purpose of these policies is to save money, thereby decreasing overhead.
Transportation
If commercial transportation must be utilized, the lowest cost tickets will be purchased. Airline tickets will only be authorized for purchase in extreme circumstances and, the lowest fares will be used. If, for example, a meeting with a customer is scheduled in Seattle, but a lower fare can be obtained by traveling to Detroit, then travel to Detroit will be substituted for travel to Seattle. Bus transportation will be utilized whenever possible.
Hitchhiking in lieu of commercial transport is strictly encouraged. Luminescent safety vests will be issued to all employees prior to their departure on company business trips.
Lodging
All employees are encouraged to stay with relatives or friends while on company business. If this is not possible, then cost effective alternatives should be exploited.
Public areas such as parks and parking lots can be used during periods of good weather. In inclement weather, bridges may provide temporary shelter.
Meals
Expenditures for meals will be limited to the absolute minimum. It should be noted that grocery chains, such as "General Nutrition Centers" and "Piggly Wiggly" stores often provide free samples of promotional items. Entire meals can often be obtained in this manner.
Travelers should also become familiar with, and exploit the use of, indigenous roots, berries, and other protein sources available at their destination. If restaurants must be utilized, travellers should seek establishments offering "all you can eat" salad bars. This will be especially valuable to employees travelling together, as a single plate can be used to feed one clever group.
Employees are also encouraged to bring their own food while on company business. Cans of tuna fish, Spam and Beef-a-roni can be conveniently consumed at your leisure, without the unnecessary bother of heating or other costly preparation.
Entertainment
Entertainment while on travel is discouraged. If such extravagances are required for business reasons, the customer should be encouraged to "pick up the tab". Such actions will save the company money and also convince the customer that we are concerned about "spending his money on providing a good product for him", not on useless overhead frivolities which can drive up our prices.
Hospitality provided to our customers at our facility shall be tasteful, yet cost-effective. In lieu of frivolous dinners, a picnic bench will be placed in the parking lot complete with garden hose for liquid refreshments.
Miscellaneous
All employees are encouraged to employ innovative techniques in our common effort to save corporate dollars. One enterprising individual has already suggested that money could be raised during airport "layover" periods which could be used to defray travel costs. In support of this idea, "Red Caps" will be issued to all employees prior to departure so that they may earn tips for helping other travellers with their luggage during such periods. Small plastic roses will also be made available to employees so that sales may be made as time permits.
#joke
"Reincarnation is a l
"Reincarnation is a life-changing experience."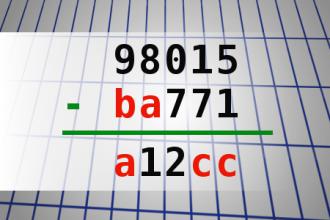 Find number abc
If 98015 - ba771 = a12cc find number abc. Multiple solutions may exist.
Pun With Monks
Lost on a rainy night, a nun stumbles across a monastery and requests shelter there. Fortunately, she's just in time for dinner and was treated to the best fish and chips she's ever had. After dinner, she goes into the kitchen to thank the chefs. She is met by two brothers, "Hello, I'm Brother Michael, and this is Brother Charles." "I'm very pleased to meet you. I just wanted to thank you for a wonderful dinner. The fish and chips were the best I've ever tasted. Out of curiosity, who cooked what?" Brother Charles replied, "Well, I'm the fish friar." She turns the other brother and says, "Then you must be...?" "Yes, I'm the chip monk."
#joke
Ben went on safari with his wi
Ben went on safari with his wife and mother-in-law.One evening, while still deep in the jungle, the Mrs. awoke to find her mother gone.Rushing to her husband, she insisted on them both trying to find her mother.
Ben picked up his rifle, took a swig of whiskey, and started to look for her.In a clearing not far from the camp, they came upon a chilling sight: the mother-in-law was backed up against a thick, impenetrable bush, and a large male lion stood facing her.
The wife said, "What are we going to do?"
"Nothing," said Ben, "The lion got himself into this mess, let him get himself out of it."
#joke
The golf shot...
A guy stood over his tee shot for what seemed an eternity; looking up, looking down, measuring the distance, figuring the wind direction and speed. Driving his partner nuts. Finally his exasperated partner says, "What's taking so long? Hit theblasted ball!"
The guy answers, "My wife is up there watching me from the clubhouse. I want to make this a perfect shot."
"Forget it, man-you don't stand a snowball's chance in hell of hitting her from here!"
#joke
The 6th grade science teacher...
The 6th grade science teacher, Mrs. Parks, asked her class, "Which human body part increases to ten times its size when stimulated?"
No one answered until little Mary stood up and said, "You should not be asking sixth-graders a question like that! I'm going to tell my parents, and they will go and tell the principal, who will then fire you!"
Mrs. Parks ignored her and asked the question again, "Which body part increases to 10 times its size when stimulated?"
Little Mary's mouth fell open. Then she said to those around her, "Boy, is she going to get in big trouble!"
The teacher continued to ignore her and said to the class, "Anybody?"
Finally, Billy stood up, looked around nervously, and said, "The body part that increases 10 times its size when stimulated is the pupil of the eye."
Mrs. Parks said, "Very good, Billy," then turned to Mary and
continued. "As for you, young lady, I have three things to say: One, you have a dirty mind. Two, you didn't read your homework. And three, one day you are going to be very, very disappointed."
#joke
Life is like a box of chocolat...
Life is like a box of chocolates. You never know when Chuck Norris is going to kill you.
A woman meets a gorgeous man i...
A woman meets a gorgeous man in a bar. They talk, they connect, they end up leaving together.
They get back to his place, and as he shows her around his apartment, she notices that his bedroom is completely packed with sweet cuddly teddy bears.
Hundreds of cute small bears on a shelf all the way along the floor, cuddly medium-sized ones on a shelf a little higher, and huge, enormous bears on the top shelf along the wall. The woman is kind of surprised that this guy would have a collection of teddy bears, especially one that's so extensive, but she decides not to mention this to him, and is quite impressed by his sensitive side.
She turns to him... they kiss... and then they rip each other's clothes off and make hot steamy love. After an intense night of passion with this sensitive guy, they are lying there together in the afterglow, the woman rolls over and asks, smiling, 'Well, how was it?'
The man says, 'You can have any prize from the bottom shelf.'
#joke
Demetri Martin: Employee of the Month
I think Employee of the Month is a good example of when a person can be a winner and a loser at the same time.