Complaining about price of cinema food
If I had a dollar every time a customer complained about the price of cinema food.
I could almost afford a small popcorn.
Author:EdgarWronged on reddit
"I did not know how t
"I did not know how to use the wood-smoothing tool, so had the woodworker explain it to me in plane language."
A Week Off
"Boss can I have a week off around Christmas?"
"It's May..."
"Sorry. May I have a week off around Christmas?"
Girls with lovely Scottish accent
So I walked into a this bar and heard two girls speaking in what sounded like a lovely Scottish accent. I said: So, are you two girls from Scotland?
One of them said: "Wales Idiot!"
So I said: "Oh, I am terribly sorry about that. So, are you two Whales from Scotland?"
That's the last thing I remember.
#joke #walksintoabar
I can't believe I made it any
I can't believe I made it anywhere creatively, though, because I was raised by two loving and supportive parents. Nothing squashes creativity more than unconditional love and support from a functional household. If you have kids, sh*t on their dreams a little bit.
An amateur photographer was in
An amateur photographer was invited to dinner with friends and took along a few pictures to show the hostess. She looked at the photos and commented, "These are very good! You must have a good camera."
He didn't make any comment, but, as he was leaving to go home he said, "That was a really delicious meal! You must have some very good pots."
#joke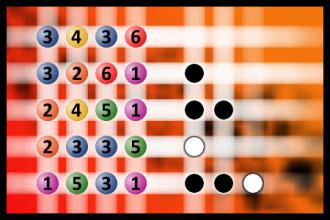 Find the right combination
The computer chose a secret code (sequence of 4 digits from 1 to 6). Your goal is to find that code. Black circles indicate the number of hits on the right spot. White circles indicate the number of hits on the wrong spot.
The proud papa...
An 80 year old man is having his annual checkup. The doctor asks him how he's feeling.
"I've never been better," he replies. "I've got an eighteen year old bride who's pregnant with my child! What do you think about that?"
The doctor considers this for a moment, then says, "Well, let me tell you a story. I know a guy who's an avid hunter. He never misses a season. But, one day he's in a bit of a hurry and he accidentally grabs his umbrella instead of his gun. So he's walking in the woods near a creek and suddenly spots a beaver in some brush in front of him? He raises up his umbrella, points it at the beaver and squeezes the handle...
*BAM* The beaver drops dead in front of him."
"That's impossible!" said the old man in disbelief, "Someone else must have shot that beaver."
"EXACTLY!"
Answering Machine Message 56

Hello, this is Rip van Winkle. I'm not awake to take your call right now. Please leave your message at the sound of the snore.


Our Dog Daisy!!
Our dog Daisy, sleeps about 20 hours a day.
Her food prepared for her. She can eat whenever she wants, 24/7/365. Her meals are provided at no cost to her .
She visits the Dr. once a year for her checkup, and again during the year if any medical needs arise.
For this she pays nothing and nothing is required of her. She lives in a nice neighborhood on Park Ave., in an Apartment that is much larger than she needs, and she is not required to do any upkeep.
If she makes a mess, someone else cleans it up.
She has her choice of luxurious places to sleep.
She receives these accommodations absolutely free.
She is living like a Queen, and has absolutely no expenses whatsoever.
All of her costs are picked up by others who go out and earn a living every day.
I was just thinking about all this, and suddenly it hit me like a brick in the head,
............Our dog Daisy is a Democrat!
#joke
Dane Cook: Time Travel
Know what I would like to do? Id travel back to when my mom and dad had sex to have me. And Id just run into the bedroom, right when theyre doing it, and just spank my dad on the ass: Im your son from the future!
Why English Is Tough
Twenty-one reasons why English is hard to learn.
1. The bandage was wound around the wound.
2. The farm was used to produce produce.
3. The dump was so full it had to refuse more refuse.
4. We must polish the Polish furniture.
5. He could lead if he would get the lead out.
6. The soldier decided to desert his dessert in the desert.
7. Since there was no time like the present, he thought it was time to present the present.
8. A bass was painted on the head of the bass drum.
9. When shot at, the dove dove into the bushes.
10. I did not object to the object.
11. The insurance was invalid for the invalid.
12. There was a row among the oarsmen on how to row.
13. They were too close to the door to close it.
14. The buck does funny things when does are present.
15. A seamstress and a sewer fell down into a sewer line.
16. To help with planting, the farmer taught his sow to sow.
17. The wind was too strong to wind the sail.
18. After a number of injections my jaw got number.
19. Upon seeing the tear in the painting I shed a tear.
20. I had to subject the subject to a series of tests.
21. How can I intimate this to my most intimate friend?
#joke
A little head
A huge muscular man walks into a bar and orders a beer.
The bartender can't help but stare at the guy because in contrast to his large muscles, the man has a head that is the size of an orange.
The bartender hands the guy his beer and says, "You know, I'm not gay but I want to compliment you on your physique, it really is phenomenal! But I have a question, why is your head so small?"
The big guy nods slowly. He's obviously fielded this question many times. "One day," he begins, "I was hunting and got lost in the woods. I heard someone crying for help. I followed the cries and they led me to a frog that was sitting next to a stream."
"No shit?" says the bartender, thoroughly intrigued.
"Yeah, so I picked up the frog and it said, Kiss me. Kiss me and I will turn into a genie and grant you three wishes."
"Keep going!"
I looked around to make sure I was alone and gave the frog a kiss. POOF! The frog turned into a beautiful, voluptuous, naked woman.
She said, "You now have three wishes."
I looked down at my scrawny 115 pound body and said, "I want a body like Arnold Schwarzenneger."
She nodded, snapped her fingers, and POOF there I was, so huge that I ripped out of my clothes and was standing there naked!
She then asked, "What will be your second wish?"
"What next?" begged the bartender.
I looked hungrily at her beautiful body and replied, "I want to make sensuous love with you here by this stream." She nodded, laid down, and beckoned to me. We made love right there by that stream for hours!
Afterwards, as we lay there next to each other, sweating from our glorious lovemaking, she whispered into my ear, "You know, you do have one more wish. What will it be?"
I looked at her and replied, "How 'bout a little head?"
#joke #walksintoabar
#beer