Mommy Mommy 08
Mommy, Mommy! There's something in daddy's eye!
Shut up and eat around it.
---
Mommy, Mommy! Why can't we get a garbage compactor?
Shut up and chew!
---
Mommy, Mommy! Daddy's too tough!
Shut up and keep chewing!
---
Mommy, Mommy! Why can't I play with the other kids?
Shut up and deal.
---
Mommy, Mommy! My head hurts!
Shut up and get away from the dart board!
#joke
Children's Home
Father: Son, I donated all your toys to the children's home.
Son: Why did you do that?
Father: So you will not be bored there.
"My barber cut short
"My barber cut short his operational costs by trimming the overheads!"
A busload of politicians were
A busload of politicians were driving down a country road, when suddenly the bus ran off the road and crashed into an old farmer's barn.
The old farmer got off his tractor and went to investigate. Soon he dug a hole and buried the politicians. A few days later, the local sheriff came out, saw the crashed bus and asked the old farmer where all the politicians had gone.
The old farmer told him he had buried them.
The sheriff asked the old farmer, "Lordy, were they ALL dead?"
The old farmer said, "Well, some of them said they weren't, but you know how them crooked politicians lie."
#joke
A final appeal...
The priest was preparing a man for his long day's journey into night.
Whispering firmly, the priest said, "Denounce the devil! Let him know how little you think of his evil!"
The dying man said nothing.
The priest repeated his order. Still the dying man said nothing.
The priest asked, "Why do you refuse to denounce the devil and his evil?"
The dying man said, "Until I know where I'm heading, I don't think I ought to piss anyone off."
#joke
A woman took an inexperienced...
Joke removed because it was not in line with policies.
#joke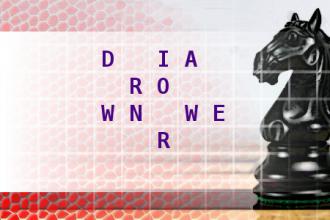 Chess Knight Move
Find the title of movie, using the move of a chess knight. First letter is R. Length of words in solution: 4,6.
Macgyver can build an airplane...
Macgyver can build an airplane out of gum and paper clips, but Chuck Norris can kill him and take it.
Shooting The Bull
Two hunters went moose hunting every winter without success. Finally, they came up with a foolproof plan. They got a very authentic female moose costume and learned the mating call of a female moose. The plan was to hide in the costume, lure the bull, then come out of the costume and shoot the bull. They set themselves up on the edge of a clearing, donned their costume and began to give the moose love call. Before long, their call was answered as a bull came crashing out of the forest and into the clearing. When the bull was close enough, the guy in front said, "Okay, let's get out and get him." After a moment that seemed like an eternity, the guy in the back shouted, "The zipper is stuck! What are we going to do?" The guy in the front says, "Well, I'm going to start nibbling grass, but you'd better brace yourself."
#joke
Vic Henley: Soccer Heckling
All the British fans start singing to the German fans, If you won the war, stand up! Right, I think this is the greatest thing Ive ever heard at a sporting event because theres no snappy comeback for that, is there?
Recalled Chrstimas Toys
Recalled Christmas Toys


Broken Bag-O-Glass


Dr. Kevorkian First Aid Kit


Jeffrey Domhers Easy Bake oven and cookbook


Timothy McVays home Chemistry set


Switchblade Barney


Pork-n-Beany Babies


Make your own moonshine kit


Mike Tyson Doll (with ear biting action)


Jonathan Corbett: Retired Father
My dad is retired now, and he moved to Florida. And its really great to be able to finally go down and visit him now that hes finally able to do those things in life that hes always wanted to do, which apparently is start drinking at noon and then head on out to buy me ugly shirts.