Educational Priority
The following is supposedly a true story. To be included, besides being true, the story is most likely strange, weird, surprising, or funny.
January 12, 1993
Rhett Jacobs, Democratic candidate for the South Carolina House and a man who listed "education" as his top priority, submitted a required campaign disclosure form in October, handwritten, on which he detailed expenses for "filling fee," "campain work" and "litature."
#joke
My Wife Is Mad
My wife is mad at me, says I have no sense of direction.
So I packed all my bags and right!
"My barber cut short
"My barber cut short his operational costs by trimming the overheads!"
The Old Lawyer
Joe the lawyer died suddenly, at the age of 45. He got to the gates of Heaven, and the angel standing there said, "We've been waiting a long time for you."
What do you mean he replied, "I'm only 45, in the prime of my life. Why did I have to die now?"
"45? You're not 45, you're 82" replied the angel.
"Wait a minute. If you think I'm 82 then you have the wrong guy. I'm only 45. I can show you my birth certificate."
"Hold on. Let me go check" said the angel and disappeared inside. After a few minutes the angel returned.
"Sorry, but by our records you *are* 82. I checked all the hours you have billed your clients, and you have to be 82..."
Sitting on the edge of the hig
Sitting on the edge of the highway waiting to catch speeders, a state police officer saw a car driving along at 22 M.P.H. He thinks to himself, that car is just as dangerous as a speeder. So, he turns his lights on and pulls the car over. Approaching the car, he notices there are 5 old ladies, two at the front and 3 at the back, wide eyed and looking like ghosts.
The driver, obviously confused, said, "Officer, I don't understand, Iwasn't doing over the speed limit! What did you pull me over for?"
"Ma'am," the officer said, "You should know that driving slower than the speed limit can also be dangerous".
"Slower than the speed limit? No sir! I was doing exactly 22 miles an hour", the old woman said proudly.
The officer, trying not to laugh, explains that 22 is the route number, not the speed limit. A little embarrassed, the woman smiled and thanked the officer for pointing out her error.
"Before I go Ma'am, I have to ask, is everyone ok? These women seem badly shaken and haven't said a word since I pulled you over."
"Oh! they'll be all right in a minute, officer. We just got off Route142" ...
#joke
A Woman in her late thirties i
A Woman in her late thirties is at home happily jumping unclothed, on her bed and squealing with delight.
Her husband watches her for a while and asks, "Do you have any idea how ridiculous you look? What's the matter with you?"
The woman continues to bounce on the bed and says, "I don't care what you think. I just came from having a mammogram and the doctor says that not only am I healthy, but I have the breasts of an 18-year-old."
The husband replies, "What did he say about your 42-year old arse?"
"Your name never came up," she replied.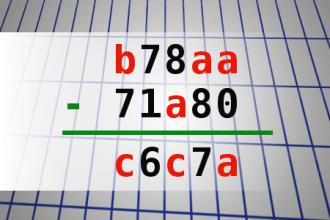 Find number abc
If b78aa - 71a80 = c6c7a find number abc. Multiple solutions may exist.
Langauge
Someone mistakenly leaves the cages open in the reptile house at the Bronx Zoo and there are snakes slithering all over the place.
Frantically, the keeper tries everything, but he can't get them back in their cages. Finally he says, "Quick, call a lawyer!"
"A lawyer? Why??"
"We need someone who speaks their langauge!"
What a mess!
Have you heard about the elephant with diarrhea?
It's all over town!
Submitted by Glaci
Edited by Curtis
Chuck Norris can delete the Re...
Chuck Norris can delete the Recycling Bin.
Do Cats Go to Heaven?
A cat dies and goes to Heaven. God meets him at the gate and says, "You have been a good cat all of these years. Anything you desire is yours, all you have to do is ask."
The cats says, "Well, I lived all my life with a poor family on a farm and had to sleep on hardwood floors."
God says, "Say no more." And instantly, a fluffy pillow appears.
A few days later, 6 mice are killed in a tragic accident and they go to Heaven. God meets them at the gate with the same offer that He made the cat. The mice said, "All our lives we've had to run. Cats, dogs and even women with brooms have chased us. If we could only have a pair of roller skates, we wouldn't have to run anymore."
God says, "Say no more." And instantly, each mouse is fitted with a beautiful pair of tiny roller skates.
About a week later, God decides to check and see how the cat is doing. The cat is sound asleep on his new pillow. God gently wakes him and asks, "How are you doing? Are you happy here?"
The cat yawns and stretches and says, "Oh, I've never been happier in my life. And those Meals on Wheels you've been sending over are the best!"
#joke
A Little Cannibalism Humor, Folks
Did you hear the one about the cannibal who passed his brother in the jungle the other day?